Taiwan Weather in September
Taiwan weather in September, the end of summer season, is still hot. But the temperature drops somewhat, varying from 24-30℃ (75-86℉) at average, so Taiwan starts to welcome its best time for sightseeing in consideration of weather conditions. The Taiwan temperature in September in the northern Taiwan deceases faster and larger than that in the south. The rains fall more in the north as well. September is still in the typhoon season in Taiwan, but typhoons are fewer than in July and August.
Averages for Taiwan Weather in September
Temperature: 26°C / 79°F
High Temperature: 30°C / 86°F
Low Temperature: 24°C / 75°F
Rainfall: 210 mm
Sunrise: 05:35 ~ 05:46
Sunset: 17:43 ~18:13
What to Wear in Taiwan in September
Short and cool summer clothes, such as T-shirts and dresses, are still wearable for Taiwan weather in September, especially in the beginning of this month. However, you need prepare long sleeves at the same time for night use. As the time goes on, a thin coat or a thin jacket should come in handy when you travel to mountains. If you go out at night, wear long light pants to keep warm as well as to avoid being bitten by mosquitos.


Where to Go in Taiwan in September
The classical must goes, including
Ali Mountain
,
Sun Moon Lake
,
Taipei National Palace Museum
and
Yushan National Park
, are good to visit as that Taiwan weather in September is not as hot as previous months. Around
Mid-Autumn Festival
, Sun Moon Lake is the best site to appreciate the full moon; and Ali Mountain is the best to see the sunrise, the sea of clouds and evening glows.

See more about
Mid-Autumn Festival in Taiwan
Moreover, Kenting National Park with seaside landscapes, Penghu Bay with harvested seafood, National Museum of Marine Biology & Aquarium in Pingtung – the largest aquarium in Taiwan, Chiufen Ancient Town with distinctive old architecture and old-timey snack street, etc. are also interesting places to visit in September. At the end of summer, you can still play some watersports, like snorkeling and scuba diving, when you get to beaches on fine days.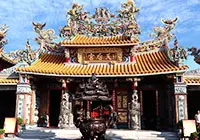 Thean Hou Temple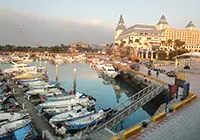 Fisherman's Wharf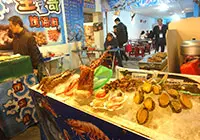 Seafood Markets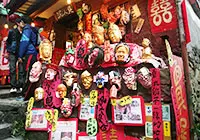 Jiufen Old Street
Top 10 Things to Do in Taiwan
Other Tips
1. Although September is the end of summer as well as typhoon season in Taiwan, it is still necessary to protect your skin from the sun and take rain gears when you go outdoors.
2. Prepare a thin overcoat on bus, metro or trains, for the air-conditioners are strong.
What is the temperature in Taiwan in September?
High/Low Temperatures of Taiwan in September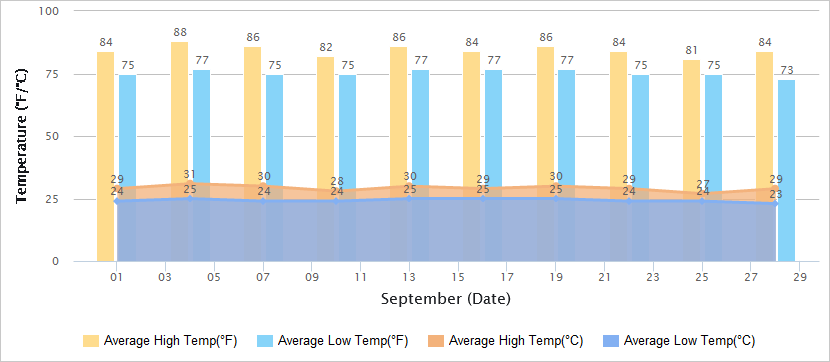 Historical Taiwan Weather in September
Sep
Temperature
Sunrise / Sunset
Humi-
dity
(%)
High
Low
1
29°C / 84.2°F
24°C / 75.2°F
05:35 /

18:13

66
2
30°C / 86°F
24°C / 75.2°F
05:35 /

18:12

46
3
31°C / 87.8°F
25°C / 77°F
05:36 /

18:11

47
4
31°C / 87.8°F
25°C / 77°F
05:36 /

18:10

46
5
31°C / 87.8°F
25°C / 77°F
05:36 /

18:09

59
6
31°C / 87.8°F
25°C / 77°F
05:37 /

18:08

59
7
30°C / 86°F
24°C / 75.2°F
05:37 /

18:07

60
8
29°C / 84.2°F
23°C / 73.4°F
05:37 /

18:06

70
9
27°C / 80.6°F
22°C / 71.6°F
05:38 /

18:05

81
10
28°C / 82.4°F
24°C / 75.2°F
05:38 /

18:04

84
11
30°C / 86°F
25°C / 77°F
05:39 /

18:03

70
12
29°C / 84.2°F
25°C / 77°F
05:39 /

18:02

66
13
30°C / 86°F
25°C / 77°F
05:39 /

18:01

55
14
30°C / 86°F
25°C / 77°F
05:40 /

18:00

74
15
28°C / 82.4°F
25°C / 77°F
05:40 /

17:58

68
16
29°C / 84.2°F
25°C / 77°F
05:40 /

17:57

61
17
31°C / 87.8°F
24°C / 75.2°F
05:41 /

17:56

50
18
30°C / 86°F
24°C / 75.2°F
05:41 /

17:55

50
19
30°C / 86°F
25°C / 77°F
05:42 /

17:54

49
20
30°C / 86°F
24°C / 75.2°F
05:42 /

17:53

53
21
30°C / 86°F
25°C / 77°F
05:42 /

17:52

57
22
29°C / 84.2°F
24°C / 75.2°F
05:43 /

17:51

61
23
30°C / 86°F
24°C / 75.2°F
05:43 /

17:50

61
24
26°C / 82.2°F
24°C / 75.2°F
05:43 /

17:49

79
25
27°C / 80.6°F
24°C / 75.2°F
05:44 /

17:48

80
26
29°C / 84.2°F
24°C / 75.2°F
05:44 /

17:47

82
27
28°C / 82.4°F
24°C / 75.2°F
05:45 /

17:46

81
28
29°C / 84.2°F
23°C / 73.4°F
05:45 /

17:45

85
29
27°C / 80.6°F
22°C / 71.6°F
05:45 /

17:44

78
30
27°C / 80.6°F
21°C / 69.8°F
05:46 /

17:43

52
- Last updated on Aug. 17, 2022 -