Taiwan Weather in July
Taiwan weather in July features high temperature. It's very hot with strong sunlight, and the average temperature hovers around 25-32℃ (77-90℉). In Taipei and its surrounding area in the basin, the highest temperature may reach 34/ 35℃ (93/ 95℉) also because of the urban heat island effect. In the afternoon, showers pour every now and then but don't last long. In July, typhoons may also hit Taiwan. So it's not dry but humid on the island even though the temperature is high.
Averages for Taiwan Weather in July
Temperature: 28°C / 82°F
High Temperature: 32°C / 90°F
Low Temperature: 25°C / 77°F
Rainfall: 410 mm
Sunrise: 05:08 ~ 05:21
Sunset: 18:39 ~ 18:48
What to Wear in Taiwan in July
You should wear some thin and breathable clothes absorbing sweats considering the high Taiwan temperature in July, such as T-shirts, shorts, skirts, dresses, etc. The clothes made of cotton or linen, and sandals or flip flops are the best. The sun is so scorching that both the sunscreen and sun-proof coat are needed. In the mountainous area, the temperature is much lower, therefore you can prepare a thin coat or jacket beforehand.

Where to Go in Taiwan in July
Indoor attractions like Taipei National Palace Museum and Taipei 101 might be the comfortable sites to visit in Taiwan in July weather featuring high temperature, for the air conditioners run in the season. It would also be great to visit
Ali Mountain
,
Sun Moon Lake
, Taroko Canyon,
Yushan National Park
and more scenic spots on mountains, which are the sought-after resorts to avoid the harsh summer heat. Kaomei Wetland,
Mt. Yangming
, Huatung Valley, etc. are beautiful to see as well. In Hualien, the daylily flowers all over the fields and mountains draw quite a lot tourists.
Hot July is a good month to go to beaches, and Kenting and Penghu Islands are the best choices in Taiwan. Penghu Islands is the most beautiful offshore island of Taiwan, with charming beaches, coconut trees and noted Twin Heart-shaped Stone Weir. On sunny days, you can also enjoy diving to explore the colorful coral reefs.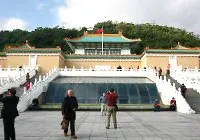 National Palace Museum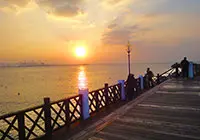 Seaside Wetlands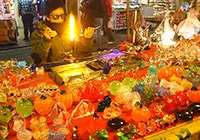 Night Markets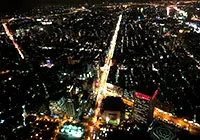 Overlooking Night Scenes
Top 10 Things to Do in Taiwan
Other Tips
1. As July falls in the summer vacation and is a peak travel time in Taiwan, the air tickets and hotel price will be more expensive, and you'd better book them beforehand to ensure a smooth trip.
2. Based on Taiwan weather in July, it's in the typhoon season and the time of high incidence of natural disasters, thus it's suggested to pay attention to local weather forecast before going. Stay indoors when you meet a typhoon in Taiwan in July.
3. In July, you need to drink more water to prevent heatstroke if you stay outdoors for a long time. During the daytime, apply sunscreen cream or spray to protect your skin; at night, after-sun repair is also important. Meanwhile, take rain gears with you in case that the sudden shower occurs.
What is the temperature in Taiwan in July?
High/Low Temperatures of Taiwan in July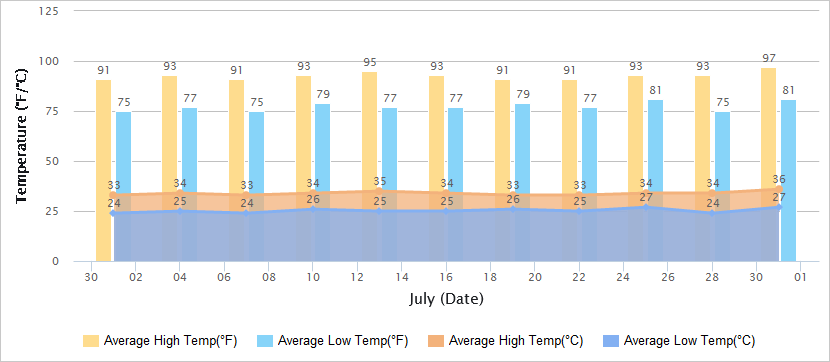 Historical Taiwan Weather in July
Jul
Temperature
Sunrise / Sunset
Humi-
dity
(%)
High
Low
1
33°C / 91.4°F
24°C / 75.2°F
05:08 /

18:48

54
2
34°C / 93.2°F
27°C / 80.6°F
05:08 /

18:48

60
3
34°C / 93.2°F
27°C / 80.6°F
05:08 /

18:48

41
4
34°C / 93.2°F
25°C / 77°F
05:09 /

18:48

51
5
34°C / 93.2°F
27°C / 80.6°F
05:09 /

18:48

41
6
34°C / 93.2°F
26°C / 78.8°F
05:10 /

18:48

47
7
33°C / 91.4°F
24°C / 75.2°F
05:10 /

18:48

53
8
33°C / 91.4°F
24°C / 75.2°F
05:10 /

18:48

51
9
34°C / 93.2°F
25°C / 77°F
05:11 /

18:47

65
10
34°C / 93.2°F
26°C / 78.8°F
05:11 /

18:47

71
11
33°C / 91.4°F
26°C / 78.8°F
05:12 /

18:47

81
12
33°C / 91.4°F
26°C / 78.8°F
05:12 /

18:47

53
13
35°C / 95°F
25°C / 77°F
05:13 /

18:47

49
14
34°C / 93.2°F
26°C / 78.8°F
05:13 /

18:47

52
15
34°C / 93.2°F
24°C / 75.2°F
05:13 /

18:46

59
16
34°C / 93.2°F
25°C / 77°F
05:14 /

18:46

56
17
34°C / 93.2°F
27°C / 80.6°F
05:14 /

18:46

54
18
34°C / 93.2°F
24°C / 75.2°F
05:15 /

18:45

55
19
33°C / 91.4°F
26°C / 78.8°F
05:15 /

18:45

73
20
33°C / 91.4°F
26°C / 78.8°F
05:16 /

18:45

59
21
32°C / 89.6°F
24°C / 75.2°F
05:16 /

18:44

50
22
33°C / 91.4°F
25°C / 77°F
05:17 /

18:44

51
23
33°C / 91.4°F
25°C / 77°F
05:17 /

18:44

56
24
34°C / 93.2°F
27°C / 80.6°F
05:18 /

18:43

58
25
34°C / 93.2°F
27°C / 80.6°F
05:18 /

18:43

62
26
34°C / 93.2°F
27°C / 80.6°F
05:19 /

18:42

58
27
34°C / 93.2°F
27°C / 80.6°F
05:19 /

18:42

56
28
34°C / 93.2°F
24°C / 75.2°F
05:20 /

18:41

53
29
34°C / 93.2°F
25°C / 77°F
05:20 /

18:41

47
30
34°C / 93.2°F
25°C / 77°F
05:21 /

18:40

52
31
36°C / 96.8°F
27°C / 80.6°F
05:21 /

18:39

48
- Last updated on Aug. 22, 2022 -