Taiwan Weather in January
As it's a sub-tropical island, Taiwan weather in January goes with an average temperature of 13 -18℃ (55 - 64℉). On the mountains in the middle of the Island, the temperature is much lower than that in the coastal plains. If it is rainy, the Taiwan temperature in January may drop to 7℃ (45℉). It's dryer than other seasons in Taiwan, with the average rainfall of only 20 mm. But the weather is still humid for the place is close to the sea. Generally, it rains more in the northern part than the southern regions.
Although January is not the best time to visit Taiwan, you can take it as a winter resort because Taiwan climate in January is much warmer than the harshly cold Northern Hemisphere.
Averages for Taiwan Weather in January
Temperature: 14°C / 57°F
High Temperature: 18°C / 64°F
Low Temperature: 13°C / 55°F
Rainfall: 20 mm
Sunrise: 06:37 ~ 06:41
Sunset: 17:16 ~ 17:37
What to Wear in in January
A long sleeved shirt, a jacket and a pair of jeans are suitable for the Taiwan weather in Jan. If you're afraid of the cold, you can bring an additional thin sweater or a thick coat. For there are usually strong winds by the sea, you'd better wear a thick wind breaker when you go to the seaside. On the high mountains where it may snow, you may need a thin down coat and a pair of thick pants. For it might rain in the northern Taiwan, you'd better take a raincoat or umbrella with you. Waterproof shoes and thicker clothes like a sweater and a wind breaker are also necessaries on rainy days.


Where to Go in Taiwan in January
Traveling to Taiwan in January, you can go skiing on Hehuan Mountain, see the thick cloud sea on
Ali Mountain
and white snow in
Yushan National Park
. In Taiwan, January temperature allows you to enjoy the hot spring bath heartily, and the best four hot springs include Beitou Hot Spring and Mt. Yangming Hot Spring in Taipei, Guanziling Hot Spring in Tainan, Sihchongsi or called Sichong River Hot Spring in Pingtung. The historical sites like Taipei National Palace Museum, and Shilin Night Market, Raohe Street Night Market and more night markets are recommended.
On the
Chinese New Year Day
, which usually falls in late January to middle February, you can follow the locals to pray for blessings at the famous Longshan Temple in Taipei, or send sky lanterns on Shifen Old Street, Pingxi, New Taipei. You may also do some New Year shopping as the department stores would launch great discounts and lucky draws, too. The popular places to go shopping include Ximending and Zhongxiao Road in Taipei and Sanduo Road in Kaohsiung.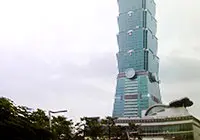 Taipei 101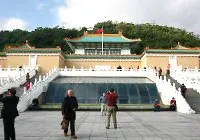 National Palace Museum
Night Markets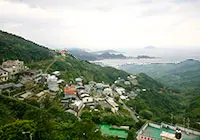 Jiufen Town
Top 10 Things to Do in Taiwan
Other Tips
1. Don't go for a hot spring bath with an empty stomach, otherwise you would feel uncomfortable in the pool. Take off mental jewelries when you get into the hot spring pool, to avoid the mental reacts with the mineral substances in water. When you get out from the hot spring, keep warm to avoid catching cold.
2. Take good care of yourselves and take the valuables and money safely, for there are large crowds of people during Chinese New Year.
What is the temperature in Taiwan in January?
High/Low Temperatures of Taiwan in January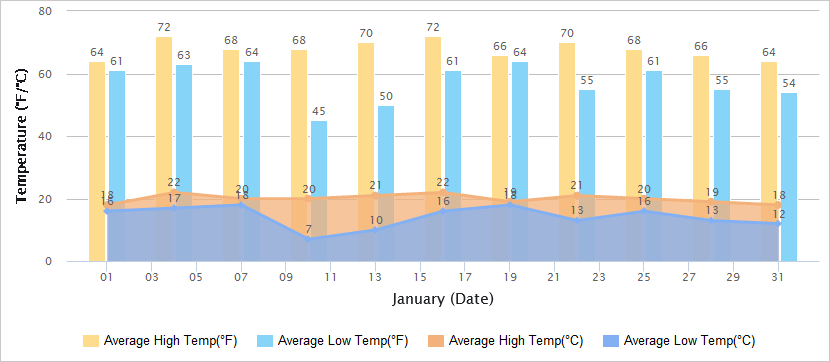 Historical Taiwan Weather in January
Jan
Temperature
Sunrise / Sunset
Humi-
dity
(%)
High
Low
1
18°C / 64.4°F
16°C / 60.8°F
06:39 /

17:16

73
2
21°C / 69.8°F
17°C / 62.6°F
06:39 /

17:17

69
3
22°C / 71.6°F
18°C / 64.4°F
06:39 /

17:17

66
4
22°C / 71.6°F
17°C / 62.6°F
06:40 /

17:18

66
5
17°C / 62.6°F
16°C / 60.8°F
06:40 /

17:19

85
6
19°C / 66.2°F
17°C / 62.6°F
06:40 /

17:19

85
7
20°C / 29.7°F
18°C / 64.4°F
06:40 /

17:20

82
8
19°C / 66.2°F
10°C / 50°F
06:40 /

17:21

87
9
12°C / 53.6°F
10°C / 50°F
06:40 /

17:22

70
10
20°C / 68°F
7°C / 44.6°F
06:41 /

17:22

46
11
18°C / 64.4°F
6°C / 42.8°F
06:41 /

17:23

55
12
19°C / 66.2°F
10°C / 50°F
06:41 /

17:24

59
13
21°C / 69.8°F
10°C / 50°F
06:41 /

17:25

60
14
19°C / 66.2°F
12°C / 53.6°F
06:41 /

17:25

68
15
22°C / 71.6°F
16°C / 60.8°F
06:41 /

17:26

64
16
22°C / 71.6°F
16°C / 60.8°F
06:41 /

17:27

52
17
25°C / 77°F
19°C / 66.2°F
06:41 /

17:28

70
18
23°C / 73.4°F
19°C / 66.2°F
06:41 /

17:28

79
19
19°C / 66.2°F
18°C / 64.4°F
06:40 /

17:29

89
20
22°C / 71.6°F
17°C / 62.6°F
06:40 /

17:30

84
21
22°C / 71.6°F
16°C / 60.8°F
06:40 /

17:30

75
22
21°C / 69.8°F
13°C / 55.4°F
06:40 /

17:31

75
23
21°C / 69.8°F
16°C / 60.8°F
06:40 /

17:32

65
24
18°C / 64.4°F
16°C / 60.8°F
06:39 /

17:33

84
25
20°C / 68°F
16°C /60.8°F
06:39 /

17:34

78
26
17°C / 62.6°F
14°C / 57.2°F
06:39 /

17:34

82
27
20°C / 68°F
16°C / 60.8°F
06:39 /

17:35

80
28
19°C / 66.2°F
13°C / 55.4°F
06:38 /

17:36

66
29
14°C / 57.2°F
12°C / 53.6°F
06:38 /

17:37

84
30
16°C / 60.8°F
13°C / 55.4°F
06:37 /

17:37

86
31
18°C / 64.4°F
12°C / 53.6°F
06:38 /

17:37

90
- Last updated on Aug. 22, 2022 -