Taiwan Attractions

Ali Mountain


Mt. Yangming


Yushan National Park


Sun Moon Lake


Taipei National Palace Museum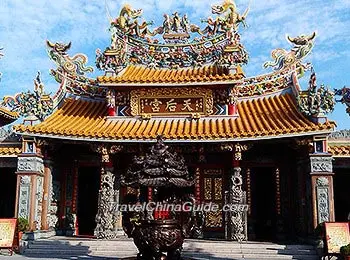 Tianhou Palace
Taiwan is called Treasure Island for its beautiful natural sights and abundant products.
With a fluctuant landform and its characteristic landscapes, the island has become a highly popular destination and is especially renowned for its grand mountains. If you will visit just one of these mountains, you should make it Jade Mountain, which has the highest peak in the northeastern Asia. The second choice should be Mt. Yangming, which boasts of volcanic sights, natural valleys, waterfalls,
hot springs
and a lot of flower and plant varieties. It is the largest and most beautiful natural area, being one of the four famous parks in Taiwan.
Ali Mountain and Sun Moon Lake are the most noted scenic areas that are dreamed to go by all visitors willing to Taiwan. Ali Mountain is indeed the general name of eighteen hills, famous for its five rare sites including the Sunrise, Forest Railway, Sacred Tree, Grand Sea of Clouds and the Flamboyant Cheery Blossom. Getting its name for the resemblance as a rhombus-shaped sun in the north section and a crescent in the south, the Sun Moon Lake (Ri Yue Tan) is the largest natural lake on the island, located between Jade Mountain and Ali Mountain.
Seashore sightseeing is an activity not to be missed in Taiwan. Its west coastline is gently sloping and holds many fine bathing beaches. The surf and wind have eroded the seaboard bays and capes, wind has blasted rocks, and marine erosion has shaped the landform; together creating glamorous seashores for visitors' aesthetic enjoyment.
Additionally, various cultural relics enrich the sightseeing resources even further. National Palace Museum collects tens of thousand culture relics from the Palace Museum in Beijing, Shenyang Imperial Palace in Liaoning and Rehe Imperial Palace (today's Mountain Resort and Its Outlying Temples of Chengde) in Hebei.
Apart from the majestic mountains, green forests, bright sunshine, beautiful seacoast and splendid cultural and historical sights, you can also enjoy a modern Taiwan and its friendly people. Gaoshan ethnic group accounts for over 300,000 of Taiwan's total population and its nine tribes have their own features. Comfortable weather, convenient transportation and superior facilities are also valuable chips for local tourism.
- Last modified on Jan. 07, 2019 -
Questions & Answers on Taiwan Attractions
Asked by Janice Tan from SINGAPORE | Jan. 01, 2019 01:53

Reply
Round island tour of Taiwan in 10 days
Hi,

We are planning a round island tour of Taiwan by train and High Speed Rail, and maybe hire a local private bus at every town we stop. We hope to go by train, travelling at the East coast to YiLan, HuaLien, Taitung towards KaoSiong, from there we will take a High Speed Rail towards ChangHua, TaiChung, MiaoLi lastly Taipei. What do you think, can we visit all these town in 10 days? Or we can skip some.
Answers (1)
Answered by Skyler from CANADA | Jan. 07, 2019 23:28

0

0

Reply
I think 10 days are enough for you to tour around these places. Taking a private use is an efficient way to save time. Have a nice journey!
Asked by Mandy from SINGAPORE | Jun. 06, 2018 20:40

Reply
Hi, any suggestion for 5 days itinerary to Yangmingshan,Taipei Zoo,Wulai and Chiayi for 1 day?
Hi.. I am going Taipei on 10-14 Sep'18 (5 days). Planning to Yangmingshan, Taipei Zoo, Wulai, Chiayi for 1 day. Please advise the itinerary. Thank you.
Answers (1)
Answered by Jason from CANADA | Jun. 10, 2018 22:32

0

0

Reply
I think it is ok. However, remember to avoid weekends to visit Yangmingshan, it will be very enjoyable to visit on week days.
Asked by Aunt Bee from MY | Apr. 13, 2018 20:24

Reply
What are the best attractions best for kids and old folks in June 2018 in Taipei?
Answers (1)
Answered by Amy from UK | Apr. 16, 2018 01:21

0

0

Reply
I'd like to give you some advice, attractions like Fisherman Wharf, Jiufen Street, Sun Yatsen Memorial Hall, Palace Museum, Shilin Official Residence and Shilin Night Market are highly recommended!
Asked by jess from SINGAPORE | Apr. 13, 2018 01:01

Reply
Any good itinerary suggestion for me if I want to go Taipei to stay for 5days on budget.
Answers (2)
Answered by Donna from CANADA | Apr. 15, 2018 21:01

2

0

Reply
Hi, Jess! I'd like to give you some suggestion:
Day1: Ximending business area.
Day2: Chiang Kai-Shek Memorial Hall, Shilin Official Residence, National Palace Museum, and Shilin Night Market.
Day3: Tamsui Street, Fisherman Wharf, and Ningxia and Ningxia Night Market.
Day4: Shifen Old Street, Jiufen Olad Street, and Gold Ecological Park.
Day5: you can prepare to leave.
Answered by Jess from SINGAPORE | Apr. 16, 2018 19:37

0

0

Reply
Thanks Donna!!