Taiwan Weather in December
Taiwan season in December is winter. Even though, as a sub-tropical and tropical island, Taiwan weather in December is generally cool and humid, merely cold. The average Taiwan temperature in December is 14-19℃ (57-66℉). It may go to 25℃ (77℉) at the highest in the southern Taiwan, but when the cold air comes, it may drop to around 10℃ (50℉) in the north. In Taiwan in December, only the temperature on mountains would be lower than 0℃ (32℉). Therefore you cannot see snow there in cities all the time, unless climbing up to high mountains. Although it is dryer comparatively for the rainfall is fewer than that in other seasons, Taiwan climate in December is quite humid. Most rain falls in the north and east coasts, especially the north.
Averages for Taiwan Weather in December
Temperature: 16°C / 61°F
High Temperature: 19°C / 66°F
Low Temperature: 14°C / 57°F
Rainfall: 25 mm
Sunrise: 06:21 ~ 06:38
Sunset: 17:04 ~ 17:15
What to Wear in Taiwan in December
Generally speaking, a long-sleeve shirt, a jacket and jeans are enough to cope with Taiwan weather in December. But when the temperature in Taiwan in December drops, you should add a thin knitwear, wear a thicker coat or wind breaker, and a pair of thicker pants. To go to the mountainous area, a thin down coat, wool sweater or other thin winter clothes should be taken.


Where to Go in Taiwan in December
For Taiwan Dec weather is not cold, you may take the island as a winter resort, to avoid the coldness in the Northern Hemisphere meanwhile to see the local customs. Taipei National Palace Museum housing various treasures and cultural relics should not be missed. Shilin Official Residence and
Mt. Yangming
are sought after for the blooming wintersweet flowers. You can also go for the hot spring bath in Beitou Hot Spring Resort in the northern Taipei or Jiaoxi Hot Springs Park in Yilan. Kenting in the southern Taiwan also offer hot springs and it's a popular warm winter holiday destination. If there are snowfalls on mountains, you would see the snow scenery in
Yushan National Park
.
There are many celebrations and activities on the last a few days in December of Taiwan, in the name of the coming New Year, such as the carnival at Taipei 101 on Dec. 31. Taipei 101 is a great place for high-end shopping, tasting diverse cuisine and overlooking the Taipei city. On the Eve of New Year, you would take part in the exciting countdown party there, and the firework show with colorful lights is a feast to your eyes. The best sites to see the fireworks of Taipei 101 are Elephant Hill, Sun Yat-Sen Memorial Hall, Rainbow Riverside Park, etc.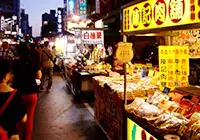 Night Markets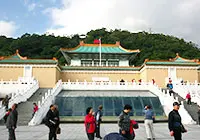 National Palace Museum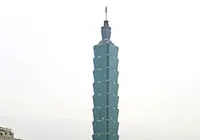 Taipei 101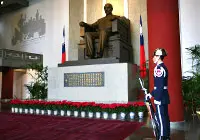 Sun Yatsen Memorial Hall
Top 10 Things to Do in Taiwan
Other Tips
1. A dryer is a must for the washed clothes are hard to be dry because of the humid weather in Taiwan on December. Or don't wash clothes if you stay in Taiwan for only a few days.
2. Take an umbrella just in case. Even though the rains are much fewer in winter, there are light showers from time to time.
3. You may prepare cold medicines beforehand and wear clothes accordingly when the Taiwan weather in December changes sharply.
What is the temperature in Taiwan in December?
High/Low Temperatures of Taiwan in December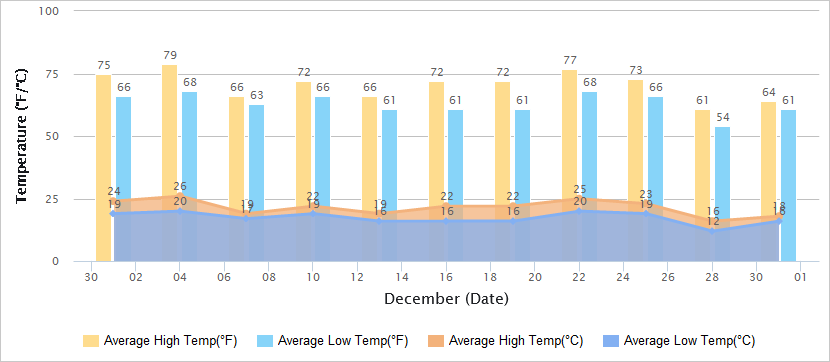 Historical Taiwan Weather in December
Dec
Temperature
Sunrise / Sunset
Humi-
dity
(%)
High
Low
1
24°C / 75.2°F
19°C / 66.2°F
06:21 /

17:04

54
2
26°C / 78.8°F
19°C / 66.2°F
06:22 /

17:04

72
3
25°C / 77°F
19°C / 66.2°F
06:23 /

17:04

49
4
26°C / 78.8°F
20°C / 68°F
06:24 /

17:04

48
5
23°C / 73.4°F
20°C / 68°F
06:24 /

17:04

81
6
25°C / 77°F
19°C / 66.2°F
06:25 /

17:04

63
7
19°C / 66.2°F
17°C / 62.6°F
06:26 /

17:05

81
8
19°C / 66.2°F
16°C / 60.8°F
06:26 /

17:05

82
9
21°C / 69.8°F
18°C / 64.4°F
06:27 /

17:05

85
10
22°C / 71.6°F
19°C / 66.2°F
06:28 /

17:05

85
11
22°C / 71.6°F
16°C / 60.8°F
06:28 /

17:05

88
12
18°C / 64.4°F
15°C / 59°F
06:29 /

17:06

75
13
19°C / 66.2°F
16°C / 60.8°F
06:30 /

17:06

78
14
18°C / 64.4°F
15°C / 59°F
06:30 /

17:06

83
15
21°C / 69.8°F
18°C / 64.4°F
06:31 /

17:07

77
16
22°C / 71.6°F
16°C / 60.8°F
06:31 /

17:07

78
17
17°C / 62.6°F
14°C / 57.2°F
06:32 /

17:08

46
18
19°C / 66.2°F
13°C / 55.4°F
06:33 /

17:08

50
19
22°C / 71.6°F
16°C / 60.8°F
06:33 /

17:08

51
20
23°C / 73.4°F
18°C / 64.4°F
06:34 /

17:09

52
21
24°C / 75.2°F
19°C / 66.2°F
06:34 /

17:09

63
22
25°C / 77°F
20°C / 68°F
06:35 /

17:10

61
23
23°C / 73.4°F
17°C / 62.6°F
06:35 /

17:10

84
24
20°C / 68°F
16°C / 60.8°F
06:36 /

17:11

84
25
23°C / 73.4°F
19°C / 66.2°F
06:36 /

17:12

79
26
22°C / 71.6°F
18°C / 64.4°F
06:37 /

17:12

87
27
19°C / 66.2°F
14°C / 57.2°F
06:37 /

17:13

80
28
16°C / 60.8°F
12°C / 53.6°F
06:37 /

17:13

74
29
15°C / 59°F
11°C / 51.8°F
06:38 /

17:14

80
30
17°C / 62.6°F
15°C / 59°F
06:38 /

17:15

78
31
18°C / 64.4°F
16°C / 60.8°F
06:38 /

17:15

92
- Last updated on Aug. 22, 2022 -