Taiwan Weather in February
Taiwan season in February is the end of winter and beginning of spring. As a whole, Taiwan weather in February is becoming warmer. Averagely, the temperature is 13 - 18℃ (55 - 64℉). It's warmer than most places on Northern Hemisphere, thus it is a popular winter resort. On mountains, the Taiwan temperature in February is much lower. In the area of famous Ali Mountain, the temperature is usually around 5-10℃ (41-50℉). In Yushan National Park, the temperature may be under the 0℃ (32℉). Sometimes the sudden cold current comes to Taiwan, then the Taiwan temperature in February drops sharply. As for rainfall, the winds from colder north pass through the sea, and bring rains to the northern area of Taiwan. The eastern coast also has a little rain in February.
Averages for Taiwan Weather in February
Temperature: 15°C / 59°F
High Temperature: 18°C / 64°F
Low Temperature: 13°C / 55°F
Rainfall: 25 mm
Sunrise: 06:18 ~ 06:37
Sunset: 17:39 ~ 17:55
What to Wear in Taiwan in February
Long sleeves plus a jacket are the regular dresses to cope with the Taiwan February weather. The long pants are also the necessaries. When the cold current hits, you need to add an underwear or change your top into a sweater. If you are going to walk a lot, bring a pair of hiking shoes.


Where to Go in Taiwan in February
As
Chinese New Year
usually falls in late January or February, you can follow the customs to go to a local temple on the first day of Chinese New Year to try your best to put the first incense stick into the burner before other people. Locals believe the God will protect that person and bring him good lucks in the following year by doing that. Longshan Temple in Taipei, Chung-Tai Monastery in Nantou, Chaotien Temple of Mazu in Yunlin are the most popular ones in Taiwan.
On following
Lantern Festival
on the 15th day of Chinese New Year, there are varied activities themed on lanterns. The lantern fair in Yuejin Port in Tainan, high-tech lantern show in Carp Lake in Hualien, and the Bee-liked Fireworks Show in Yanshui, Tainan are all wonderful to see. In Pingxi in New Taipei, you can join the activity on Shifen Old Street, to write your wishes on the surfaces of sky lantern, and then send the lantern into the air.
Besides, you can catch the time of late winter to ski on Hehuan Mountain. Based on Taiwan climate in February, the oriental cherry are in full bloom in high-altitude places in this month. In Formosan Aboriginal Culture Village in Nantou, you could see the large stretches of blooming oriental cherry. Classical attractions, like
Sun Moon Lake
,
Ali Mountain
, and Taipei National Palace Museum, etc., are also good sites worthy to visit.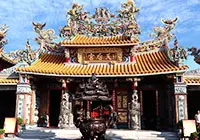 Thean Hou Temple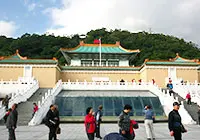 National Palace Museum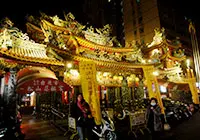 Temple Fairs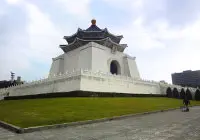 CKS Memorial Hall
Top 10 Things to Do in Taiwan
Other Tips
1. Book the tickets for appreciating the oriental cherry blossoms and the transports in advance. Because many people go to the site, which can make them in great demand. Wear a mask if you are allergenic to pollen.
2. If you will go to send the sky lanterns, obey the local regulations in case of causing a fire.
3. In consideration of the dry Taiwan weather in February, drink enough water and apply suitable skin cream.
What is the temperature in Taiwan in February?
High/Low Temperatures of Taiwan in February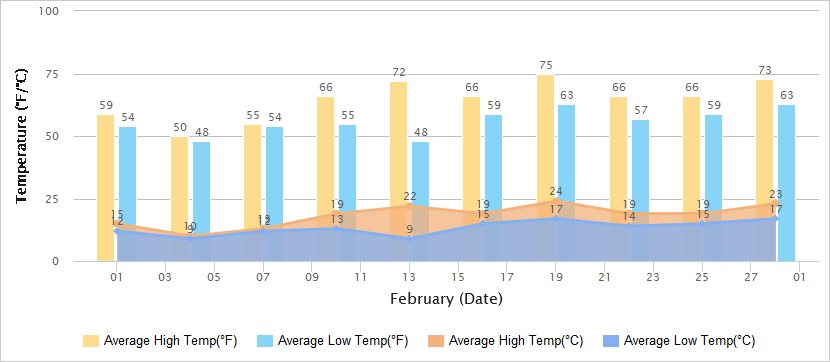 Historical Taiwan Weather in February
Feb
Temperature
Sunrise / Sunset
Humi-
dity
(%)
High
Low
1
15°C / 59°F
12°C / 53.6°F
06:37 /

17:39

83
2
15°C / 59°F
8°C / 46.4°F
06:36 /

17:39

85
3
12°C / 53.6°F
9°C / 48.2°F
06:36 /

17:40

82
4
10°C / 50°F
9°C / 48.2°F
06:35 /

17:41

82
5
10°C / 50°F
6°C / 42.8°F
06:35 /

17:41

76
6
13°C / 55.4°F
10°C / 50°F
06:34 /

17:42

60
7
13°C / 55.4°F
12°C / 53.6°F
06:34 /

17:43

79
8
16°C / 60.8°F
12°C / 53.6°F
06:33 /

17:44

79
9
20°C / 68°F
15°C / 59°F
06:32 /

17:44

77
10
19°C / 66.2°F
13°C / 55.4°F
06:32 /

17:45

86
11
14°C / 57.2°F
11°C / 51.8°F
06:31 /

17:46

81
12
20°C / 68°F
8°C / 46.4°F
06:30 /

17:46

47
13
22°C / 71.6°F
9°C / 48.2°F
06:30 /

17:47

55
14
20°C / 71.6°F
14°C / 57.2°F
06:29 /

17:47

61
15
24°C / 75.2°F
16°C / 60.8°F
06:28 /

17:48

51
16
19°C / 66.2°F
15°C / 59°F
06:28 /

17:49

79
17
19°C / 66.2°F
16°C / 60.8°F
06:27 /

17:49

75
18
23°C /73.4°F
16°C / 60.8°F
06:26 /

17:50

52
19
24°C / 75.2°F
17°C / 62.6°F
06:25 /

17:50

51
20
23°C / 73.4°F
16°C / 60.8°F
06:25 /

17:51

72
21
19°C / 66.2°F
16°C / 60.8°F
06:24 /

17:52

84
22
19°C / 66.2°F
14°C / 57.2°F
06:23 /

17:52

83
23
19°C / 66.2°F
15°C / 59°F
06:22 /

17:53

77
24
23°C / 73.4°F
16°C / 60.8°F
06:21 /

17:53

60
25
19°C / 66.2°F
15°C / 59°F
06:21 /

17:54

81
26
19°C / 66.2°F
13°C / 55.4°F
06:20 /

17:54

72
27
23°C / 73.4°F
16°C / 60.8°F
06:19 /

17:55

61
28
23°C / 73.4°F
17°C / 62.6°F
06:18 /

17:55

50
- Last updated on Aug. 22, 2022 -