Fujian Travel Guide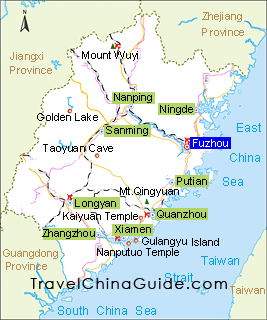 Fujian Facts
Chinese Name: 福建 (fú jiàn)
Population: 39,410,000
Area: 121,400 square kilometers (46,873 square miles)
Location: in southeast China
Administrative Division: 9 cities (Fuzhou, Xiamen, Quanzhou, Zhangzhou, Putian, Longyan, Sanming, Nanping, Ningde); 12 county-level cities; 44 counties; 29 districts
Area Code: 0591-0599
Zip Code: 350000-3650000
GDP (2018): CNY 3580.404 billion (USD 541.092 billion)

Fujian Province, with its capital Fuzhou, is on China's southeastern coast. It faces the island province of Taiwan across Taiwan Strait to the east. Neighboring provinces are Zhejiang to the north, Jiangxi to the west, and Guangdong to the south. Fujian, located on the coast of the East China Sea, was the starting point of the maritime Silk Road. The pleasant climate and superior location endow Fujian great tourism advantages. Fujian has become a top tourist destination for the beautiful sea and island views, green mountains and special Tulou buildings.



See also:
Fujian Weather
Learn Basic Fujian Language – Min Chinese
Fujian Ports: Port of Fuzhou, Xiamen, Quanzhou, Putian

When to Go
The best time to visit Fujian is from March to May and from September to November. But it is hospitable in all seasons for travelers in this province which has a year-round warm and humid climate. Annual average rainfall ranges from a low of 1,400 mm to a high of 2,000 mm, and annual average temperature from a low of 17

C to a high of 21

C.
Cities in Fujian
What to See
Fujian is blessed with a rich history, famous historical sites and beautiful natural landscapes. These make Fujian a unique tourist attraction. However, it is not yet a much worn traveler's path.
Mount Wuyi (Wu Yi Shan) may enlighten you with its wonderland tour. Its beautiful mountains, vigorous rocks and limpid waters are legendary. Gulangyu Island, also called "the Garden on the Sea" by people in Xiamen, is a world of sea breezes, sunshine and exotic architecture with a Mediterranean flavor. Nanputuo Temple, among the four well-known Buddhist shrines in the nation, has the longest and most prestigious history.
| | |
| --- | --- |
| Mount Wuyi, Fujian | Chengqi Tower, Yongding, Fujian |
Fujian Tulou
in Yongding area are the much fabled mountain residences in this world of make believe. The industrious and facile Hui'an women in the south of Fujian add much to their folk customs. The Kaiyuan Temple looks splendid, glittering and grand despite its age. Fujian also is a place where famous national heroes like Lin Zexu and Zheng Chenggong lived and won their seats of honor in history books.
Oolong tea produced in Fujian is famous, so if you have a chance to visit this province, you must taste it there with relish.
- Last updated on May. 17, 2023 -
Questions & Answers on Fujian Travel
Asked by Odette Ong from UNITED STATES | May. 19, 2022 09:06

Reply
Find relatives in Fujian
My grandfather came from Fujian and lived and died in Manila. I still have(I believe) relatives in Fujian. How can I start looking for them? Thank you.
Answers (3)
Answered by Jojo | May. 29, 2022 23:04

0

0

Reply
There are both government and voluntary organizations doing this kind of thing. You may log into their website for help. Good luck~


Answered by mac | Jan. 29, 2023 17:30

0

0

Reply
Hi Odette, we have the same history, my grandfather came from that Fujian province because he would often teach me how to speak Fukien. He died in Manila. I too am searching for relatives in China, especially in that part of the region.
Answered by SK Lee | May. 17, 2023 17:05

0

0

Reply
lots of folks in Hokkien (Fujian) folks came from JinMen (admiinstered by Taiwan) rather than the Mainland province of Fujian,
to locate the relatives in JinMen (let's presume it is), start with your Chinese character of surname; in Jinmen,.. clans of same surname live in the same village for hundreds of years; locate the village and if you do travel there; ask around; there might be seniors who could still tell you more

Asked by Jacques from CANADA | Nov. 06, 2020 10:37

Reply
how long does it take from xiamen to Nanjing county and how to go to Nanjing any bus or train?
Answers (1)
Answered by Natalie | Nov. 12, 2020 17:49

0

0

Reply
You can take the direct coach from Xiamen Fanghu Coach Station to Nanjing County. It takes around 2.5 hours on the way with the fare of CNY 39 to 51 per person. The bus schedules are from 07:30 to 17:50. :)
Asked by Mohammed K from NIGERIA | Oct. 10, 2018 04:32

Reply
How do i get to Shaxian County, Fujian Province coming from either Guangzhou or Shanghai?
I am travelling to Shaxian City from Africa, which travel options do i have?
Answers (1)
Answered by Madelyn from NETHERLANDS | Oct. 10, 2018 20:26

0

0

Reply
From Guangzhou, Tianhe Bus Station has one schedule to Shaxian departed at 14:00; Guangzhou Bus Station also has one scheduled at 14:50.
From Shanghai, there is no direct bus or train. Thus you are advised to go to Guangzhou first.
Asked by Landi from UNITED KINGDOM | Sep. 03, 2018 05:14

Reply
Do I need visa I am coming from United Kingdom England
I like to visit china country but I don't know If I need visa for 3 months
Answers (1)
Answered by Frank from CANADA | Sep. 03, 2018 20:09

0

0

Reply
Yes, you need to apply for a visa in advance.
Asked by Polly from US | Sep. 01, 2018 06:20

Reply
Do I need a visa to stay 6 days in Xiamen?
I'm coming from the US.
Answers (1)
Answered by Nicole from DENMARK | Sep. 02, 2018 23:48

0

0

Reply
Yes, you need.