Nanping Travel Guide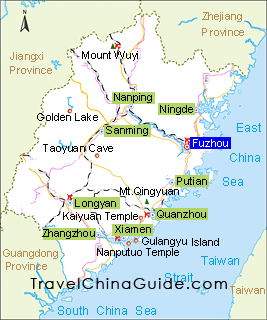 Nanping Facts
Chinese Name: 南平市 (nán píng shì)
Population: 3,060,000
Area: 26,278 square kilometers (10,146 square miles)
Nationalities: Han

Location: Nanping, the largest city of Fujian, lies in the north of the province. It is bordered by Zhejiang and Jiangsu in its northeast and northwest. Being a frontier of economic development, this city is a vital pass of Fujian open to vast land of the country.
Administrative Division: 1 district (Yanping); 5 counties (Shunchang, Pucheng, Guangze, Songxi, Zhenghe); 4 county-level cities (Shaowu, Wuyishan, Jian'ou, Jianyang)
Seat of the City Government: No.439, Bayi Road, Yanping District

Useful Telephone Numbers:
Tourist Complaints: 0599-8832075
Weather Forecast: 121
Zip Code Inquiry: 184

Bank of China Nanping Branch: No.459, Binjiang Road, Yanping District
China Post Nanping Branch: No.161, Bayi Road, Yanping District
Attractions
Mount Wuyi
lies 15 kilometers (9.3 miles) south of Wuyishan City (formerly Chong'an County), ranking among the World Cultural and Natural Heritage List in 1999. It contains a perfect biodiversity conservation characterized by a complete species of plants, wild animals in an intact natural environment. It also has the historical ruins of the Western Han Dynasty (206BC-24AD). Charms of the Mount Wuyi are much more beyond that mentioned above.
As a historical site, it has the boat-shaped hanging coffins which said to be the earliest cliff hanging coffins among extant ones. The ancient Han relics display the ups and downs of more than 2,300 years. 426 pieces of cliffside inscriptions ranging from the Song (960-1279) to the Qing (1644-1911) dynasties are precious cultural treasures. Wuyi Rock Tea and techniques of making bohea constitute its unique tea culture.
Mount Wuyi also inherits the gifts by nature. The Nine Bend Brook and the spectacular peeks and rock set each other off excellently. It is a natural arboretum boasting the most typical, largest and intact subtropical protophyte ecosystem in the same latitudes around the world. Apart from a large and complete conversation of plant and animal species, the mountain has the spectacular Danxia landscape, either, which could be well admired by drifting along the meandering Nine Bend Brook.
How to get there
1. The city has three railway stations, Nanping Railway Station, South Railway Station and North Railway Station, with trains to/from
Beijing
,
Shanghai
,
Xiamen
,
Fuzhou
, and
Shenzhen
, etc. To the north of the city, there are also several railway stations, like Jian'ou Station, Wuyishan Station, Wuyishan North Station and Wuyishan East Station. Passengers to Mount Wuyi are more recommended to get off at the closer Wuyishan North Railway Station; the station is also connected with Beijing, Shanghai, Xiamen, Fuzhou, and Hangzhou.

See detailed
Shenzhen - Nanping Train
,
Shanghai - Wuyishan Train
,
Xiamen - Wuyishan Train
,
Wuyishan Train Schedule & Stations
2. Nanping's bus station stands in the Binhai Road, Yanping District. By the express way, this place can be reached from Fuzhou within 3 hours.
3. Wuyishan Airport is situated east to the Wuyi Dadao in the southern outskirt of Wuyishan City, both 7 kilometers (4.3 miles) from the downtown Wuyishan and Mount Wuyi Scenic Area. Direct flight routes to/from Fuzhou, Beijing,
Guangzhou
, Shanghai and Xiamen are offered every day. In addition, there are three flights to/from
Hong Kong
and
Xi'an
, three to/from Shenzhen every week.
Weather
-
This city bears a subtropical oceanic monsoon climate, and the weather is humid and moderate all the year round. Autumn is warmer than spring. The average temperature of the hottest July lies between 28 and 29 degree centigrade (82.4 and 84.2 degree Fahrenheit), while that of January is 6-9 degree centigrade (42.8-48.2 degree Fahrenheit). April to June is Nanping's plum rain period.

When to Go: Without extreme heat and cold, the city is favorable for visiting during the whole year.
Nanping Travel Tips

History: This city is one of the important birthplaces of Fujian's culture, and it is also one of the places in Fujian that gained the earliest exploration thousands of years ago. As early as 1,800 years ago during the Eastern Han Dynasty, administrative system was established here. Even its younger counties, such as Jianyang, Shaowu and Wuyishan, have been existed for about a thousand years.

Physical Features: Lower mountains and hills construct the main landform of the city. It is surrounded by mountains in the east, the west and the north. The whole terrain declines towards its central and southern part. Within the city, mountains and hills meander and rivers crisscross. Along the rivers, there are valleys dotted.

Local Highlights: China Wuyi Mountain Tourist Festival (Mid-May)

Special Local Products: Job's tears rice, edible fungus, tea, lotus seed
Shangrao
in
Jiangxi Province
, Nanping and Shaowu are the main passes to Mount Wuyi. It is about 3 hours from downtown Nanping and Shaowu to the Mount Wuyi, and 4 hours are needed from Shangrao. Within the scenic area, charted vehicle may be wanted for individual tourists.
- Last modified on Oct. 18, 2018 -