Nanping Travel Guide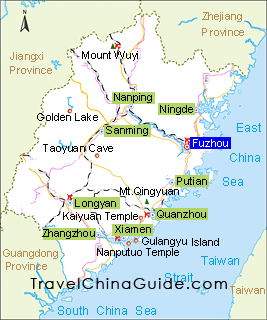 Nanping Facts
Chinese Name: 南平市 (nán píng shì)
Population: 3,198,000
Area: 26,300 square kilometers (10,154 square miles)
Location: in the north of Fujian Province, southeastern China
Administrative Division: 2 districts (Yanping, Jianyang); 5 counties (Shunchang, Pucheng, Guangze, Songxi, Zhenghe); 4 county-level cities (Shaowu, Wuyishan, Jian'ou, Jianyang)
Area Code: 0599
Zip Code: 353000
GDP (2018): CNY 179.2 billion (USD 27.1 billion)
Wuyi Mountain and Dahongpao Tea
Occupying the largest areas in Fujian Province, Nanping lies in the north of the province. It is bordered with Zhejiang and Jiangsu to northeast and northwest. Being a frontier of economic development, this city is a vital pass of Fujian open to the vast land of the country. Nanping has a profound history and culture. It is the birthplace of Minyue Culture, the Neo-Confucianism, Wuyi Tea Ceremony Culture and Zhang Sanfeng's Tai Chi Culture. The famous Dahongpao tea produced in Wuyi Mountain is the king of Oolong tea for excellent quality. Its traditional production technology has been listed as the only national intangible cultural heritage of tea. Besides, mountains, streams, rivers, waterfalls and valleys in Mount Wuyi present a picturesque scenery.
Attractions
Mount Wuyi
lies 15 kilometers (9.3 miles) south of Wuyishan City (formerly Chong'an County), ranking among the World Cultural and Natural Heritage List in 1999. It contains a perfect biodiversity conservation characterized by a complete species of plants, wild animals in an intact natural environment. It also has the historical ruins of the Western Han Dynasty (206BC-24AD). Charms of the Mount Wuyi are much more beyond that mentioned above.
As a historical site, it has the boat-shaped hanging coffins which said to be the earliest cliff hanging coffins among extant ones. The ancient Han relics display the ups and downs of more than 2,300 years. 426 pieces of cliffside inscriptions ranging from the Song (960-1279) to the Qing (1644-1911) dynasties are precious cultural treasures. Wuyi Rock Tea and techniques of making bohea constitute its unique tea culture.
Mount Wuyi also inherits the gifts by nature. The Nine Bend Brook and the spectacular peeks and rock set each other off excellently. It is a natural arboretum boasting the most typical, largest and intact subtropical protophyte ecosystem in the same latitudes around the world. Apart from a large and complete conversation of plant and animal species, the mountain has the spectacular Danxia landscape, either, which could be well admired by drifting along the meandering Nine Bend Brook.
How to get there
1. The city has three railway stations, Nanping Railway Station, South Railway Station and North Railway Station, with trains to/from
Beijing
,
Shanghai
,
Xiamen
,
Fuzhou
, and
Shenzhen
, etc. To the north of the city, there are also several railway stations, like Jian'ou Station, Wuyishan Station, Wuyishan North Station and Wuyishan East Station. Passengers to Mount Wuyi are more recommended to get off at the closer Wuyishan North Railway Station; the station is also connected with Beijing, Shanghai, Xiamen, Fuzhou, and Hangzhou.

See detailed
Shenzhen - Nanping Train
,
Wuyishan Train Schedule and Stations

Major Rail Lines from Wuyishan to:
2. Nanping's bus station stands in the Binhai Road, Yanping District. By the express way, this place can be reached from Fuzhou within 3 hours.
3.
Wuyishan Airport
is situated east to the Wuyi Dadao in the southern outskirt of Wuyishan City, both 7 kilometers (4.3 miles) from the downtown Wuyishan and Mount Wuyi Scenic Area. Direct flight routes to/from Fuzhou, Beijing,
Guangzhou
, Shanghai and Xiamen are offered every day. In addition, there are three flights to/from
Hong Kong
and
Xi'an
, three to/from Shenzhen every week.
Weather
-
This city bears a subtropical oceanic monsoon climate, and the weather is humid and moderate all the year round. Autumn is warmer than spring. The average temperature of the hottest July lies between 28 and 29 degree centigrade (82.4 and 84.2 degree Fahrenheit), while that of January is 6-9 degree centigrade (42.8-48.2 degree Fahrenheit). April to June is Nanping's plum rain period.

When to Go: Without extreme heat and cold, the city is favorable for visiting during the whole year.
Nanping Travel Tips

History: This city is one of the important birthplaces of Fujian's culture, and it is also one of the places in Fujian that gained the earliest exploration thousands of years ago. As early as 1,800 years ago during the Eastern Han Dynasty, administrative system was established here. Even its younger counties, such as Jianyang, Shaowu and Wuyishan, have been existed for about a thousand years.

Physical Features: Lower mountains and hills construct the main landform of the city. It is surrounded by mountains in the east, the west and the north. The whole terrain declines towards its central and southern part. Within the city, mountains and hills meander and rivers crisscross. Along the rivers, there are valleys dotted.

Local Highlights: China Wuyi Mountain Tourist Festival (Mid-May)

Special Local Products: Job's tears rice, edible fungus, tea, lotus seed
Shangrao
in
Jiangxi Province
, Nanping and Shaowu are the main passes to Mount Wuyi. It is about 3 hours from downtown Nanping and Shaowu to the Mount Wuyi, and 4 hours are needed from Shangrao. Within the scenic area, charted vehicle may be wanted for individual tourists.
- Last updated on Aug. 21, 2023 -
Questions & Answers on Nanping Travel
Asked by Chris from UNITED KINGDOM | Aug. 21, 2023 23:01

Reply
Which language and dialect is spoken here.
It appears that many different languages and dialects are spoken in china.
What languages are most commonly spoken in this area?
Answers (1)
Answered by Cathy | Aug. 21, 2023 23:36

0

0

Reply
Mandarin Chinese and the dialect Min Chinese are spoken there.
Asked by Jay from CHINA | May. 26, 2020 05:14

Reply
I wish to go to Nanping Songxi county, but I'm afraid if this county it too local for foreigners?
secondly the Songxi, is it out of Nanping city or what? Pls any info about this Songxi county I'll be grateful
Answers (1)
Answered by Eleanor from DENMARK | May. 31, 2020 23:42

0

0

Reply
No, it will be a good place to tour around. Songxi County is still located in Nanping City.
Asked by Kambalah from PHILIPPINES | Nov. 29, 2019 16:58

Reply
How far is nanping railway station to nanping paper mill. Can we take taxi goin there.ty
Answers (1)
Answered by Mia from THAILAND | Dec. 02, 2019 19:23

0

0

Reply
The distance is around 7km. You can take taxi directly with around CNY20.
Asked by Mike Holmes from USA | Nov. 09, 2015 10:58

Reply
Is there a high speed train from Fuzhou that stops in Nanping and goes on to Wuyishan?
Answers (3)
Answered by Miller from UNITED KINGDOM | Nov. 09, 2015 21:34

0

0

Reply
Hi, Mike. You are going to the Mount Wuyi, right? There are several direct high speed trains from Fuzhou to Wuyishan North Station. They are available from 7:40 to 19:40, and the duration is about 1.5 hours. The first class seat costs CNY 201; the second-class seat costs CNY 119.5. After getting off, there are direct tourist buses to the mountain foot. In this way, there is no need to make a transfer in Nanping and it saves you lots of trouble. Have a nice tirp!
Answered by Mike Holmes from USA | Nov. 10, 2015 06:14

0

0

Reply
But I want to get off at Nanping for a day or so. How long is the drive to Wuyishan from Nan ping by car? Or is it better to take the train?

Mike
Answered by Miller | Nov. 10, 2015 19:30

1

0

Reply
It takes about 2.5-3 hours by car. If by high speed train, it needs about 42-52 minutes only.I personally prefer bullet train.
Asked by Chris from CHINA | Dec. 16, 2014 23:37

Reply
Buses from Nanping to Jian'ou and Sanming
Does anyone know if there are frequent buses from Jian'ou to NP and then to Sanming?

My wife is thinking of commuting from Jian'ou to Sanming three days a week.
Answers (1)
Answered by Mary from UGANDA | Dec. 17, 2014 00:12

0

0

Reply
I am little confused about your question, but hereunder are the timetables for all routes you mentioned:
From NP to Jian'ou, 36 buses are available from 06:30 to 21:00.
From Jian'ou to NP, 36 buses are available from 06:30 to 19:00 every day. The bus ticket fare is CNY22.
From Jianou to Sanming, more than ten buses are scheduled from Jian'ou Bus Station.
From NP to Sanming, 13 buses are available from 08:00 to 18:00, the ticket fare is CNY34.