Sanming Travel Guide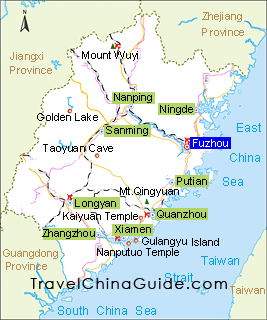 Sanming Facts
Chinese Name: 三明市 (sān míng shì)
Population: 2,700,000
Area: 22,930 square kilometers (8,853 square miles)
Nationalities: Han

Location: Situated in the northwest of Fujian Province, Sanming City neighbors Fuzhou in the east, Quanzhou in the south and is bounded on the west by Jiangxi Province.
Administrative Division: 2 counties (Meilie, Sanyuan); 9 counties (Mingxi, Qingliu, Ninghua, Datian, Youxi, Shaxian, Jiangle, Taining, Jianning); 1 county-level city (Yong'an)

Useful Telephone Numbers:
Tourist Complaints: 0598-8266416, 8225868
Weather Forecast: 121
Zip Code Inquiries: 184
Bank of China: 0598-8223438
Attractions

Taining Global Geopark
: You can see many kinds of geological landscapes especially Danxia landforms in Taining Global Geopark. The spectacle "Overwater Danxia" attacts a large number of travelers. Strange caves, steep cliffs, odd rocks, various canyons and quiet lakes can be found everywhere.

Dajin Lake
: Located at the south foot of the Mount Wuyi, Taining County, this scenic area famous for its vast and deep water, omniform Danxia Landform sceneries and fine ecological environment. Covering an area of 136 square kilometer (53 miles), the scenic area has many beautiful sights, including streams, peaks, valleys and rafting sites. The Dajin Lake is the main body of the scenic area.

Taoyuan Cave Scenic Spot
: Consisting of the Taoyuan Cave and the Linyin Stone Forest, this scenic area was opened up in the Ming (1368-1644) and Qing (1644-1911) dynasties and is highlighted by steep crags and karst landscape.

Yuhua Cave: 7 kilometers (4.3 miles) south of the Jiangle County, the cave is a famous karst cave with a total length of 6 kilometers (3.7 miles), six caves and three springs. Since its discovery in early Han Dynasty (206BC-220AD), it has always been a hot tour spot.
Weather
-
Having a subtropical humid maritime climate, Sanming has abundant rainfall and moderate climate. It is affected greatly by maritime monsoon. Its rainy season may last from March to September, and October to February is the dry season. The average temperature of a year is about 17-19

C(63-66

F).

When to Go: The city is favorable for visiting all the year round.
Sanming Travel Tips
1. From the west station of the Sanming's passenger transport in Gongye Road (South), buses to Fuzhou depart every half an hour from the early morning.
2. Sanming City is about four hours' ride from the
Mount Wuyi
.

History: Jiangle County was the first county in Sanming established in the Three Kingdoms Period (220-280). For thousands of years, Jiangle County has remained until now, and more counties were established in this area. The name of the city 'Sanming' came from the combination of the two counties, Sanyuan and Mingxi, which constitute the city proper.

Physical Features: Sanming belongs to low mountainous and hilly area, as well as river valleys. The main land of the city can be divided into several types, including fluvial landform, Danxia landform, karst landform and some other trivial landforms. Taining County has the largest area of Danxia landform in Fujian Province.

Special Local Products: dried meat of Mingxi County, dried bamboo shoot