Sanming Travel Guide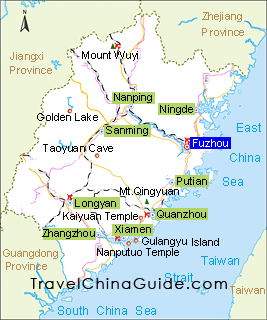 Sanming Facts
Chinese Name: 三明市 (sān míng shì)
Population: 3,603,000
Area: 22,900 square kilometers (8,841 square miles)
Location: in the northwest of Fujian Province, southeastern China
Administrative Division: 2 districts (Meilie, Sanyuan); 9 counties (Mingxi, Qingliu, Ninghua, Datian, Youxi, Shaxian, Jiangle, Taining, Jianning); 1 county-level city (Yong'an)
Area Code: 0598
Zip Code: 365000
GDP (2018): CNY 235.37 billion (USD 35.57 billion)

Situated in the northwest of Fujian Province, Sanming City neighbors Fuzhou on the east, Quanzhou on the south and is bounded on the west with Jiangxi Province. Sanming, a new industrial city, has gathered the largest steel, paper, cement, heavy truck production enterprises in Fujian Province. However, it is still a green city as the forest coverage rate of Sanming is up to 78.14% and the content of negative oxygen ion is 3.4 times the national average level. Sanming also features Danxia Landform and abundant Karst topography. A lot of fantastic caves and interesting geopark attract many visitors.
Attractions

Taining Global Geopark
: You can see many kinds of geological landscapes especially Danxia landforms in Taining Global Geopark. The spectacle "Overwater Danxia" attacts a large number of travelers. Strange caves, steep cliffs, odd rocks, various canyons and quiet lakes can be found everywhere.

Dajin Lake
: Located at the south foot of the Mount Wuyi, Taining County, this scenic area famous for its vast and deep water, omniform Danxia Landform sceneries and fine ecological environment. Covering an area of 136 square kilometer (53 miles), the scenic area has many beautiful sights, including streams, peaks, valleys and rafting sites. The Dajin Lake is the main body of the scenic area.

Taoyuan Cave Scenic Spot
: Consisting of the Taoyuan Cave and the Linyin Stone Forest, this scenic area was opened up in the Ming (1368-1644) and Qing (1644-1911) dynasties and is highlighted by steep crags and karst landscape.

Yuhua Cave: 7 kilometers (4.3 miles) south of the Jiangle County, the cave is a famous karst cave with a total length of 6 kilometers (3.7 miles), six caves and three springs. Since its discovery in early Han Dynasty (206BC-220AD), it has always been a hot tour spot.
Weather
-
Having a subtropical humid maritime climate, Sanming has abundant rainfall and moderate climate. It is affected greatly by maritime monsoon. Its rainy season may last from March to September, and October to February is the dry season. The average temperature of a year is about 17-19

C(63-66

F).

When to Go: The city is favorable for visiting all the year round.
Sanming Travel Tips
1. Passengers can take flights to
Sanming Shaxian Airport
from Beijing, Shanghai, Guangzhou, Chongqing, Shenzhen...
2. From the west station of the Sanming's passenger transport in Gongye Road (South), buses to Fuzhou depart every half an hour from the early morning.
3. Sanming City is about four hours' ride from the
Mount Wuyi
.

History: Jiangle County was the first county in Sanming established in the Three Kingdoms Period (220-280). For thousands of years, Jiangle County has remained until now, and more counties were established in this area. The name of the city 'Sanming' came from the combination of the two counties, Sanyuan and Mingxi, which constitute the city proper.

Physical Features: Sanming belongs to low mountainous and hilly area, as well as river valleys. The main land of the city can be divided into several types, including fluvial landform, Danxia landform, karst landform and some other trivial landforms. Taining County has the largest area of Danxia landform in Fujian Province.

Special Local Products: dried meat of Mingxi County, dried bamboo shoot
- Last updated on Sep. 16, 2019 -
Questions & Answers on Sanming Travel
Asked by Anca from CANADA | May. 15, 2017 06:42

Reply
Can anyone advise us how to get from Xiamen to Tangchuan Grand Canyon?
And some great accommodation and hiking tours in the area? We would like to spend 3 days in the area.

Thank you very much,
Anca
Answers (2)
Answered by Susan from CANADA | May. 21, 2017 20:58

1

0

Reply
You can take a high speed train at Xianmen North Railway Station to Youxi Railway Station with the duration of about 2 hours. Upon arrival, you can take bus Youxi no.2 to Jiaotongju Bus Station. Then you may take a shuttle bus at the bus station to the scenic spot directly. As I remember, this shuttle bus departs at 06:35, 08:20, 09:50, 12:20, 14:00 and 15:00. The ticket fare is CNY20/person.
Youxi Xiatianxia Jianghu Inn is just located inside the scenic area. It may charge about 300/night for a double room.
As for the hiking tours, you can consult the local agency for detailed information when you arrive there.
Answered by Anca from CANADA | May. 22, 2017 04:31

0

0

Reply
Thank you very much Susan.
Asked by Paul from LITHUANIA | Apr. 04, 2017 13:02

Reply
Hi everyone, I would like to visit Taining area, but have only 1 day for that.
What would you recommend to see, and how should arrange my transportation to/from the sights?
Also, is there any way to get to Taining from Wuyishan late in the evening?
Answers (1)
Answered by Amy from CHINA | Apr. 10, 2017 02:28

0

0

Reply
Hi, Paul. It will be a quite tight schedule to visit there in one day. I'd like recommend you three attractions, Dajin Lake, Zhaixia Canyon and Taining Ancient Town. If you find the time is too tight, you may cancel the one you are not interested in.
From Dajin Lake to Zhaixia Canyon: Since you only have one day there, you are advised to take a taxi at the cost of CNY40-50.
From Zhaixia Canyon to the Ancient Town: You will still need to walk a long distance if you take the public transportation, so I advise you to take the taxi to the town. The taxi fare could be CNY25-35.
In addition, I'm afraid there is no direct bus from Wuyishan to Taining operating till late in the evening. You can take bus to Shaowu at first. It operates during 06:30 to 17:30 and runs every 30-70 minutes. This trip will take 3 hours. Then you can take another shuttle bus to Taining. The last one departs at 18:25.
Asked by Niki from CYPRUS | May. 24, 2016 20:12

Reply
I'm going to Sanming soon. I would love to visit both Golden lake and Taoyuan Cave.
How can I get from one place to another? And is one weekend enough to visit both places?
Answers (1)
Answered by Tiffany from GEORGIA | May. 25, 2016 22:51

0

0

Reply
There is no direct bus or train service. You need to make a transfer at SM.
To Golden Lake, take a bullet train to Taining from North Railway Station (about 30 to 40 minutes). Upon arrival, charter a van to the lake for about CNY 50. Afterwards, follow the same route to the downtown SM.
To Taoyuan Cave, take a bus to Yong'an from City Bus Station (about 1 hour). Upon arrival, take a bus to Gongchuan, and get off at the cave. The trip takes about 20 minutes.
Yes, you can cover the two within one weekend.:)
Asked by James Lim from SINGAPORE | Oct. 02, 2015 02:00

Reply
I intend to go to Taining or Sanming for. 2 nites from Wuyishan in October,
Please advise suitable transport & time required.
James Lim/ Singapore
Answers (1)
Answered by May from USA | Oct. 08, 2015 03:30

2

2

Reply
At Wuyishan Bus Station, there are two buses to Taining at 08:00 and 14:30. The bus fare is CNY75, and the travel time is about 2 hours. There are also two buses to Sanming at 08:10 and 14:20. The bus fare is CNY87 - 92, and the duration is about 2 hours.