Fuzhou Travel Guide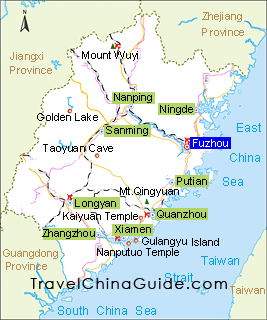 Chinese Name: 福州市 (fú zhōu shì)
Population: 7,740,000
Area: 11,968 square kilometers (4,621 square miles)
Location: in the east of Fujian Province, southeast China
Administrative Division: 6 districts (Gulou, Taijiang, Cangshan, Jin'an, Mawei, Changle); 1 county-level city (Fuqing); 6 counties (Minhou, Lianjiang, Luoyuan, Minqing, Yongtai, Pingtan)
Area Code: 0591
Zip Code: 350000
GDP (2018): CNY 785.681 billion (USD 118.74 billion)

Located in the lower reaches of the Min River, Fuzhou is the capital city of Fujian Province. Situated in the eastern part of Fujian, it serves as the economy, politics, culture and transport center of the province. It is so named after a mountain situated in the north called Mt. Fu. Additionally, many banyans were planted in the Song Dynasty (960-1279), and now provide shade for the entire city giving it another name - Rong Cheng (Banyan City). Fuzhou is one of the first open coastal cities in China. Mawei Fuzhou, the cradle of the modern Chinese Navy, has cultivated Chinese shipping culture. It is both a historic and a cultural city with over two-thousand-year of history. Such historical sites as Sanfang Qixiang, Fujian Tulou and Mount Wuyi combining natural scenery and tea culture are waiting for you to explore.
The weather of Fuzhou is comfortable, affording tourists the opportunity to visit the city all the year round, especially between April and November.
Chinese culture
.
Besides, the city is renowned for both quality and quantity of hot springs throughout China. The cultured sights of this city are not as overwhelming as many of the top attractions in China, but the modern infrastructures of supporting establishments for tourism are complete, and a dazzling array of local dishes and snacks await your patronage.
The tourism industry with city's sustainable, fast and healthy development is being perfected day by day. In this coastal city, the reception establishments related to tourism are modern. At present, there are over 80 stared hotels, and the recreational facilities are too numerous to mention. The transportation network is well developed and incorporates the road, rail, water and aviation networks, providing your trip to the city with convenient all-around access.
This city will continue to develop its prosperous, modern and well rounded tourism industry. With its ancient culture and exquisite sights, the city welcomes the global tourist and we hope Fu (meaning good fortune in Chinese) zhou will both bless you and bring you back.

Fuzhou Tour Information
Fuzhou Hiking Tours
: Information about hiking in Fuzhou for your reference
Fuzhou Golf Tour
: 10 Days Golf Tour of Fuzhou - Quanzhou - Xiamen

You May Like:
Top 10 Things to Do in Fuzhou
- Last updated on Jul. 17, 2023 -
Questions & Answers on Fuzhou Travel
Asked by Dawn Luo from CHINA | Oct. 20, 2023 00:49

Reply
Visa for South Africa
Could you please confirm that is TE invitation letter required for all types of visas applied by South Africans coming to China?
Answers (1)
Answered by Andrew | Oct. 20, 2023 01:01

0

0

Reply
Generally, the M visa needs that.
Asked by john brooks from USA | Jul. 17, 2023 05:40

Reply
waiting for taxes to be paid
tracking # ua106669710us
2023-07-03 09:17
Fuzhou City, waiting for users to pay taxes

2023-06-30 14:34
Fuzhou City, leave [Fuzhou International Exchange Bureau], next stop [Fuzhou International Customs Broker] (via transfer)

2023-06-30 14:33
Fuzhou City, Arrive at [Fuzhou International Exchange Bureau] (via transfer)
Answers (1)
Answered by Olivia | Jul. 17, 2023 23:36

0

0

Reply
Well, it requires the receiver to pay the tax before collecting the package.
Asked by Celine from SINGAPORE | Oct. 27, 2021 08:12

Reply
Travel to Fuzhou from Singapore
Hi, am I allowed to visit Fuzhou on business? What is the quarantine like?What documents do I need to get my visa? Thank you.
Answers (1)
Answered by Emily | Nov. 01, 2021 11:11

0

0

Reply
As I know, the quarantine is necessary. About the detailed documents, you are suggested to consult the airline staff or the embassy.
Asked by Vladimir from LATVIA | Jan. 29, 2021 19:13

Reply
how to get to fuzhou city center from mawei city center
Answers (1)
Answered by Sophia | Jan. 31, 2021 17:37

0

0

Reply
Would you mind providing the detailed address? Then I can find the exact transportation for you.
Asked by abc from PAKISTAN | Nov. 17, 2020 20:32

Reply
is there any halal pakistani or indian restaurant in fuzhou (jiangxi)?
Answers (2)
Answered by Shay | Nov. 19, 2020 17:32

0

0

Reply
Indian Restaurant: Tiangong Indian Restaurant: No. 10-25, North Xuefu Road.
Halal Restaurant: Lanzhou Beef Noodles Restaurant: No.543, Zhushan Road, High-Tech Zone.

Hope helpful!
Answered by Aslam | Jul. 20, 2022 21:16

0

0

Reply
Halal restaurant bahrey padey hain. Dont you worry buddy.