Fuzhou Travel Guide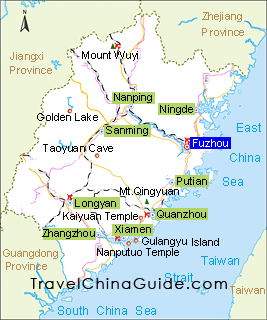 Located in the lower reaches of the Min River, Fuzhou is the capital city of Fujian Province. Situated in the eastern part of Fujian, it serves as the economy, politics, culture and transport center of the province. It is so named after a mountain situated in the north called Mt. Fu. Additionally, many banyans were planted in the Song Dynasty (960-1279), and now provide shade for the entire city giving it another name - Rong Cheng (Banyan City).

This city is both a historic and a cultural city with an over two-thousand-year of history and in 908, it was expanded. This expansion included Mt. Yu, Mt. Wu and Mt. Ping within its jurisdiction. The city is also prosperous in culture, from the Tang (618-907) through to the Qing Dynasty (1644-1911); there were thousands of Jinshi (a successful candidate in the highest imperial examinations) from the city. Many celebrated figures from Chinese history also hailed from this land, and thus, the birth of heroes also brings glory to such a place.
Sanfang Qixiang
. More attractions are:
Fujian Tulou
and
Mount Wuyi
. You may find that there are far too many things to see here in one short trip.
The weather of Fuzhou is comfortable, affording tourists the opportunity to visit the city all the year round, especially between April and November.
Chinese culture
.
Besides, the city is renowned for both quality and quantity of hot springs throughout China. The cultured sights of this city are not as overwhelming as many of the top attractions in China, but the modern infrastructures of supporting establishments for tourism are complete, and a dazzling array of local dishes and snacks await your patronage.
The tourism industry with city's sustainable, fast and healthy development is being perfected day by day. In this coastal city, the reception establishments related to tourism are modern. At present, there are over 80 stared hotels, and the recreational facilities are too numerous to mention. The transportation network is well developed and incorporates the road, rail, water and aviation networks, providing your trip to the city with convenient all-around access.
This city will continue to develop its prosperous, modern and well rounded tourism industry. With its ancient culture and exquisite sights, the city welcomes the global tourist and we hope Fu (meaning good fortune in Chinese) zhou will both bless you and bring you back.

Fuzhou Tour Information
Fuzhou Hiking Tours
: Information about hiking in Fuzhou for your reference
Fuzhou Golf Tour
: 10 Days Golf Tour of Fuzhou - Quanzhou - Xiamen
- Last modified on Oct. 09, 2019 -
Questions & Answers on Fuzhou Travel
Asked by Evon from MALAYSIA | Nov. 08, 2019 23:16

Reply
Anyone can advice in the nearest Tulou from Fuzhou and mean of transport to use?
Answers (1)
Answered by Vicky from THAILAND | Nov. 11, 2019 18:30

0

0

Reply
Actually, all famous Tulou are far away from Fuzhou city. If you go to Nanjing Tulou, you can take high speed train from Fuzhou South Railway station to Nanjing Railway station first, then you can take tourist bus to Nanjing Tulou directly.
Asked by Joanna from SINGAPORE | Oct. 09, 2019 04:31

Reply
Hi, interested to visit Fuzhou for 3D2N, where would be a nice area to stay
that is not too noisy and allows best cultural experience in November?
Answers (1)
Answered by Shay from GERMANY | Oct. 09, 2019 23:37

0

0

Reply
You are suggested to find a hotel nearby Sanfangqixiang Area. The surrounding transportation is convenient. And you can also easily find many nice local restaurants.
Asked by Jane from MALAYSIA | Sep. 29, 2019 21:11

Reply
Best way to get to Jianyang (Nanping) from Fuzhou International airport
What is the best way to travel to Jianyang (Nanping) from Fuzhou International Airport and How to get to Jianyang? Any direct speed train? How much is the train fare? How long is the train journey?
Answers (1)
Answered by Lisa from MALAYSIA | Oct. 08, 2019 01:40

0

0

Reply
You can take shuttle bus line of North Coach station to the last stop with CNY26 and 1 hour, which is near Fuzhou railway station. Then you can take train from there to Nanping North station. It takes around 50 minutes with CNY55.5. Next, you need to take bus No.30 to Nanping Coach station with CNY2 and 1 hour. And take bus from there to Jianyang Coach station with 1.5 hours and CNY43.
Asked by Sara from SAMOA WESTERN | Aug. 04, 2019 02:05

Reply
I want to buy a good and cheap laptop in fuzhou any suggestions please
Answers (1)
Answered by Ivey from UKRAINE | Aug. 07, 2019 02:08

0

0

Reply
You are suggested to go to Dalijia Computer City, which is located at No.169, Middle Wuyi Road, Taijiang District. Hope helpful!
Asked by Mary V. Shaw from CANADA | Jul. 04, 2019 09:01

Reply
I will be visiting a family who lives in Fuzhou.
I provided home stay for their son while he was studying in Canada. I would like to honor their hospitality in hosting me on my visit by taking them out for a nice meal. What would be the best place to take them?
Answers (1)
Answered by Eric from USA | Jul. 04, 2019 20:45

0

0

Reply
It is hard to say what is the best place to have a meal. It depends on their taste and preference. Maybe you can go to Daming Road or Jingda Road because lots of restaurants concentrate on there consisting of food street. Hope helpful!