Fujian Tulou
The history of Fujian Tulou dates back to one thousand years. Tulou, aka Earth Towers of the Hakkas, are the special fort-like buildings built by the Hakkas. Tulou in Fujian Province is the most famous and best preserved site, and was widely spread in the area and was listed as a world cultural heritage site by UNESCO as early as 2008.
The formation of the Fujian Tulou exemplifies the wisdom and creativeness of the ancestoral Hakkas settlers. It closes the gap between Chinese architectural history and world architectural history and is regarded as a miraculous wonder by thousands of experts, scholars and tourists who have been enchanted by its beauty. Over 3,000 Tulou buildings can be found in Fujian, mainly in Yongding, Nanjing and Hua'an Counties. When you are in Fujian, don't forget to take a Tulou tour, especially to Tianluokeng Tulou Cluster, one of the most famous ones.
Famous Fujian Tulou To Visit
1. Yongding County

Gaobei Tulou Clusster & Chengqi Tulou
Yongding County attracts plenty of visitors from home and abroad annually. In the area, Gaobei Tulou Cluster is one of the most well-known. It features dozens of Hakka earth towers such as Chengqi Tulou, Wuyun Tulou, Qiaofu Tulou and Shize Tulou.
Chengqi Tulou, a famous Yongding hakka Tulou, known as 'King of Round Tulou', is one of the most famous ones. Built by the Jiang family, the construction of Chengqi Tulou took over 50 years. The building is a three-ring round one with an ancestral hall at the center. The outer ring has four floors with 72 rooms on each floor, the second ring has two floors with 40 rooms on each floor and the inner one has one floor with 32 rooms. A precious wooden folding screen made of Phoebe zhennan and inscribed with pictures made in 1754 during
Qing Dynasty
(1644 – 1911AD) is housed inside.

Hongkeng Tulou Cluster
Hongkeng Tulou Cluster of Yongding Tulou has more than 30 Hakka Tulou houses with different styles: the 'Tulou Prince' – Zhencheng Tulou, the smallest round Rusheng Tulou, palatial Quanju Tulou, and Jingyang Tulou with the thickest walls. Ever since they were built in
Song Dynasty
(960 – 1279AD), those buildings have been residences of the Hakka for over1,000 years.
| | |
| --- | --- |
| Chengqi Tulou | Entrance of Chengqi Tulou |
2. Nanjing County

Tianluo Keng Tulou Cluster
As one of the most famous Hakka Tulou, Tianluokeng Tulou Cluster, about 60 kilometers (37 miles) from Nanjing County, consists of five earth towers: Buyun, Wenchang, Zhenchang, Ruiyun and Hechang Tulou. The Buyun Tulou is a square one built by the Huang family in 1796 during Qing Dynasty, and it is located in the center of the cluster surrounded by the other four. Wenchang Tulou was built in an oblong shape while the other three are round. Looking down at the cluster, it resembles a blooming plum flower.
The whole construction had been lasted around 300 years, starting in 1662. Each of the five buildings has three floors. Among them Buyun, Zhenchang and Runyun Tulou have 26 rooms on each floor; while Hechang Tulou has 22 and Wenchang Tulou has 32.

Hekeng Tulou Cluster
About 58 kilometers (36 miles) northwest of Nanjing County stands Hekeng Tulou Cluster, where the Zhang family lived. This complex includes 13 Hakka house Tulou: six round, six square and one pentagonal. Different styles of buildings are scattered in the valley, creating a beautiful landscape. The buildings are well proportioned just like the Big Dipper.
Around 400 years ago, the ancestors of the Zhang family came to the desolate Hekeng village, attracted by its natural scenery. They settled down in this place and built Tulou to protect themselves from bandits and animals. The first Zhaoshui Tulou was built in 1549.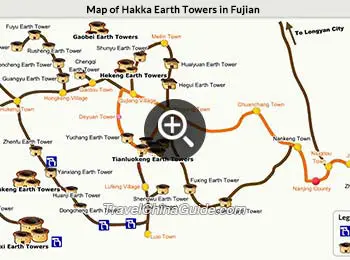 Map of Fujian Tulou

Yuchang Tulou
As one of the oldest Fujian Tulou, Yuchang Tulou in Nanjing County was built in 1308 AD during Yuan Dynasty (1271 – 1368 AD) by five families, so the whole building was divided into five parts. Famous as an oblique Tulou, some of the pillars are crooked, and one even leans at an angle of 15 degrees. Although it seems fragile, the house has survived several earthquakes and tempests for more than 600 years.



Yunshuiyao Ancient Town
Yunshuiyao Ancient Town in Nanjing county has many scenic attractions like Tulou, ancient banyan trees, and ancient streets. No doubt, the 53 blocks of Fujian Tulou are the most famous, including Hegui Tulou built on the moor and Huaiyuan Tulou, the best-preserved double-ring round one. Apart from that, the 13 ancient banyan trees are also eye-catching. The biggest one would require tens of people holding hands to encircle it, and its crown covers an area of about 1,900 square meters (2,300 square yards) with 30-meter-long branches.
3. Hua'an County

Dadi Tulou Cluster
Dadi Tulou Cluster, about 26 kilometers (16 miles) from Hua'an County, mainly features three Tulou buildings: Eryi, Nanyang and Dongyang. Fujian Tulou Museum is located in Nanyang Tulou, introducing the Tulou architectural style and history. First built in 1740, Eri Tulou is the biggest double-ring round Tulou in Fujian Province with an area of 9,300 square meters (11, 100 square yards). Inside the house, there are many cultural relics including the 590-square-meter (710 square yards) mural, some 99-square-meter (120 square yards) colored drawings, 349 wood carvings and 163 pairs of couplets.
History of Fujian Tulou

In Song Dynasty, some of the original Hakkas migrated and settled in the sparse Yongding area of Fujian. In order to protect themselves against bandits and wild beasts, they built some small round and square building clusters, which were the early Tulou houses.



Later, in Ming Dynasty (1368 – 1644 AD), Tulou were widely built in Fujian, especially in the mountainous areas.



From the 17th century until today, with a larger scale and more functionality, Fujian Tulou have been built in more shapes.
Architectural Style
Fujian Tulou were constructed using fire-resistant materials and are practically impregnable. They are spacious and built in more than 30 different shapes including rectangular, square, semi-circular, round, oblong, pentagonal, octagonal, etc.

A Tulou is a 'group-oriented' residence, usually with one main entrance. Its walls are usually around 1 meter thick. The main entrance door is protected by an iron sheet and is locked by 2 horizontal wooden bars. The wooden bars retract into the walls to open the door. Inside the entrance is a huge central courtyard where all the doors and windows of the rooms face. Normally, rooms at the ground level are used as kitchens and dining rooms. The rooms on the second floor are used for storage and those on the third level are used as bedrooms. The rooms at each level are identical. In front of each room, there is an open round hallway and usually there are 4 staircases to move from one level to another.

The round Tulou is the most common one. Most of the round buildings are three stories high with a diameter of 70-80 meters (230 – 260 feet). Usually spreading out from a center, the other buildings are circling around like water wave. The central part serves as the family ancestral hall, and most of the left rooThe round Tulou is the most common style. Most of the round buildings are three stories high with a diameter of 70-80 meters (230 – 260 feet). The central part serves as the family ancestral hall. The other buildings circle around like a water wave, and most of their rooms are dwellings.
How to get to Fujian Tulou
To Yongding Hongkeng Tulou Cluster
From Fuzhou:
Take a bus from Fuzhou North Bus Station to Longyang Bus Station at 15:20 and then transfer to a bus to Yongding Tulou.
From Xiamen:
Take a bus from Fanghu Bus Station or Xingling Bus Station to Yongding Tulou directly. It takes 3-3.5h.
To Nanjing Tianluokeng Tulou Cluster
From Fuzhou:
Take a bullet train from
Fuzhou Railway Station
or
Fuzhou South Railway Station
to Nanjing Railway Station (Fujian Province), and then take the tourist bus to Shuyang Town. Upon arrival, you can walk to the Tianluokeng Tulou.
From Xiamen:
1. Take a bullet train from
Xiamen Railway Station
or
Xiamen North Railway Station
to Nanjing Railway Station (Fujian Province), and then follow the route mentioned above.
2. Take a bus from Fanghu Bus Station to Shuyang Town at 8:30am or 12:30pm, and then walk to the scenic area. The bus takes about 3h.
To Hua'an Tulou
Take a bus from Xiamen Fanghu Bus Station to Hua'an County Xiandu Town at 11:50 and then take a taxi to reach the Tulou.
Entrance Fee
Opening Hours
Tianluokeng Tulou Cluster
CNY 90;
CNY 45 for children between 1.1 and 1.4m (3.6 - 4.6 feet);
Free for children under 1.1m.
7:00 - 19:00
Hekeng Tulou Cluster
CNY 40
CNY 20 for children between 1.1 and 1.4m (3.6 - 4.6 feet);
Free for children under 1.1m.
6:00 - 20:00
Hongkeng Tulou Cluster
CNY 90;
CNY 45 for children between 1.2 and 1.5m (3.9 – 4.9 feet);
Free for children under 1.2m.
8:00 - 17:30
Yunshuiyao Ancient Town
CNY 90
8:00 - 22:00
Dadi Tulou Cluster
CNY 90
8:30 – 17:30
- Last modified on Oct. 13, 2019 -