Fuzhou Transportation
Fuzhou is an important transportation hub in southeast China with many flights, high speed trains, long-distance buses, ferries to/from other cities. For the urban transport, the well-developed metro system, city-buses and taxis provide a lot of convenience to travelers and local people.
Air
As a modern, seashore based airport,
Fuzhou Changle International Airport
(FOC) is situated in a sandy area of Zhanggang Town, Changle City, about 50 kilometers (31 miles) from Fuzhou city center. It is now connected with approximately 90 domestic and international cities. Domestic services include flights to/from Beijing, Shanghai, Guangzhou, Shenzhen, Jinan, Shenyang, Harbin, Chongqing, Chengdu, Zhengzhou, Kunming, Haikou, Urumqi and Xi'an, etc. International services include flights to/from Singapore, Bangkok, Kuala Lumpur and Osaka. There are also daily scheduled flights from Hong Kong and Macau.

Airport Shuttle Bus

Airport Intercity Bus to Fuzhou Nearby Cities

Facilities & Services
Train

Fuzhou Railway Station
is the transportation hub of Fujian Province. It is located at the north end of Hualin Road, in the northern part of the downtown area. This station is connected with the national railway network and operates trains to Beijing, Shanghai, Qingdao, Zhengzhou, Nanjing, Nanchang, Guiyang, Changsha, Hefei, Chengdu, Chongqing, and Shenzhen.
Bus routes to the railway station: 2, 5, 17, 18, 20, 26, 51, 810, 821, 905, 917, 949, 951 and 966, also Yaxiya Zhuanxian (Asia Special Line), Xi/Dong Er' Huan Zhuanxian (Western/eastern 2nd Ring Road Special Line) and Nongda Zhuanxian (Agricultural University Special Line) to downtown area for the ticket of CNY1.

Located to the east of Lulei Village, Chengmen Town in Cangshan District,
Fuzhou South Railway Station
mainly operates trains to/from Shanghai, Hangzhou, Nanjing, Xiamen, Ningbo and Shenzhen.
Bus routes to the south railway station: K2, 83, 124, 140, 155, 161, 167, 176, 305, 306, 309, 503

Fuqing Railway Station is in Fuqing Cunty of Fuzhou. Passengers can take trains here to Shenzhen, Guangzhou, Xiamen, Quanzhou, Hangshan, Beijing, Shanghai, and Hangzhou, etc.
See detailed
Fuqing to Shenzhen Train

Major Rail Lines from Fuzhou to:

See details of the
Fuzhou Train Schedule

South Bus Station:
Address: No.190, Wuyi Zhong Lu, near the Da Li Jia Cheng
Bus Routes: 7, 19, 51, 52, 36, 801, 908, 959, 973
Time-Table: buses to some cities around for reference

North Bus Station: also Minyun North Bus Station (Min Yun Qi Che Bei Zhan)
Address: No.371, Hualing Lu, near the Railway Station
Bus Routes: 2, 5, 20, 26, 51, 810, 821, 917, 949, 966
Time-Table: buses to some cities around for reference

West Bus Station: also Hongshan West Bus Station
Address: near the Hongshan Qiao
Bus Routes: 5, 14, 16, 33, 38, 812, 813, 956

Water
Fuzhou Port is located on the southeast coast of China, on the west bank of the Taiwan Strait, in the east of Fujian Province and the entrance of the Min River. It is one of the two major commercial ports and the largest sea, river, and waterway transportation hub along the coast of Fujian Province; it is also one of China's foreign trade harbors. It is navigable with more than 30 ports in more than 20 countries and regions.
The harbor zones of the port are mainly seated in the estuary port. Currently, there are 120 docks and berths in entirety, and 18 of them are deep-water berths with the tonnage capacities of more than 10,000 tons. There is passenger transportation service supplied in the Mawei Harbor Zone. On weekdays and Sundays, there is a shuttle bus running between Mawei and Matsu in the northwest of the Taiwan Strait. Around the Chinese New Year, there may be three buses daily.
The Min River water route is from Nanping to Mawei of Fuzhou Port. From Mawei harbor, the ships can send passengers to Mt. Putuo, Ningbo and other places. Out of the east estuary of the Min River, tourists can get a ship to the main ports of the Yangtze River, north to Shanghai and Qinhuangdao, south to Xiamen and Hong Kong and east to Keelung in Taiwan.

See More:
Fujian Ports: Port of Fuzhou, Xiamen, Quanzhou, Putian
Transport to/ from Other Cities
How to Travel between Fuzhou and Beijing
Best Way to Travel between Fuzhou and Xiamen
How to Travel between Fuzhou and Shanghai
How to Travel between Fuzhou and Guangzhou
How to Travel between Fuzhou and Shenzhen
How to Travel from Singapore to Fuzhou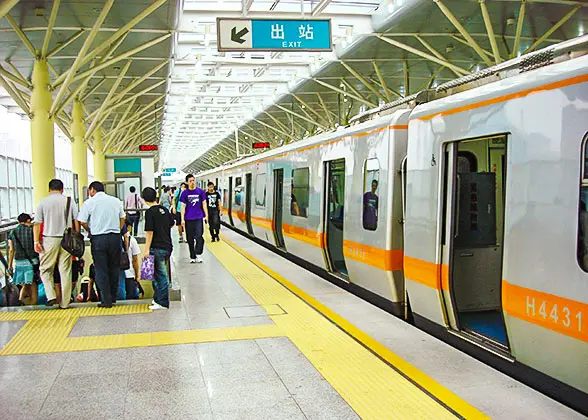 Subway Station
Line 1
and
Line 2
in service. Line 1 runs between Xiangfeng and Sanjiangkou. Line 2 links Suyang and Yangli. According to the long-term plan, Line 3,
Line 4
,
Line 5
,
Line 6
and Line 7 will form the basic urban rail network. Lines 5 and 7 will travel across the Minjiang River, and line 4 will run across the Wujiang River. The
Line F1
to be open in 2024 will pass the Fuzhou Railway Station and has transfer stations with Line 1, 4, 6.
See
metro maps
for reference.
City-Bus
It is very convenient for tourists to go around the downtown area by bus. The ticket price is CNY1-2. One can pay by transportation smart card, wechat pay and alipay. If pay by transportation smart car, passengers can enjoy 10% discount on the ticket fare. If pay by cash, prepare some small changes prior to boarding because most buses have no ticket sellers.
Main tourist buses to top attractions in Fuzhou:
1. West Lake Park - Nos. 1, 54, 65, 66, 70, 74, 88, 100, 109, 111, 200, 335
2. National Forest Park - Nos. 54, 72, 328, 527
3. Shoushan National Mine Park (Shoushan Waterfall Scenic Area) - getting off the buses Nos. 54, 72, 328, 527 and then transferring to special tourist buses to the scenic area
4. Mt. Gu - Nos. 3 (inter-zone bus), also there are buses near Wuyi Square that will take you to Mt. Gu directly
5. Mt. Yu - Nos. 8, 16, 86, 97, 101, 103, 106, 122, 125, 133, 173, 303, 306, K3
6.Xichan Temple - Nos. 14, 27, 33, 38, 39, 64, 70, 91, 96, 112, 113, 123, 128, 165, 307, 317
7.Memorial of Lin Zexu - Nos. 339, 356
8. Pingshan Park - Nos. 9, 19, 54, 65, 78, 102, 111, 145, 159
9. Zhuzifang Block - Nos. 1, 8, 20, 66, 101, 117, 121, 143
Taxi
Around 7,000 taxis serve in the city nowadays. It is the best choice for people who have a tight schedule. If you go to the city for the first time, do ask the driver to charge by the meter in case of being overcharged. The flag-down rate is CNY10 for the first 3 kilometers (1.9 miles) and it costs CNY2 for each additional kilometer (0.6 mile). Between 23:00 and 05:00 the next day, the price of each extra kilometer rises by 20%, i.e. CNY2.4. If a taxi runs farther than 8 kilometers (5miles), extra 50% is charged for empty return.
- Last updated on Apr. 20, 2023 by Brenda Lian -
Questions & Answers on Fuzhou Transportation
Asked by Kim from NEW ZEALAND | Oct. 17, 2023 23:56

Reply
Fuzhou to Pingtan
Is there metro going from Fuzhou metro station directly to Pingtan?
Answers (1)
Answered by Emily | Oct. 18, 2023 00:31

0

0

Reply
No, there is no direct metro available. However, you can take a high speed train from Fuzhou South to Pingtan.
Asked by Santi from INDONESIA | Sep. 19, 2023 04:33

Reply
Stay overnight at Fuzhou airport
Hi,

Please help

I will have transit flight around 10 hours at Fuzhou and its almost midnite and its winter season
1. can i just stay overnight at airport ?
2. Do i need transit visa ? Coz my chinese visa is single entry
3. Any recommendation lounge or hotel we can reach by walk ?

Thank you very much

Answers (1)
Answered by Molly | Sep. 20, 2023 01:20

0

0

Reply
1. It is possible to stay overnight but only seats are available.
2. If you transit in China for less than 24 hours, you are eligible for the 24-hour visa-free transit.
3. The pay lounge is not available at night and you may find a hotel out of the airport.
Asked by Stephen Everingham from AUSTRALIA | Mar. 21, 2023 22:46

Reply
Hi, Is there a airport shuttle bus service from the Fuzhou airport to Fuqing? Thanks in advance.
Answers (1)
Answered by Bruce | Mar. 23, 2023 20:53

0

0

Reply
Yes, there is and it arrives at Fuqing Honglu Road.
Asked by Rason from ITALIA | Jan. 04, 2020 02:10

Reply
City-bus to Fuzhou Airport (FOC)
Are there any city-bus lines (that cost CNY 1 or 2) that go from either South Bus Station to FOC or from the South Railway station to FOC?
Answers (1)
Answered by Gina from CANADA | Jan. 06, 2020 00:36

0

0

Reply
From South Railway Station, you can take shuttle bus to FOC. It departs from 8:40 to 19:30 with frequency of 30 minutes and costs CNY30/person.
Asked by aj from CHINA | Dec. 14, 2019 23:17

Reply
i need to go the airport how to get there from fuzhou train station...
Answers (1)
Answered by Sally from UNITED KINGDOM | Dec. 17, 2019 18:41

0

0

Reply
Take shuttle bus line of Airport direction from Huawei Xiyuan Coach station to the airport.