Quanzhou Travel Guide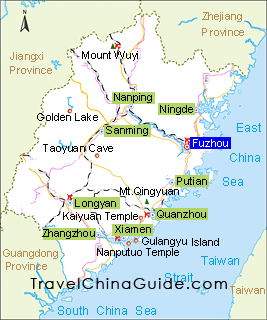 Quanzhou, also called Licheng and Citong Cheng in Pinyin, is one of the most famous historical and cultural cities in China. It is an important seaport located in southeast Fujian Province and is the economic and political center of the province. To its east is Taiwan separated from Quanzhou by the East Sea, making the city the famous mother town of Chinese compatriots in Taiwan and overseas. The climate is warm and humid, comfortable for year-round travel, making it a popular tourist destination.

Due to its special location, Quanzhou has been China's marine door to exotic cultures since ancient times. During the Song (960-1279) and Yuan (1271-1368) dynasties, Quanzhou port became one of the largest world ports. As the starting point of the Sea Silk Road, it accepted diverse religions including Christianity, Islam and Manichaeism. Today it is called 'World Religions Museum'.
Qingjing Mosque
, the Islamic Saint Mausoleums,
Kaiyuan Temple
,
Heavenly Empress (Tianhou) Palace
and other architectural classics such as
Luoyang Bridge
, Anping Bridge and Chongwu Ancient Town. Zheng Chenggong (1624-1662), the national hero who helped the government regain Taiwan from Holland in the 17th century, was also born here. His mausoleum in Nan'an city has become a precious historical site in this city.
In addition to places of historical interest, this city also abounds in natural beauties including various mountains, river valleys and basins. The famous mountains include
Mt. Qingyuan
, Mt. Zimao, Mt. Xiangong, Mt. Lingxiu and Mt. Penglai, where the
Water Rock Temple
is situated. Recreational parks near the mountains and along the sea add modern atmosphere to the city's glamour.
Quanzhou Jinjiang International Airport
supports flights not only to many cities of inland China but also to Hong Kong and Manila.
Quanzhou Railway Station
operates trains to most cities in Fujian as well as cities in several neighboring provinces. Highways are also well developed in the city, offering convenient access to
Xiamen
and
Fuzhou
. In addition, the city offers access by water to and from Jinmen, Taiwan.

Dining
It has a large variety of local dining including snacks such as fried oysters, frozen siphon worms, noodles in meat soup and fish pellets. If you are interested in Chinese tea, do not miss Wulong Tea in Anxi County.

Shopping
There are hotels of different standards as well as small hostels. If you are a backpacker, the hostels near the new long distance bus station along Wenling Road are very good choices. It also has many commercial streets for shopping, such as the Back City Street (Houcheng Street), Zhuangyuan Street, Zhongshan Road and Daxi Street.

Nightlife
Nightlife in this city is colorful. Local people often enjoy the delicious food in the night market; fly kites in the squares or boat in park lakes. Young people usually go to the cafés, bars and clubs, chattering, singing and dancing; while seniors often go to cinemas or theaters to see local operas. Clever in art, local people have created many folk operas including Nanyin, Gaojia Xi, Liyuan Xi and Marionette Show. Office workers choose beauty parlors or gymnasiums for relaxation.
- Last modified on Aug. 29, 2019 -
Questions & Answers on Quanzhou Travel
Asked by Roger's from UGANDA | Aug. 28, 2019 12:05

Reply
Kilometers from airport to quanzhou
Answers (1)
Answered by Ronnie from NEW ZEALAND | Aug. 29, 2019 23:47

0

0

Reply
The distance is around 25km.
Asked by ke yi yong from SINGAPORE | Apr. 20, 2019 22:46

Reply
what bus from xiamen gaoqi airport to shishanzhen?
Answers (1)
Answered by Brianna from CANADA | Apr. 24, 2019 19:34

0

0

Reply
Do you refer to Shishanzhen in Foshan, Guangdong Province?
Asked by Ernie from PHILIPPINES | Apr. 01, 2019 05:59

Reply
How do I get to Quanzhou Southern Shaolin International School from Xiamen?
Answers (1)
Answered by Levi from FINLAND | Apr. 09, 2019 19:38

0

0

Reply
It is advised to take bullet train from Xiamen North Railway Station to Quanzhou Railway Station first. Then take public bus no.45 to Wanhong Road. Afterwards, walk northeast around 850 meters to find the destination.
Asked by LeGo from PHILIPPINES | Feb. 27, 2019 22:58

Reply
Which district is a nice place to stay while in Quanzhou?
It will be our first time to see the place and we only have 1 1/2 day to do it.
Answers (1)
Answered by Trista from NEW ZEALAND | Mar. 01, 2019 00:03

0

0

Reply
You are suggested to find a hotel nearby Wanda Plaza Xipu Branch. The surrounding transportation is quite convenient. You can easily go to the scenic areas from there.