Xiamen Travel Guide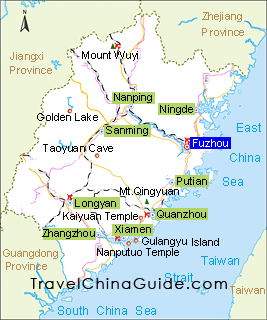 Basic Facts
Land Area: 1,565 square kilometers (about 604 square miles)
Sea Area: 300 square kilometers (about 116 square miles)
Population: 2,520,000
Area Code: 0592
Zip Code: 361000
Nickname: Egret Island

Located at the southeast coast of China, Xiamen is a tourist city of Fujian Province famous for its attractive seascape. As one of the major seaports since ancient times, it boasts a wide gulf with deep water but without freezing and silting. The name was consequently given, which means 'a gate of China'. As one of the forerunners of the special economic zones of China, the city mainly consisting of Xiamen Island, Gulangyu Island, the north bank area of the Jiulong River and Tong'an County, is connected with the mainland by the Gaoji Seawall, Xiamen Bridge, etc. The city has been called the Egret Island because of the hundreds of thousands of egrets inhabiting there. This is due to the beautiful natural scenery, the fresh air and the clean environment of the city.
Being of a subtropical monsoon climate with mild weather all year round expect the typhoon months, this city is an ideal tourist destination for you. It is a typical littoral city with abundant tourist attractions such as islands, mountains, temples and parks, etc., providing you with a full sightseeing schedule. The well-known Gulangyu Island, South Putuo Temple, Baicheng Beach and other areas like Jimei, Hulishan Fortress, Wanshiyan, etc. are highly recommended for a tour. A sea tourist line is also available for you to enjoy the amazing scenery of many beautiful small islands around.

Being the hometown of many overseas Chinese, this city has actually benefited from the contribution of overseas Chinese and its economy has undertaken great advancement. To promote its tourism industry, it has established not only the corresponding infrastructures, but also a great variety of entertainment centers. The folk customs of the minorities, varied local festivals and especially the particular local dishes and snacks are also appealing to visitors. This city, with distinct oriental culture and southern Fujian features, welcomes you from all over the world.
See also: 6 Best Xiamen Beaches
| | |
| --- | --- |
| Gulangyu Island | Jimei |
Travel Tips
Dining Shopping Nightlife 144-Hour Visa-Free Transit in Xiamen
Most tourists consider the accommodation, consisting of many star rated hotels, convenient. Meanwhile there are plenty of special local products to be added to your shopping list, including various kinds of tealeaves, fruits like sugarcanes, olives and longans as well as sea products such as fish, prawns, crabs, abalones and lancelets.

Useful Numbers
Police: 110
Fire: 119
Ambulance: 120
Mayor's Hotline: 968123
Tourist Complaints: 0592-5318985
Taxi Complaints: 0592-5615610
Consumer Complaints: 12315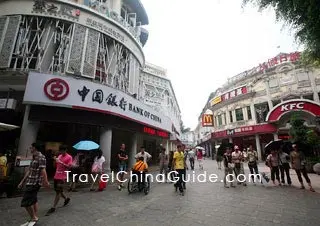 Bank of China on Gulangyu Island

Credit cards including Master Card, Visa, American Express, JCB, etc. are convenient to use in many appointed hotels, large restaurants or shopping malls, etc. and ATMs are readily available for you to use Chinese cards. You can have currency exchange or withdraw cash from the Bank of China. Following is Bank of China information for your convenience:

Bank of China
Branch: Mansion of Bank of China, No.40, North Hubin Road
Tel: 0592-5317830
Siming Branch: No.4-10, Zhongshan Road, Siming District
Tel: 0592-2038076
Airport Branch: Inspection Building, Gaoqi International Airport
Tel: 0592-6029270

Post Offices
Zhongshan Road Branch: No.1, Zhongshan Road, Siming District
Airport Branch: Gaoqi International Airport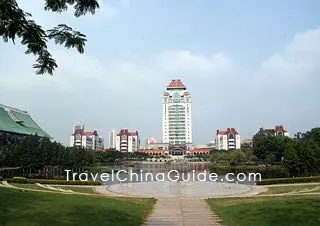 Campus of Xiamen University

Hospitals
No.1 Hospital: No.10, Shanggu Street, Siming District
Zhongshan Hospital: No.201-209, South Hubin Road, Siming District

Universities
Xiamen University
Location: No.422, South Siming Road
Jimei University
Location: No.185, Yinjiang Road, Jimei District

Foreign Consulates
Consulate General of the Republic of the Philippines
Consular District: Fujian, Zhejiang, Jiangxi
Chancery: No.2 Lingxiang Lane, Lianhua Village
Tel: +86-592-5130355/5130366
Consulate General of the Republic of Singapore
Consular District: Fujian, Guangdong, Hainan
Chancery: Unit 05-07/08, Bank Center, No.189, Xiahe Road
Tel: +86-592-2684691
Getting to know more tips for travel in China, please visit
China Travel Advice
.
- Last modified on Nov. 12, 2019 -
Questions & Answers on Xiamen Travel
Asked by Cruise Traveller from SINGAPORE | Nov. 12, 2019 05:49

Reply
Is there hop on hop off bus at xiamen cruise terminal?
Hi, we arrive at cruise terminal and would want to take hop on hop off bus. Where do we wait for this bus and how much is the fare? What's the bus frequency and how long is the journey?
Answers (2)
Answered by Kim from INDIA | Nov. 14, 2019 19:21

0

0

Reply
Yes, you can get on the bus at cruise terminal and it costs CNY45/adult. The bus operates from 8:30 to 16:40 with interval of 30-60 minutes and takes 100 minutes on the way.
Answered by Cruise Traveller from SINGAPORE | Nov. 15, 2019 02:23

0

0

Reply
Thank you Kim! :)
Asked by Vasita from THAILAND | Oct. 15, 2019 22:57

Reply
Hi I want to know how to ge to Tulou from Xiamen?
And how to go to Wuyi Shan from Xiamen ( I can speak Chinese )
Answers (3)
Answered by Liam from USA | Oct. 16, 2019 20:31

0

0

Reply
Tulou represents a kind of building, not a attraction name. You might need to choose the place you want to go like Yongding Tulou or Nanjing Tulou. You can take high speed train from Xiamen North Railway station to Wuyishan East Railway station, then take direct bus line from there to Wuyishan.
Answered by Vasita from THAILAND | Oct. 17, 2019 03:04

0

0

Reply
Yongding and Nanjing far from each other?
How to go there ? Can you advise which one not much tourist and How long from Wuyi shan station
Answered by Liam from USA | Oct. 17, 2019 18:49

0

0

Reply
Yongding and Nanjing are not far away from each other. The most common way is to hire a car or join group tour to these Tulou. Nanjing might have less tourists than Yongding and the distance is around 550km between Wuyishan and them. It is suggested to visit Tulou first and back to Xiamen, then you can go to Wuyishan.
Asked by Tony Brown from USA | Oct. 01, 2019 08:40

Reply
which language is spoken in Xiamen? Mandarin or Cantonese
Answers (1)
Answered by Amy from AUSTRALIA | Oct. 08, 2019 20:21

0

0

Reply
They speak Mandarin and Hakka.
Asked by alan from MALAYSIA | Sep. 30, 2019 05:19

Reply
I am planning to visit Xiamen and surrounding area for about 10 days in October.
Kindly advise me which town I should visit outside Xiamen eg Quanzhou? What about transportation in the area, is it better by bus or train.
Answers (1)
Answered by Allice from USA | Oct. 08, 2019 20:31

0

0

Reply
Bus and high speed train are both convenient transportation methods. You can also go to Kulangsu, Dongshan Island, Fuzhou.
Asked by Linda from CYPRUS | Sep. 27, 2019 05:30

Reply
Am cruising from Hong Kong to Xiamen and then on to the Philippines
Am I eligible for 144 hour free visa?
Answers (1)
Answered by Hale from USA | Sep. 29, 2019 02:06

0

0

Reply
Yes, you are eligible for it.