Xiamen Attractions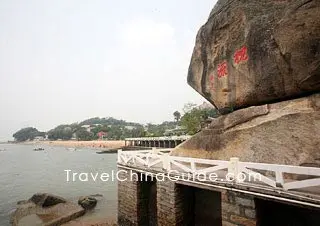 Gulangyu Island

Gulangyu Island


South Putuo Temple


Baicheng Beach

Hulishan Fortress


Jimei


Six Best Beaches

Located on the southeast coast of China, Xiamen enjoys a pleasant climate and beautiful natural environment. And the city claims to be a city in the sea and is renowned for its various scenic spots and cultural relics. There are mainly five or so tourist areas in this city.

Among them, the most attractive place should be the Gulangyu Island, which prohibits motor vehicles. With rich tourist resources of intriguing scenery, historical relics and architectures of varied styles, the Gulangyu is promising to be an AAAAA national tourist attraction and surely is a must-see during your trip to Xiamen. The Sunlight Rock, which claims to be Xiamen's highest point and the Shuzhuang Garden are highly recommended. Haoyue (Bright Moon) Park and the Piano Museum are also appealing to visitors.

The South Putuo tourist area is famous for the South Putuo Temple, which is located at the foot of Wulaofeng (Mountain of Five Old Men) and is deemed to be the most renowned Buddhist temple in Xiamen. Closely to its south is Xiamen University, which is believed to be one of universities with the most beautiful campus. Near the campus lies the famous Hulishan Fortress characterized by its hold of the largest and the smallest cannons in the world.
| | |
| --- | --- |
| South Putuo Temple | Jimei |
Another remarkable tourist area is Jimei, the hometown of Mr. Tan Kah Kee (Chen Jiageng), an outstanding educator and leader of overseas Chinese. The academic atmosphere and attractive natural scenery of Jimei is manifested by attractions such as Jimei Study Village and Ao Yuan. In addition, Guilai Tang, Jiageng Park, etc. are also worth visiting.
Wanshishan tourist area located on the north piedmont of Mt. Shishan in the east of Xiamen boasts a unique sight of exotic rocks and stones as well as various subtropical plants. Tong'an tourist area also has many interesting attractions to see.

Top 10 Things to Do in Xiamen
- Last updated on Apr. 15, 2021 -
Questions & Answers on Xiamen Attractions
Asked by Tom from USA | Aug. 24, 2019 05:08

Reply
Visiting Xiamen in October. Is there a way to get to Kinmen Islands by ferry?
I know Kinmen is part of Taiwan (Republic of China) but I have US passport. Is it convenient to go back and forth between Xiamen and Kinmen in the current political climate between PRC and ROC?
Answers (1)
Answered by Ally from CANADA | Aug. 27, 2019 20:52

0

0

Reply
It is pretty common to take ferry between them. You can take ferry from Wutong pier to Kinmen Shuitou pier. It takes 30 minutes with CNY159. The ferry departs from 10:00 to 18:30 with interval of 30 minutes.
Asked by RICHARD COHEN from USA | Aug. 09, 2019 23:46

Reply
if I am in Xiamen for a single day, coming in by cruise line, dock in morning and leave in afternoon
do I need a visa?
Answers (7)
Answered by Eva from USA | Aug. 12, 2019 22:33

0

0

Reply
What is your route?
If your departure spot before Xiamen and your next destination after you leave Xiamen are different countries or regions, then you are eligible for 24-hours and 144 hours visa-free policy.
Answered by richard cohen from USA | Aug. 14, 2019 10:52

0

0

Reply
we leave from Hong Kong on the Seabourn cruise line
we are at sea for a day and then our first port is Xiamen for 10 hours and then proceed to the Manila, Philippines
will this qualify and if so how do I proceed with the visa, do I get it on arrival or is their an "e-Visa" process

thanks for your time and consideration

Richard Cohen
Answered by richard cohen from USA | Aug. 14, 2019 10:54

0

0

Reply
also can you provide private guide service while we are in Xiamen for three people
thank you
Richard Cohen
Answered by Eva from USA | Aug. 14, 2019 22:34

0

0

Reply
You are eligible for 24-hour visa-free transit. It is not a visa. You just need to fill an Arrival/Departure Card at the border inspection counter; get the temporary entry permit stamp or sticker; claim the luggage (if needed);go through the customs.
Answered by richard cohen from USA | Aug. 15, 2019 07:32

0

0

Reply
thanks you so much for the information
it ia much appreciated
Answered by richard cohen from USA | Aug. 15, 2019 07:38

0

0

Reply
Can you provide a private guide service for our day in Xiamen?
Answered by Eva from USA | Aug. 15, 2019 20:22

0

0

Reply
I thought you only stay 10 hours in Xiamen. Maybe you can search Xiamen in this website and find some interesting places you want to visit and I'll tell you how to go.
Asked by CL from SINGAPORE | Nov. 08, 2018 02:26

Reply
What are the ways for tourists to move around in Xiamen?
Answers (1)
Answered by Lenore from AUSTRALIA | Nov. 08, 2018 19:01

0

0

Reply
The bus and metro in this city is very convenient and you can depend on them to move around. There is no need to hire a car in this city.
Asked by Percy from PHILIPPINES | May. 28, 2017 18:38

Reply
How to get from Gaoqi Airport to Xiamen University? Any other place to go when I get there?
I will have a 12hr layover before my flight to Manila and 21 hours before my flight going back to Vancouver.

Thanks!
Answers (3)
Answered by Hebe from POLAND | May. 31, 2017 22:39

0

0

Reply
You can take the airport express ferry line to the ferry port Bus Stop, and then you may transfer bus no.b1 to the south gate of the university directly.
You can also pay a visit to Gulangyu Island. You just need to take the airport express ferry line to the last stop. Then you may take a ferry to visit the island.
Answered by Percy from PHILIPPINES | Jun. 02, 2017 23:34

0

1

Reply
May I know where is the airport express ferry located? May I know the cost of the travel if you have the information please? Thanks
Answered by Percy from PHILIPPINES | Jun. 02, 2017 23:43

0

0

Reply
I mean which part of the airport.
Asked by Dale Walker from USA | May. 23, 2017 19:12

Reply
I will be traveling in September of 2017, to Bali, with a 20 hour lay-over in Xiamen.
What can be seen in this short time? Arrive at 11:45PM and depart at 6:45PM the next day. Thanks-Dale.
Answers (1)
Answered by Lucy from CANADA | May. 27, 2017 02:14

0

0

Reply
First, you need to apply for a stay permit when you need to get out of the airport.
You are advised to have some rest at the hotel in the airport or near it. Then you may take the airport ferry express to the port and take a ferry to visit Gulangyu Island. The first express departs at 08:00. The duration is about 35 minutes.
On your return way to the airport, you can also take this airport express, and the frequency is 15 minutes during 12:00 to 21:00. You may reach the airport 2 hours before your departure flight.