Xiamen Dining
Xiamen cuisine is the main representative of Fujian cuisine which is famous throughout China. Besides local dishes, food of other parts of the country also can be found here, making this city a good destination for gastronomes. Being fresh, light, crispy and slightly spicy in taste, Xiamen cuisine is characterized by the following dishes: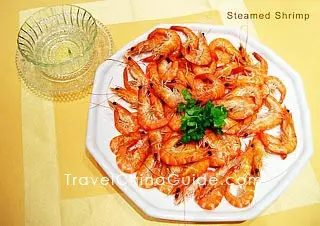 Seafood is famous for its extreme freshness. The location of Xiamen on the southeast coast of China provides it with abundant sea products. Dating from the Qing Dynasty, the seafood locally is always a traditional delicacy make from fresh local fish, prawns, crabs and more, with the flavor depending on the various seasonings.

Herbal Meal has a long history in China and is celebrated at the Lujiang Restaurant in Xiamen. Here, the herbal meal is delicately made according to the seasons and the various effects of the herbs. It is delicious in flavor and very nourishing.

Vegetable Dishes in the Nanputuo Temple are made of vegetable oil, flour, beans, vegetables and fruits. In accordance with the disciplines of the traditional Buddhist diet, the vegetable dishes made here mainly depict the Buddhist ideas and topics, attracting many tourists from both home and abroad.

Local snacks should not be missed during your trip as they are great in variety and reasonably priced. Snacks have distinct flavors and some of them are listed below:

Tu Sun Dong is made from a sea product called 'Xing Chong' and is eaten with the seasonings including sauce, vinegar, chili, catsup, mustard and garlic. It is now becoming one of the most important cold dishes in any banquets.

Peanut Soup is simply made from peanuts but with very complicated production process. It has a sugary flavor and is best eaten with some dim sum dishes such as deep-fried twisted dough sticks, steamed stuffed buns and similar. Many believe the best Peanut Soup is served at Huangzehe Restaurant in Zhongshang Road.

Spring Roll is a classical dish in Hakka cuisine a fried rolled pancake filled with slices of various vegetables, meats and seafood. The local people like to have Spring Rolls as traditional snacks during festivals.

There are plenty of snacks that are not only well-known but also truly delicious including the Xiamen Pie, Oyster Pancake, Rice Dumplings and Shacha Noodles.

Recommended Restaurants
Lujiang Restaurant
Address: 6F, No.54, Lujiang Street
Specialties: a good view of the sea; delicious and healthy herbal meals
Jiali Seafood Restaurant (South Hubin Road Branch)
Address: 3-4F, Baofu Building, No.819, South Hubin Road
Specialties: High-quality environment with good service; genuine seafood
Haigang (Harbor) Restaurant
Address: 2-3F, Tiandi Food City, No.98, South Jiangtou Road, Huli District
Shuyou Seafood Restaurant
Address: 1-4F, Podium Building of Mansion of Bank of China, North Hubin Road, Siming District
Specialties: an old restaurant famous for seafood
Huang Zehe Peanut Soup Restaurant (Zhongshan Road Branch)
Address: No.22, Zhongshan Road, Siming District
Specialties: Peanut Soup, Oyster Pancake, Shacha Noodles and other local snacks

Foreign Restaurants
The House Restaurant
Address: No.10-1, Baihe Road, Siming District
Specialties: Western food
Havana Restaurant
Address: No.88 Villa, Lianhua Lingxiang Lane, Siming District
Specialties: Western food
Pizza Hut
Address: 24F, Haibin Building, No.52, Lujiang Street
Specialties: authentic pizza, salad, roast chicken, drinks and sweets
Alilang Restaurant (South Lianhua Road Branch)
Address: 1F, Dihao Mansion, No.820, Xiahe Road, Siming District
Specialties: cool noodle, seafood pancake, seafood hot pot and other South Korean food
Songhe Japanese Restaurant
Address: 1F, Fanrong Plaza, No.267-24, West Hexiang Road, Siming District
Specialties: Japanese cuisine

Vegetarian Restaurants
Leading with vegetable dishes of the Nanputuo Temple, this city has got many good vegetarian restaurants, and the following come highly recommended:
Tianhe Vegetarian House
Address: No.10-2, Dingwozai, Yanwu Garden, Siming District
Specialties: vegetarian sea-food soup with sour vegetable, crisp vegetarian fish and fish-flavored eggplant
Dafang Vegetarian Restaurant
Address: 2F, No.412-9, South Siming Road



Further Reading:
10 Best Fujian Foods You Have to Try
Ultimate Guide to Best Xiamen Restaurants
- Last updated on May. 24, 2022 -
Questions & Answers on Xiamen Dining
Asked by Khairuddin from BRUNEI | Aug. 08, 2018 22:12

Reply
Hai do you know how can i find halal street food/hawker in Xiamen?
Answers (1)
Answered by Diana from THAILAND | Aug. 09, 2018 20:42

0

0

Reply
I know there are some restaurants but have no idea about the street food.
Asked by Masood from INDIA | Jan. 04, 2016 07:19

Reply
I wonder if there is Pure Indian Vegetarian Restaurant in Xiamen.
Answers (1)
Answered by Preston from UNITED KINGDOM | Jan. 05, 2016 00:06

0

0

Reply
As I know, there is no special indian vegetarian restaurant in this city. But don't worry. There are several nice indian restaurants. You can order some vegetable dishes. Indiano John's Samrat is highly recommended. It provides authentic indian foods. And the prices are acceptable. It's located at No.69, North Jiangtou Road, Huli District. Hope you like.
Asked by Parveen satija from INDIA | Dec. 22, 2015 02:15

Reply
Are there some indian restaurants in Xiamen?
Answers (1)
Answered by Ava from UNITED KINGDOM | Dec. 22, 2015 19:07

0

0

Reply
Yes! I happen to know two Indian restaurants in the city. One is Indiano John's Samrat at no. 69, North Jiangtou Road, Huli District. The other is Indian Roti Restaurant on 4F, Robinson Shopping Mall, at no. 885, Xiahe Road. The food is pretty delicious. Have a try!