Private Day Trip to Yongding Hakka Tulou from Xiamen
One Day Side Trip to Yongding Hongkeng Tulou Cluster
In the morning, our tour guide and the driver of this private Xiamen to Tulou tour will pick you up from your hotel at about 08:00. We will drive 3 hours to Yongding County to visit the renowned Hongkeng Hakka Tulou Cluster, which is listed as a World Cultural Heritage Site. Along the way, our guide will give you a brief introduction to Hongkeng, a village with a long history in the Yongding District of Fujian. There are more than 30 Tulous, a kind of Hakka earthen dwelling, arranged in an orderly fashion inside this tranquil village. Most of them were created in the Ming and Qing Dynasties (1368 - 1911). It would be rewarding to join this Xiamen day tour to Yongding Tulou to see such rare culture heritage sites.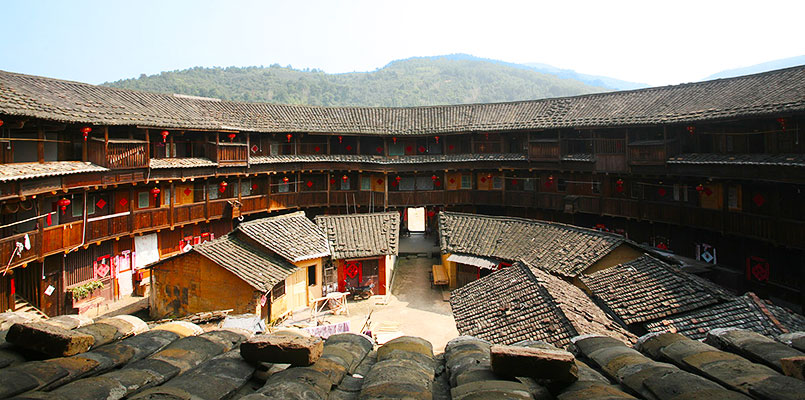 Have a full view of the internal construction of Yongding Hakka Tulou
Upon arrival, you will be led to the Zhencheng Building, known as the "Eight Diagrams Building". It is famous for its magnificent outside and delicate inside design. Then, pay a visit to the palace-like Kuiju Building featuring distinctive quadrate construction. Later, our guide will accompany you to the Rusheng Building - a small compact round tower. Fuyu Building will be the last stop of this Xiamen Tulou tour.
The 1-day private Xiamen tour to Yongding Hakka Tulou Cluster ends here, and then you will be escorted back to your hotel in Xiamen. Hope you have spent a nice day!
Meal: Lunch
Yongding Hongkeng Tulou Cluster
Hongkeng Tulou Cluster is located in Yongding in southwest Fujian. Embraced by rolling hills and winding rivers, it includes many Hakka earthen buildings from various dynasties, and some of them date back to late Song Dynasty (420 - 479). Hiding in terraced fields and forest-capped valleys, these buildings are the pearls of the oriental architectural history.
The Zhencheng Building is the top choice for a Fujian Tulou day tour. Constructed in 1912 from the structure of eight diagrams, it enjoys fame as the "Prince of Tulou". Among the numerous earthen buildings, it is the most brilliant one, with a large area of about 5,000 square meters (5,980 square yards). The Zhencheng Building consists of two circular houses - an outer four-floor building and an inner two-floor building, looking beautiful and elegant.
The Kuiju Building is a rectangular architecture with a structure similar to that of a splendid palace, looking like the Potala Palace in Tibet when seen from a distance. It is worth mentioning that the entire building perfectly integrates with mountains behind it.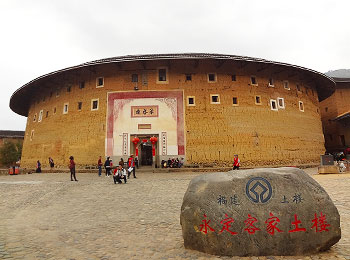 Visit the Yongding Hongkeng Tulou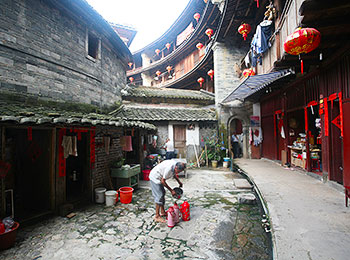 Local residents in Tulou
The Rusheng Building is a ring-shape house with three floors. There is a small well in the middle of its courtyard, and the whole building is equipped with only one entrance.
The Fuyu Building is opposite the Rusheng Building, separated by a stream. It is a western-style architecture covering an area of around 7,000 square meters (8,372 square yards). All the houses and halls of the Fuyu Building are richly decorated. This building is regarded an outstanding representative of Hakka Tulou due to its complicated structure and impressive appearance.
Tour Prices
| 1 traveler | 2-3 travelers | 4-5 travelers |
| --- | --- | --- |
| USD429 | USD239 | USD149 |
Prices are per person in US Dollars.

Price Includes
Private English-speaking guide
Private driver & air-conditioned vehicle
Chinese lunch
Entrance fees to tourist sites
Price Excludes
Hotel accommodation with breakfasts
Tips or gratuities for guide and driver
Why Travel With Us
Itineraries you may also like: