10 Best Fujian Foods You Have to Try
Fujian food is popular in Fujian, Taiwan and Southeast Asia with a light flavor, and rich and balanced nutrition among different ingredients. Here are top 10 famous Fujian dishes you'd better not miss.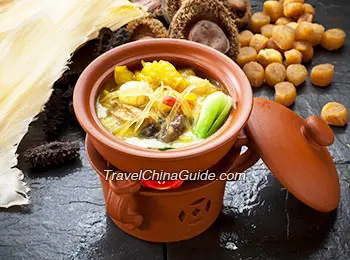 Buddha Jumps Over the Wall
1. Buddha Jumps Over the Wall (Sea Food and Poultry)

Chinese Name: 佛跳墙 fú tiào qiáng


Flavor: salty, umami


Cooking Method: steaming, stewing
Buddha Jumps Over the Wall is the best Fujian food recognized by many. It is stewed for over 10 hours with 28 main ingredients, like abalone, sea cucumber, shark's fin, fish belly, fish lip, tendon, ham, scallops, mushroom, etc. There was a poem said that the charming aroma would attract the Buddha to give up his vegetarianism, thus it was named as Buddha Jumps over the Wall.

2. Oyster Omelette

Chinese Name: 蚵仔煎/海蛎煎 kē zǎi jiān/hǎi lì jiān


Flavor: salty and aromatic, fresh oyster flavor


Cooking Method: pan-frying
Oyster Omelette is fried in a pan with eggs, local oysters and potato flour water. It was created in Quanzhou, Fujian by the poor when they were low on food. Later it became one of the best Fujian dishes and the No.1 best-sold snack in Taiwan. The surface is crispy, and the oysters are fresh and succulent.
3. Sweet and Sour Litchis

Chinese Name: 荔枝肉 lì zhī ròu


Flavor: sweet and sour


Cooking Method: deep-frying, stir-frying
Sweet and Sour Litchis is a famous Fujian dish having a history of 300 years or so. The ingredients include thinly diced pork, white water chestnuts, starch, red vinasse, sugar and vinegar. The finished dish looks like litchis in the appearance, hence the name. Now, many restaurants often use diced potato instead of water chestnuts.
4. Satay Noodles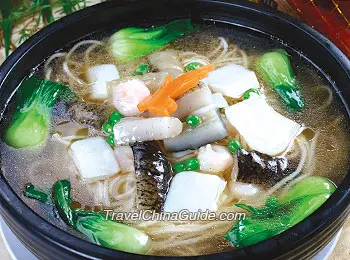 Satay Noodles

Chinese Name: 沙茶面 shā chá miàn


Flavor: sweet and spicy, flavor of satay paste


Cooking Method: boiling
Satay Noodles is a notable Fujian food from Xiamen, with the satay sauce and soup as the featured ingredients. The satay sauce is mainly made from shrimps. Deep-frying the ground shrimp paste and garlic paste, and mixing well with pepper powder, curry powder, five spice powder and sesames, and that's just the satay sauce. In addition to the satay sauce, you can add pork dices, duck blood, sausages, sleeve-fish or dried bean curd and other ingredients in the noodles with hot soup.

5. Fuzhou Pork Swallow (Peace Swallow)

Chinese Name: 福州肉燕(太平燕)fú zhōu ròu yàn (tài píng yàn)


Flavor: salty


Cooking Method: pounding, rolling, wrapping, boiling
Fuzhou Pork Swallow, or the Peace Swallow, is a symbol of peaceful life, thus local people eat the dish on festive days, wedding banquets, friends' gathering parties, etc with a wish to avoid all chaos. It is similar to wonton, but the wrapper is made of minced thin pork with tapioca flour, and the stuffing is also minced pork. Because it is shaped like small swallows, thus the name became fixed.

6. Sea Worm Jelly

Chinese Name: 土笋冻 tǔ sǔn dòng


Flavor: chewy, umami


Cooking Method: boiling
Sea Worm Jelly is a special Fujian food in winter and spring, containing lots of protein. The sea worms 2.5-4 inches long are boiled in water; after cooling down it agglutinates to become the jelly. The worms are tender and slightly elastic, and you can see them clearly in the jelly. People usually eat the Sea Worm Jelly with multiple condiments, such as sweet sauce, spicy sauce, garlic paste, radish shreds, chili or tomato slices, etc.

7. Stewed Ginger Duck

Chinese Name: 姜母鸭 jiāng mǔ yā


Flavor: salty, ginger flavor


Cooking Method: stewing
Stewed Ginger Duck is a medical Fujian food where the duck loafs are stewed with ginger slices. Some Chinese medicines, such as Chinese angelica and codonopsis pilosula, and other condiments like star anise, dried myrcia and cassia barks would be used as well. It is nourishing and beneficial for your health, in particular for women.

8. Braised Meat Zongzi

Chinese Name: 烧肉粽 shāo ròu zòng


Flavor: salty, oily


Cooking Method: braising
Braised Meat Zongzi is a special Zongzi coming from Quanzhou, Fujian. The most distinctive difference between Braised Meat Zongzi and other Zongzi is that the glutinous rice is mixed with oil and seasoned soup and then stir-fried, before being wrapped into bamboo leaves with braised pork. Dried scallops, mushrooms, shrimps, eggs, squid, dried oysters and other ingredients can also be added as stuffing. It tastes the best when it is still warm. You can also dip with satay sauce, garlic paste, chili sauce or other seasonings when eating it.

9. Thick Porridge with Thin Noodles (Mee Suah Soup)

Chinese Name: 面线糊 miàn xiàn hú


Flavor: salty, light, smooth


Cooking Method: boiling
Thick Porridge with Thin Noodles is one of the famous Fujian dishes that is often taken as breakfast or as a night snack by the locals. Boiled with thin dried noodles and sweet potato flour, it is easily digestible, suitable for both the old and young. According to individual taste, chopped sausages, shrimps, pork liver, spiced egg or mushrooms can be cooked together in the porridge. It goes well with deep-fried dough sticks, too.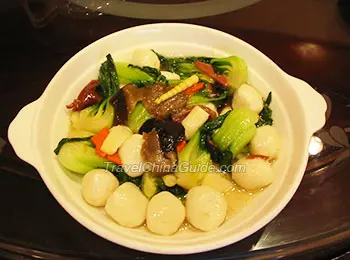 Fuzhou Fish Balls
10. Fuzhou Fish Balls

Chinese Name: 福州鱼丸 fú zhōu yú wán


Flavor: salty, original flavor of fishes


Cooking Method: boiling
Fuzhou Fish Balls are one of the best Fujian food made with local seafood. The mixed dough of minced eel or mackerel and starch is shaped into small balls stuffed with minced pork or shrimp and boiled. They are white similar in size to walnuts. Only a little salt and some chopped shallots are needed for seasoning and the dish tastes umami with a fresh seafood flavor.



Further Reading
Fujian Cuisine – Light, Fresh and Healthy
- Last updated on Jul. 06, 2020 -