15 Special Sichuan Noodles
Although rice is the staple food in
Sichuan
, Sichuan noodles are quite good as well. Compared with noodles in other regions in China, Sichuan noodles attach more importance to seasoning instead of noodles' shapes. Like other Sichuan dishes, the noodles are usually numb, spicy and oily. But there are also some light ones of umami flavor. Here are some special noodles that have been well known in Sichuan.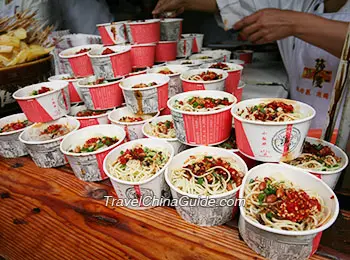 Dan Dan Noodles

Chinese Name: 担担面 dàn dàn miàn


Flavor: spicy, salty, numb
If you want to try special noodles in Chengdu, Sichuan Province, Dan Dan Noodles would be a must. It was named so for the hawkers who always carried their booths on shoulder by a shoulder pole, which is called Dan in Chinese. The noodles are very thin, tasting salty, numb and slightly spicy. Minced meat sauce and sprouts are essential ingredients. This is really a representative of Sichuan noodles and has been widely spread.

2. Yibin Ran Noodles

Chinese Name: 宜宾燃面 yí bīn rán miàn


Flavor: spicy
Ran means burning in Chinese. The name is to say the noodles is so oily that could be burned easily. Meanwhile, Ran implies its hot and spicy taste, too. Ran Noodles was created in Yibin, Sichuan; the local spouts are of the essence. When the noodles are boiled and picked up, blend them with chili oil, soy sauce, cooked spouts, crushed peanuts, sesames, chopped shallots and so on. What the most important is mixing all things well, thus the flavor would be better.

3. Neijiang Beef Noodles

Chinese Name: 内江牛肉面 nèi jiāng niú ròu miàn


Flavor: numb and spicy
When it occurs to Sichuan noodles, Neijiang Beef Noodles must be mentioned. It is different with beef noodles in other places, for its unique recipe to cook beef. Local beef is the vital ingredient, which is diced and stewed in pot with varied spices until the beef becomes tender and tasty. Salty noodles as well as the tender beef are served in red oily soup, looking mouth-watering and tasting spicy and savory.

4. Sweet Noodles

Chinese Name: 甜水面 tián shuǐ miàn


Flavor: sweet, a little spicy
Sweet Noodles are distinguished Sichuan noodles with a sweet taste, because it is seasoned with a special soy sauce, sweet and salty in brownish red color. The chewy noodles are as thick as chopsticks, seasoned also with red chili oil, crushed peanuts, etc. You'll have a lasting aromatic aftertaste as you eat the Sweet Noodles. People in Chengdu like it very much in the summer.

5. Sichuan Cold Noodles

Chinese Name: 四川凉面 sì chuān liáng miàn


Flavor: salty, numb and spicy
Sichuan Cold Noodles are the best choice to eat in summer when you come to Sichuan. After boiled noodles become cool, mix them with a little oil to avoid being sticky. You can add spouts, cucumber shreds or other side vegetables as you like. In hot days, eating a bowl of Sichuan Cold Noodles would make you feel cool with refreshing taste. The numb and spicy flavor will also whet your appetite.

6. Thin Egg Noodles, Guanghan

Chinese Name: 广汉全蛋金丝面 guǎng hàn quán dàn jīn sī miàn


Flavor: salty
To cook Guanghan Thin Egg Noodles, first knead flour into dough with egg liquid instead of water; then press the dough repeatedly with a thick bamboo pole, until the dough become a thin sheet; fold the sheet up and cut it into thin noodles. The noodles are as thin as hairs. As for the supreme soup, chicken and pork bones are boiled for hours. Put quick-boiled noodles, diced meat and side vegetables in the supreme soup, this Sichuan noodles taste light and umami.

7. Ta Ta Noodles, Ya'an

Chinese Name: 雅安挞挞面 yǎ ān tà tà miàn


Flavor: numb and spicy; light
Ta Ta Noodles in Ya'an is a kind of handmade wide noodles. The dough is made into sticks first, and the chef would press the stick flat and pull it longer and longer, while beating it on the kneading board. The beating sound is "Ta" in Chinese, which is the name origin of Ta Ta Noodles. There are quite a few flavors of Ta Ta Noodles, as different side ingredients are added, such as pork, beef, chicken shreds, Chinese sauerkrauts and ribs. Most of them are numb and spicy, but there are also light flavored ones without chili.

8. Noodles with Beans and Soup, Xuyong

Chinese Name: 叙永豆汤面 xù yǒng dòu tāng miàn


Flavor: light, salty
This kind of noodles can be made into different thickness: some are very thin, some are round, and some are wide. When the noodles are served, there is minced meat and a spoon of cooked beans on the top. The ripe beans are stewed until its color turns to be a little pick. The soup is boiled with crushed thighbone of pig. When the oil in bones is gotten out, the soup is OK. The noodles are light and aromatic. In general, the restaurant will provide you ground chili, vinegar, salt, pickled vegetables and other seasonings beside the noodles. You can add seasonings as you like.

9. Duck and Ginger Noodles, Yibin

Chinese Name: 宜宾姜鸭面 yí bīn jiāng yā miàn


Flavor: spicy
The toppings of this kind of Sichuan noodles is mainly made from tender ginger slices and duck dices, braised beforehand with shallots, garlics, cooking wine and so on. When the noodles are ready, they are with topped duck and ginger, and then seasoned with chili oil, sesame oil, soy sauce, chopped shallots, etc. Usually, there is no soup in the noodles. But if you want some, the chef would add the duck and ginger soup into the noodles.

10. Noodles with Stewed Chicken, Yibin

Chinese Name: 宜宾炖鸡面 yí bīn dùn jī miàn


Flavor: umami, salty
Noodles with Stewed Chicken are the traditional Chinese dish, but the one in Yibin, Sichuan is the most famous and tasty. Chicken dices and mushrooms are stewed for hours in advance. Sometimes, the roots of straight ladybell are also added to make the noodles have a medicinal effect. Pour some on the boiled noodles, Yibin Noodles with Stewed Chicken are ready. It is light instead of spicy, which is umami and refreshing with strong chicken aroma.

11. Rabbit Noodles, Zizhong

Chinese Name: 资中兔子面 zī zhōng tù zi miàn


Flavor: aromatic and spicy
Rabbit Noodles is a special Sichuan noodles in Zizhong, which you cannot find in other places. The soup is boiled for a long time, with rabbit meat, pig bones, chopped shallots, minced garlics, lard, ginger, soy sauce, vinegar, sesames, and pepper powder, etc. When the noodles are boiled to be done, add tine peas and lettuce to quick-boil them together. Put these boiled ingredients in a bowl of soup, and top with cooked tender diced rabbit pieces, the Rabbit Noodles can be severed on the table.

12. Noodles with Pork Liver, Wusheng

Chinese Name: 武胜猪肝面 wǔ shèng zhū gān miàn


Flavor: umami
Noodles with Pork Liver is noted in Wusheng County, Guang'an, Sichuan. The milk white soup is boiled with pork bones. Place cooked lard, salt, ground pepper, chopped shallots and other seasonings on the bottom of a bowl, and pour into half a bowl of boiling bone soup. Adding boiled noodles and cooked pork liver slices, you can taste the Noodles with Pork Liver. Don't worry that the pork liver slices have some odorous smells, they are starched and braised with various seasonings to taste well.

13. Mage Noodles, Wusheng

Chinese Name: 武胜麻哥面 wǔ shèng má gē miàn


Flavor: numb and spicy, aromatic
Mage Noodles are another local snack in Wusheng, Sichuan. It was created by a man whose nickname was Mage, in order to make his wife feel appetitive when she was ill. He added minced meat into common noodles, making a new flavor with numb and spicy taste. Soy sauce, pepper powder, chili oil, quick-boiled noodles and green vegetables are put into the bowl successively, and then cooked minced meat is topped. Mage Noodles is quite similar to Noodles with Minced Pork, but it is served with more sauce.

14. Noodles in Milky Soup, Qionglai

Chinese Name: 邛崃奶汤面 qióng lái nǎi tāng miàn


Flavor: salty and umami
Noodles in Milky Soup is featured with white soup among Sichuan noodles. This soup is usually boiled with fresh pork bones, pork trotters, and chicken for a whole night the day before. Up to the morning, the soup becomes white, looking like milk. The seasonings for the noodles are ground peppers and salt, topped with chicken shreds, pickled vegetables and so on. For there is no chili inside, it is also call Noodles in Light Soup locally.

15. Braised Soup with Noodles, Neijiang

Chinese Name: 内江炝锅面 nèi jiāng qiàng guō miàn


Flavor: spicy
This type of Sichuan noodles is unique in cooking methods. Firstly, braise meat dices with daylilies, black fungus and other vegetables, and then add water to boil. When it is boiling, add medium well noodles that have been boiled in another pot. In the end, boil all the ingredients together to be well done. The noodles are salty, topped with cooked minced meat, which can be found in Neijiang only.
- Last updated on Aug. 08, 2022 -