Gourmets' Picks of Best Chengdu Noodles
Chengdu
is well-known for its spicy dishes. But do you know that except for the dishes, varieties of noodles are also sought after in the gourmet city. What Chengdu noodles are the best for eaters? Here are just the top list of the popular ones for fussy foodies.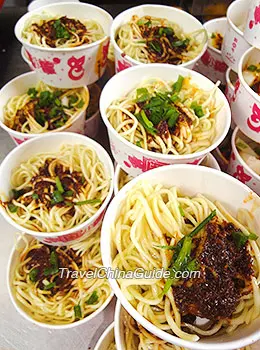 Dan Dan Noodles

Chinese Name: 担担面 dàn dàn miàn


Flavor: numbing, spicy
How could you not try Dan Dan Mian when you're in Chengdu? It is the most famous Chengdu noodles in the city and the country. It is made up of fried minced pork, sprouts and chewy thin noodles. The minced pork is aromatic, crispy, a little spicy and a little sour, and the special sprouts from Yibin are the secret ingredient. Seasoned with chopped shallots, chili, ground pepper, sesame sauce, tin peas, crushed peanuts, etc., Dan Dan Noodles is quite tempting when it's severed.

To taste the Dan Dan Noodles in Chengdu, Xi Yue Cheng Tan Dou Hua, Pan Xiang Shi, Xiao Ming Tang, Chengdu Impression, Dongzikou Zhanglao'er Bean Jelly, etc. are the best restaurants.

2. Sweet Noodles

Chinese Name: 甜水面 tián shuǐ miàn


Flavor: aromatic, numb, spicy and a little sweet
Sweet Noodles is seasoned with more soy sauce, making it have a sweet aftertaste, hence the name. This noodles are thick as sticks, thus it's called Bang Bang Mian or Gun Gun Mian at local, which means sticks literally. Adding a little salt when kneading the flour, the noodles would become pretty chewy. Ground pepper makes it numb, red chili oil make it spicy, sweet soy sauce, sesames and peanuts all together make this kind of Chengdu noodles an inviting food for hungry people.

Dongzikou Zhanglao'er Bean Jelly, Xiao Ming Tang, Xiao Tan Dou Hua, and Yudaiqiao Jelly Shop are the recommended Chengdu restaurants for sweet noodles.

3. Cha Zha Noodles

Chinese Name: 查渣面 chá zhā miàn


Flavor: aromatic and spicy
Cha Zha Noodles is created in Yangma Town of Chongzhou, Chengdu. As the creator is surnamed Cha, and the topped meat are chopped like crumbs – Zha in Chinese, the noodles was then named as Cha Zha Noodles. The chopped meat, chicken now in general, is the most attractive part of the food. After the chicken is chopped, it is fried to be white and dry. The noodles is made this way: put seasonings and pieces of boiled green vegetables on the bottom of a bowl, then the boiled flat thin noodles, fried minced chicken, and chopped shallots. It is absolutely pleasing and stratifying to eat the noodles.

As for the restaurants serving this noted Chengdu noodles, Cha Shufang Cha Zha Mian, Lin Ji Zha Zha Mian, Authentic Yangma Cha Zha Mian, etc. are good choices.

4. Songsao Noodles

Chinese Name: 宋嫂面 sòng sǎo miàn


Flavor: umami, salty, spicy
Ingenious Chengdu people recook the Hangzhou food Songsao Fish Broth, and add noodles into the dish, thus created the unique Songsao Noodles. The fish is cleared and cut into small pieces in the similar size with your nails, then starched and fried. After, fry the thick broad-bean sauce in another cook, add some soup to the fried thick broad-bean sauce, and boil them with shallots, ginger slices, fish bones, etc. After boiling, take out the shallots, gingers, fish bones and other residues, and add fried fish pieces, small shrimps, bamboo shoot slices, cooking wine, pepper oil, etc. After boiling, add the starch water and the topping is ready. Then top it onto the boiled thin noodles and add chopped shallots, the noodles is ready to be served.

The restaurant Songsao Yu Mian on Middle Renmin Road is the most referred place to taste Songsao Noodles in Chengdu downtown.

5. Cold Noodles with Chicken Shreds

Chinese Name: 鸡丝凉面 jī sī liáng miàn


Flavor: salty and spicy, sour and spicy, or numb and spicy
In muggy summer in Chengdu, Cold Noodles with Chicken Shreds is a favorite food of many. Other cold noodles are soaked in cold water after being boiled, while this cold Chengdu noodles are cooled down by manpower. In the past, the chiefs would shake the noodles on a board with oil, and fanned with a fan. Now, electric fans are used instead of menpower. In such a way, the noodles will be more chewy and palatable. Topped with scalded bean sprouts and shredded chicken breast, and seasoned with sesame sauce, soy sauce, vinegar, garlic water, chili oil, or other condiments, then the Cold Noodles with Chicken Shreds is ready. The chief would season it well for convenience, but local people like to season it based on their own preference. If interested, you may do as the locals and add the seasonings based on your preferences.

You can eat the refreshing noodles at Chen Mapo Tofu Shop, Ji Mao Dian and other snack bars in Chengdu.

6. Noodles with Minced Lean Pork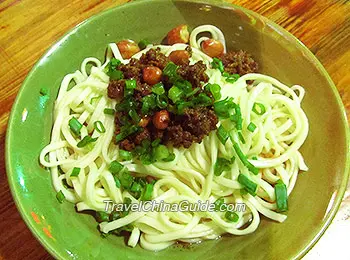 Noodles with Minced Lean Pork

Chinese Name: 素椒炸酱面 sù jiāo zhá jiàng miàn


Flavor: salty, aromatic and hot
You may have heard about the Beijing version Noodles with Minced Pork. Compared with that, the Chengdu version has a spicier taste because chili oil is used in this Chengdu noodles. Other seasonings include sesame sauce, soy sauce, vinegar, and ground pepper. The topping, minced lean pork is fried with chopped sprouts. In Chengdu restaurants, this noodles are sold by weight, and dinners often order an integer amount of Noodles with Minced Lean Pork between 2-5 liang (3.2-8 ounces). Going with the free soup boiled noodles, it will definitely make you satisfied.

7. Vegetarian Noodles with Red Chili Oil

Chinese Name: 红油素面 hóng yóu sù miàn


Flavor: numb and spicy
It is one of the best food for vegetarians in Chengdu, without any meat ingredient insides. The sauce should be made at first, with soy sauce, salt, white sugar, ground pepper, sesame oil, red chili oil and chopped shallots. Then the most important step is to boil the noodles. Put noodles in the boiling water. After it boils again, add cold water and repeat this for one more time. Up to it is boiling again, spoon some soup and pour into the sauce. Afterwards, put the noodles into the bowl of the sauce, and add scalded tine peas. It is welcomed with the brilliant red soup, especially in winter, for it can warm people up.
8. Ran Noodles

Chinese Name: 燃面 rán miàn


Flavor: hot, spicy
It is not native Chengdu noodles, but from Yibin. However, it becomes very popular in Chengdu after being brought in. Ran, "burn" in Chinese, suggests the spicy flavor of the oily noodles with no soup. After boiling, the noodles are shaken to get rid of water. When the noodles are dry and cool, add sesame oil to blend them well. It is then usually seasoned with chili, ground pepper, chopped shallots, sprouts, crushed peanuts, tine peas or spinaches. Originally, it is a vegetarian noodles as well, later the Ran Noodles with Minced Pork, Ran Noodles with Soup, etc. join the family. You may choose one to try according to your own taste.




Further Reading:
Sichuan Cuisine – Most Popular Cuisine in China
12 Most Popular Sichuan Foods – Have you ever tried?
Top 10 Chengdu Restaurants You Should Not Miss
10 Most Popular Chengdu Street Food
- Last modified on Jan. 20, 2021 -