Top 15 Must-Try Chengdu Food
Chengdu
, as the capital of Sichuan Province, gathers many foods and snacks of
Sichuan cuisine
for you to taste in addition to seeing the giant pandas. The variety of Chengdu food, mostly in a spicy flavor, would give you a foodie carnival. Here are the best foods in Chengdu, which are the must try during your stay in the city.

Chinese Name: 担担面 dàn dàn miàn


Flavor: salty, numb and spicy


Cooking Method: boiling
Dan Dan Noodles, aka Dan Dan Mian, is a kind of Chengdu food popular not only in the city, but also throughout China. The chewy noodles with cooked minced pork, chopped shallots and crushed peanuts on the top, is so tasty that would whet your appetite absolutely. It was originally sold by the venders who wander about streets and alleys with a shoulder pole, and in Chinese a shoulder pole is called Dan, that's how the name of the noodles came from. Now the restaurants and snack bars selling Dan Dan Noodles could be easily found here and there in Chengdu.
2. Long Chao Shou

Chinese Name: 龙抄手 lóng chāo shǒu


Flavor: slightly numb and spicy


Cooking Method: boiling
Long Chao Shou is actually a kind of Sichuan wonton in spicy flavor, instead of the light taste of wonton in other regions of China, because the soup is red and hot seasoned with chili oil and ground pepper. Pork, eggs and vegetable dices are fillings wrapped into the thin crust. The soup is stewed slowly with pork, chicken or duck beforehand, until it becomes white and aromatic.

3. Zhong's Dumplings

Chinese Name: 钟水饺 zhōng shuǐ jiǎo


Flavor: spicy and garlicky


Cooking Method: boiling
This Chengdu food was created by Zhong Shaobai, so it is titled with his family name Zhong. With no soup, it is seasoned with red hot oil, sesame oil, red soy sauce and mashed garlic, etc. completely. No vinegar is used during the cooking, which is the secret of the formula. What's more, Zhong's Dumpings are stuffed with pork only without any vegetable, which is a difference with other dumplings.



Read more: Recipe - How to Make Dumplings
| | |
| --- | --- |
| Zhong's Dumplings | Bean Curd Jelly |
4. Bean Curd Jelly

Chinese Name: 豆花 dòu huā


Flavor: sour and spicy


Cooking Method: boiling
Adding a little bittern or plaster into soya-bean milk and boiling it, that is just Bean Curd Jelly. Sometimes, it is translated into Tofu Pudding, too. The Bean Curd Jelly in Chengdu is seasoned with soy sauce, vinegar and chili, and topped with chopped sprouts, deep-fried beans, chopped shallots, etc. There are varieties of Bean Curd Jelly, mainly because of the different kinds of side dishes, such as beef, pork intestines, eels, fried dough twists, etc. Xiao Tan Dou Hua, or called Xi Yue Cheng Tan Dou Hua, is the best restaurant to taste the Bean Curd Jelly in Chengdu.

5. San Da Pao

Chinese Name: 三大炮 sān dà pào


Flavor: sweet


Cooking Method: pounding
San Da Pao, literally translated as three artilleries, is a special Chengdu food. The cook would divide a glutinous rice dough into three smaller doughs, and throw them onto a copper board successively. The sound "bang-bang-bang" is right like firing an artillery, hence the name. The doughs would then bounce into the large bamboo basket that filled with yellow bean flour. Like a ping pong ball, the doughs roll in the basket and are coated with the flour. Take the doughs into a bowl, and pour some thick black sugar syrup, sprinkle some sesames, San Da Pao is ready for you. It's a quite cheap but palatable snack in Chengdu.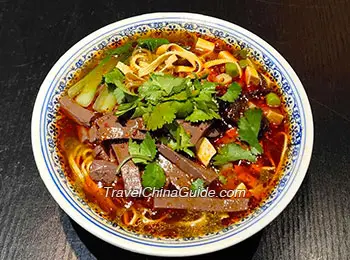 Maocai
6. Maocai – Scalded Vegetables and Meat

Chinese Name: 冒菜 mào cài


Flavor: spicy


Cooking Method: scalding
Maocai is also a hot Chengdu food that spreads all over China. It is like a mini hot pot for a single person. The eaters may choose from different ingredients on their own, and the cook would scald them with a colander in the boiling soup. Later season these ingredients and mix them together, sprinkled with chopped shallots, chopped coriander and fermented soya beans.

7. Sweet Potato Noodles with Pork Intestines

Chinese Name: 肥肠粉 féi cháng fěn


Flavor: sour and spicy


Cooking Method: boiling
Getting to Chengdu, Sweet Potato Noodles with Pork Intestines is a must taste. The soup should be boiled with the pork intestines and bones the night before, and it would better if the sweet potato noodles are freshly made. After quick boiling the thin sweet potato noodles, put them into a bowl of soup seasoned with chili oil and other condiments. Local people often eat it with guokui, a kind of golden, crispy wheat cake.

8. Chen Ma Po Tofu

Chinese Name: 陈麻婆豆腐 chén má pó dòu fu


Flavor: numb and spicy


Cooking Method: braising
Ma Po Tofu is a famous Sichuan dish, and Chen Ma Po Tofu is the best brand of this Chengdu food. The tofu is soft and in the pretty cube shape, make the dish appetizing in appearance. The white tofu, red sauce, and green chopped shallots make up the delectable dish, and the aromatic beef dices make the food tastier.



Read more: Recipe - How to Make Ma Po Tofu
| | |
| --- | --- |
| Chen Ma Po Tofu | Lai's Glutinous Rice Balls |
9. Lai's Glutinous Rice Balls

Chinese Name: 赖汤圆 lài tāng yuán


Flavor: sweet


Cooking Method: boiling
Although Chengdu dishes are almost spicy, the sweet food is also taste-worthy. Glutinous Rice Ball is a traditional Chinese food, and Lai's Glutinous Rice Balls is right a typical Chengdu sweet. Since the cook surnamed Lai sold his glutinous rice balls in the late 19th century, this food became welcomed and handed down in Chengdu. Although there are varied flavors of the glutinous rice balls, the most classical ones are stuffed with lard and black sesames.

10. Han's Steamed Buns

Chinese Name: 韩包子 hán bāo zi


Flavor: multiple flavors due to different stuffing


Cooking Method: steaming
Steamed bun is a common wheaten staple in China, and Han's Steamed Buns in Chengdu has its own formula for each kind of stuffing. For example, in the ones of pork, the half-fat minced pork is divided into two parts evenly, the one part is deep-fried to be crispy, and then mix with the other part, and season with the condiments lastly. Other stuffing of this Chengdu food include char siu, sprouts, hams, pork, shii-takes, vegetables, etc..
| | |
| --- | --- |
| Han's Steamed Buns | Bobo Chicken |
11. Bobo Chicken

Chinese Name: 钵钵鸡 bō bō jī


Flavor: numb and spicy


Cooking Method: boiling, dressing
Bobo Chicken is also a notable food in Chengdu. Bobo means a large earthen jar or pot, which is an important container to cook this dish. The boiled chicken is cut into slices, and the slices are classified according to the positions, such as the legs and wings. Wear these categories on sticks respectively, then put them into the Bobo with seasoned chili sauce, and roll them to make the slices be coated with the sauce. Taking them out, the Bobo Chicken is ready for eaters. Now apart from chicken, other meats, quail eggs and various vegetables are also cooked in such a way.

12. Spicy Rabbit Heads

Chinese Name: 麻辣兔头 má là tù tóu


Flavor: numb and spicy, spiced


Cooking Method: stewing in brine
Sichuan is the top region in China to eat rabbit heads, and Spicy Ribbit Head becomes a hot Chengdu food. Although there is only a few meat on a ribbit head, the few meat is so tasty that everyone would salivate. It is complicated to tear a ribbit head and eat all the meat on it, but local people are fond of this process and patient enough to do so. They purchase the food as a handy snack. Eating with iced beer, it would be a stimulating and enjoyable thing to do.
| | |
| --- | --- |
| Spicy Rabbit Heads | Chengdu Hot Pot |

Chinese Name: 火锅 huǒ guō


Flavor: numb, spicy, aromatic


Cooking Method: instant boiling
Hot Pot is pretty famous in China even in the world, which became popular around the wharfs along Yangtze River in Sichuan originally. It was brought into Chongqing soon after, and later formed a unique type. Comparatively, Chongqing Hot Pot is more traditional, while Chengdu Hot Pot is changeable with more ingredients and more dipping condiments. You may find everything you want when you eat Hot Pot, which makes it more and more popular.

14. Hot and Sour Sweet Potato Noodles

Chinese Name: 酸辣粉 suān là fěn


Flavor: sour, spicy, numb


Cooking Method: soaking, boiling
This traditional Chengdu food is cooked with handmade sweet potato noodles. Put sesames, chopped ginger, mashed garlics, tine peas, pickle shreds, peanuts, salt, vinegar, chili oil, etc. into a bowl, and boil the sweet potato noodles after soaking them soft. Add the sweet potato noodles and pour some stock into the bowl, then the dish is ready. Local Chengdu people would add pork intestines or other side dishes when eating it.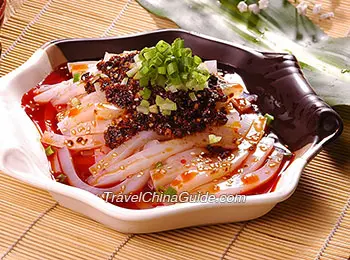 Bean Jelly
15. Bean Jelly

Chinese Name: 凉粉 liáng fěn


Flavor: spicy, a little sweet


Cooking Method: boiling, stirring
Bean Jelly is a cold dish especially famous in Sichuan. Bean Jelly itself is soft and smooth, which tastes refreshing. To cook it, blend water and flour to be dilute paste. Then boil the mixture, while stirring until it turns to be thick and translucent. Cold the thick paste to make it caking, and it's just what we called Bean Jelly. You may cut the solid Bean Jelly into cubes, strips or thin noodles, and season it. In Chengdu, it's the best snack in summer.

Further Reading:
Top 10 Chengdu Restaurants You Should Not Miss
Gourmets' Picks of Best Chengdu Noodles
- Last modified on Apr. 08, 2021 -