9 Chengdu Famous Foods to Make Your Trip Unforgettable
Chengdu
, a foodie paradise, houses some of the most famous food throughout China. Chengdu famous food, mainly numb and spicy, are definitely tasty to make your trip unforgettable.

Chinese Name: 火锅 huǒ guō


Flavor: numb and spicy mainly, diverse flavors based on different hot pot stocks
When you come to Chengdu, hot pot can never be neglected. The hot pot restaurants emitting appetizing aroma can be found all over the city. They all offer the varieties of vegetables, meats and desserts for customers. Tripes, duck intestines, beef, potato slices, skin of beancurd... are the most popular ingredients among diners. Choosing the ingredients you like and instant boiling them in the boiling soup, it is just hot pot. You may go with your friends or families to try this Chengdu famous food, so you can share more kinds of the ingredients. Also, it is not cost-effective to eat hot pot alone. Xiao Long Kan, Da Long Yi, Shu Jiu Xiang, Chuan Hsi Pa Tzu, etc. are the best hot pot restaurants in Chengdu.
| | |
| --- | --- |
| Chengdu Hot Pot | Chengdu Food - Chuan Chuan |
2. Kang Er Jie Chuan Chuan

Chinese Name: 康二姐串串 kāng èr jiě chuàn chuàn


Flavor: numb and spicy, aromatic and spicy, spiced
Chuan Chuan is sought after out of Chengdu famous food, with all the ingredients in the bamboo sticks. And Kang Er Jie is the best known restaurant providing this food. There are two kinds of Chuan Chuan: the one is like hot pot, as the food with sticks are boiled in the small hot pot by customers themselves; the other is cooked by the cook, and customers could eat the food directly when they are severed on the table. Of course, both allow customers to choose what they like, including the meats and vegetables. As a stick of food is not big in amount, it's also budget for a single diner to enjoy chuan chuan oneself.

3. Sliced Beef and Ox Organs in Chili Sauce

Chinese Name: 夫妻肺片 fū qī fèi piàn


Flavor: spicy, aromatic, numb
This is a cold dish as well as a Chengdu famous food, which was created in 1930s. The pot-stewed scalps, hearts, tongues and tripe of ox are cut into very thin slices, and topped with the sauce, which is seasoned with chili oil, ground peppers and other condiments. It is a quite appetizing dish, and was rated as Appetizer of the Year by GQ magazine in USA in 2017. They translated it into Mr. & Mrs. Smith, as the Chinese name of this dish means the beef slices of the couple, because a couple created the dish originally. What an interesting name! The restaurant named after the food on Zongfu Road is the oldest and best one to eat it. Chen Mapo Tofu Shop, Pan Xiang Shi, Xiao Tan Dou Hua, etc. are also nice restaurants with refreshing Sliced Beef and Ox Organs in Chili Sauce on sale.
| | |
| --- | --- |
| Sliced Beef and Ox Organs in Chili Sauce | Spicy Rabbit Heads |
4. Spicy Rabbit Heads

Chinese Name: 麻辣兔头 má là tù tóu


Flavor: spiced, numb and spicy, salty or sweet and spicy
Spicy Rabbit Head originated from Shuangliu District in Chengdu, and Shuangliu Lao Ma is the original brand of this food. It was created by a kind mother decades ago, whose son liked eating rabbit heads very much. She owned a shop of Spicy Hot Pot, and she cooked the rabbit heads in the soup of Spicy Hot Pot for her son. In a result, people in the neighborhood were attracted to taste the food. Later it was popular in Chengdu, and Shuangliu Lao Ma becomes the time-honored restaurant of Spicy Rabbit Heads, having several branches in Chengdu downtown now. After being soaked and quick boiled, the rabbit heads are boiled with multiple spices. To make it numb and spicy, they are then soaked into the spicy sauce for hours. Chengdu people are quite fond of this food.

5. Er Jie Rabbit Dices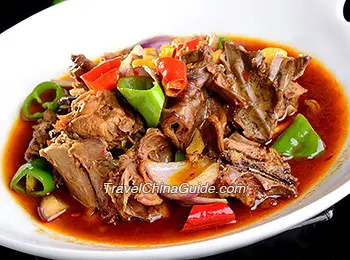 Spicy Rabbit Dices

Chinese Name: 二姐兔丁 èr jiě tù dīng


Flavor: aromatic, numb and spicy, having a little sweet aftertaste
Er Jie Rabbit Dices is a quite famous dish in Chengdu, as the rabbit dices are seasoned with its own formula and having more meat and less bones compared with the rabbit head. It is young dish since it was created in the early 1980s by Er Jie, which means the second daughter of her family. As the rabbit meat is hard to be cooked tasty, she ground the fermented soya beans to be fluffy, thus the seasoning could stick on the meat. The boiled rabbit is decapitated, and then cut into dices of around 2cm (0.8 inches). After seasoning the dices with mashed fermented soya beans, soy sauce, ground chili, chili oil, sesame oil, sugar, and peanuts, etc., a plate of this Chengdu famous food is ready. There are multiple shops of Er Jie Rabbit Dices in Chengdu.


Chinese Name: 担担面 dàn dàn miàn


Flavor: salty, aromatic, numb and mild spicy
As the noodles were sold by the vender who take all the necessaires for the dish with a shoulder pole – Dan Dan in Chinese, it was named as Dan Dan Noodles. It is one of the Chengdu famous food as well as best known Chinese noodles, and you may find it in almost every restaurant in Chengdu. The boiled noodles is topped with minced meat, crushed fried peanuts and chopped shallots, and seasoned with the chili sauce, salt, soy sauce, ground pepper, vinegar, ground chili, etc. The best restaurants offering Dan Dan Noodles in Chengdu include Xiao Ming Tang, Chen Mapo Tofu Shop, Xi Yue Cheng Tan Dou Hua, and so on.

7. Chao Shou in Red Chili Sauce

Chinese Name: 红油抄手 hóng yóu chāo shǒu


Flavor: coke spicy
It is actually a kind of Sichuan-style wonton, but not in light soup. After boiling the Chao Shou, pour the soup, soy sauce, vinegar, salt, ground pepper, mashed garlic, chili oil, etc. on the top, that's right Chao Shou in Red Chili Sauce. It tastes spicy with a burnt aroma, and has a strong flavor for the dregs of fat and mashed garlics. If you want the taste to be stronger, ask the cook to add more sauce; if you want it to be milder, add more soup than sauce. To try the Chengdu famous food, the specialized snack bars here and there are the best.

8. Lao Ma Pork Trotters

Chinese Name: 老妈蹄花 lǎo mā tí huā


Flavor: umami, salty
It is one of Chengdu famous food matched with white kidney beans. The pork trotters and kidney beans are boiled to be milky white, tender and aromatic. It is a simple home-cooking dish that the locals often take it as night snack. Quick boil the polled pork trotters to remove the floating oil and unwanted smell, then simmer the boiled pork trotters with soaked white kidney beans, shallots, ginger slices, cooking wine, star anises and other spices. At last, sprinkle some chopped shallots on the top. There are quite many restaurants providing Lao Ma Pork Trotters as a specialty in Chengdu, including Liao Mother, Wang Tai Po, and Yi Lao Ma.

9. Iced Jelly

Chinese Name: 冰粉 bīng fěn


Flavor: sweet, refreshing
Chengdu people love spicy food very much, and Iced Jelly is a nice dessert to moderate your stomach simulated by spicy dishes. The most common Iced Jelly go with brown sugar, and quite a few people like sprinkling some nuts, raisins or fruit dices insides. Small glutinous rice balls and various taro balls are often added as well. What's more, it becomes popular to mix varieties of milky tea with Iced Jelly. It is also a great food to make your body cool down in summer. Zen's Iced Jelly, Juanshu Handmade Iced Jelly, Iced Jelly & Sugar Water, Childhood Snacks... are great restaurants offering the best Iced Jelly in Chengdu.




Further Reading:
Sichuan Cuisine – Most Popular Cuisine in China
12 Most Popular Sichuan Foods – Have you ever tried?
Top 10 Chengdu Restaurants You Should Not Miss
- Last modified on Apr. 08, 2021 -