Fujian Cuisine – Light, Fresh and Healthy
Fujian cuisine or Min cuisine, is one of the eight major cuisines in China popular in Fujian, Taiwan and some Southeast Asian countries. Fujian cuisine dishes taste light but flavorful, fresh, mellow and not greasy in general. Woodland delicacies and seafoods are frequently used with varied cooking methods. The chefs take cutting skills and seasonings seriously, and the condiments often used include red vinasse, sugar, vinegar, satay, shrimp sauce and so on. Soups are frequently seen Fujian cuisine dishes like Boiled Sea Clam with Chicken Soup. Other well-known ones include Buddha Jumps Over the Wall, Sweet and Sour Litchis, and Sliced Whelk in Red Vinasse.
Chinese Name: 闽菜 mǐn cài
English Names: Fujian cuisine, Min cuisine
Popular in: Fujian Province, Taiwan, southeast Asia countries
Flavors: light, fresh, sweet and sour
Famous Fujian Dishes: Buddha Jumps Over the Wall, Boiled Sea Clam with Chicken Soup, Sweet and Sour Litchis, Sliced Whelk in Red Vinasse
Famous Snacks and desserts: Kompyang, Oyster Pie, Spring Roll, Mashed Taro, Dried Meat Floss
History of Fujian Cuisine
The history of Fujian cuisine is pretty long. From the late Western Jin Dynasty (265 - 316 AD) to Five Dynasties and Ten States (907 - 960 AD), especially after the Min State (909 – 945 AD) was founded in Fuzhou, many people from the central plain migrated to Fujian and Fujian cuisine had a rudiment in this formative stage.

As there were more than one important harbors for international trade and Quanzhou in Fujian became the starting point of Maritime Silk Road in Song Dynasty (960 - 1279 AD), Fujian food, absorbing the cooking techniques of other places, developed quickly. The oversea trade also introduced some new seasonings to Fujian dishes, like satay, mustard and curry, which became important condiments of Min cuisine later.

In late Qing Dynasty (1644 - 1911 AD), featured restaurants and skilled chiefs mushroomed in Fujian. They always tried their best to cook the best and creative dishes. Fujian cuisine flourished and formed its own system.

Fujian Cuisine Ingredients – Woodland Delicacies and Seafoods
Fujian Province is by the sea, and there are mountains and plains in land. In a result, a lot of delicacies from both land and sea become Fujian cuisine ingredients, such as mushrooms, bamboo shoots, rice, cane sugar, vegetables, fruits, freshwater turtles from land, and fishes, shrimps, clams from sea, etc.

Condiments Used in Fujian Cuisine – Red Vinasse, Sugar & Vinegar
As for the condiments, red vinasse, sugar and vinegar are the mostly used condiments in Fujian cuisine recipes. Red vinasse is the vinasse of rice wine or yellow wine fermented with red yeast, which is highly nutritive. The using of red vinasse is a unique feature of Fujian cuisine, making the dishes have a wine aroma and beautiful red color. Sugar is used to remove unwanted bad smell; vinegar is used to make food have a refreshing taste. Thus Fujian food receive a good reputation of sweet but not cloying, and light but not tasteless. Other unique seasonings, like shrimp sauce, satay, chili sauce and Worcestershire sauce are also used.
Flavors of Fujian Cuisine – Light, Sweet and Sour
Soups play a vitally important role in Fujian cuisine, which are generally light. Not a few Fujian dishes are soups, and Boiled Sea Clam with Chicken Soup is the representative. As sugar and vinegar are the daily seasonings, many Fujian dishes tastes sweet and sour. Fried food are crispy, and various delicacies frequently used makes Fujian cuisine gamey of food from land and sea.

Special Cooking Techniques
The mostly used cooking techniques include steaming, pan-frying, frying, quick-frying, steam stewing, deep-frying and simmering. In addition, pickling with red vinasee is the distinctive cooking technique of Fujian cuisine, such as Steamed Fish in Red Vinasse, the fish is pickled with red vinasse and then steamed.

Chiefs attaches great importance to cutting techniques as well. The slices should be as thin as paper, and the shreds should be like hairs. The chefs can even make material into the shape of a blossoming flower with a kitchen knife. Dishes of different styles have different demands for cutting methods so that the cooked dishes retain the original taste and texture better. For example, to cook Fried Mashed Chicken with Shredded Bamboo Shoots, the winter bamboo shoots are cut like hairs to be integrated with mashed chicken and egg paste completely.
The Most Famous Fujian Cuisine Dishes
1
Buddha Jumps Over the Wall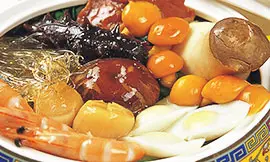 Over 10 ingredients are simmered with Shaoxing wine to cook this Fujian food, including chicken, abalones, squids, scallops, hams, quail eggs and so on.
2
Boiled Sea Clam with Chicken Soup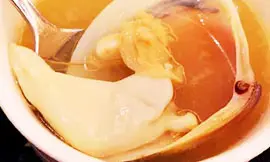 This dish is a representative Fujian food, which tastes a little salty, while beef and pork tenderloin can also be added. The sea clams used are from Changle, Fujian.
3
Sweet and Sour Litchis
Because the fried chopped pork with red vinasse look like litchis both in shape and color, this dish was named after litchi. Another important ingredient is chestnuts.
4
Sliced Whelk in Red Vinasse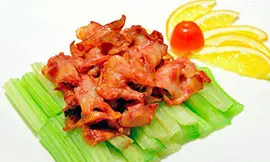 As cooked thin whelk slices is covered with bright red vinasse sauce, the dish looks like a beautiful red flower in full blossom. It is a special local food in Fujian that is crisp, tender and refreshing with appealing appearance.
5
Fuzhou Fish Balls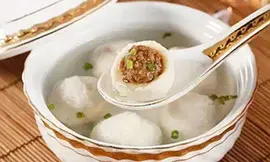 Minced pork or shrimp is wrapped into the dough of the mixture of potato flour and minced eel, shark or mackerel to make the fish balls. They are boiled or fried before eating.
6
Oyster Omelette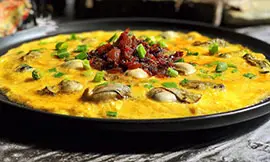 This Fujian cuisine recipe is frying eggs together with the paste of oysters and potato flour. It is a traditional snack that is quite popular in Fujian, Taiwan and Chaoshan area.

Read More:
10 Best Fujian Foods You Have to Try
Fujian Cuisine Menu
English
Chinese
Pinyin
Buddha Jumps Over the Wall
(Sea Food and Poultry)
佛跳墙
fú tiào qiáng
Boiled Sea Clam with Chicken Soup
鸡汤汆海蚌
jī tang cuān hǎi bàng
Sweet and Sour Litchis
荔枝肉
lì zhī ròu
Sliced Whelk in Red Vinasse
淡糟香螺片
dàn zāo xiāng luó piàn
Fuzhou Fish Balls
福州鱼丸
fú zhōu yú wán
Oyster Omelette
海蛎煎
hǎi lì jiān
Sautéed Duck Gizzard and Pork Tripe
爆炒双脆
bào chǎo shuāng cuì
Drunken Ribs
醉排骨
zuì pái gǔ
Boiled Shrimps with Salt
盐水虾
yán shuǐ xiā
Eel in Red Vinasse
煎糟鳗鱼
jiān zāo mán yú
Best Min Cuisine Restaurants in China

Tipang Restaurant
Chinese Name: 破店
Location: 2nd Floor, Tea Wholesale Market, No. 3 Douxiyingli, South Gate, Fuzhou



No. 8 Red House
Chinese Name: 红厝8号
Location: No. 8, Yi'ai Road, Lianhua Fifth Village, Xiamen
See more: Ultimate Guide to Best Xiamen Restaurants



Bamin Food House
Chinese Name:八闽食府
Location: 3F, Fujian Hotel, No.11, 3rd Area, Anzhenxili, Chaoyang District, Beijing
See more Fujian Restaurants in Beijing



Shuyou Seafood Restaurant
Chinese Name: 舒友海鲜大酒楼
Location: No.2558, Xindu Road, Yanqiao, Minhang District, Shanghai

3 Major Styles of Fujian Cuisine
Fuzhou Cuisine: Fuzhou cuisine is the mainstream of Fujian cuisine, which is popular not only in Fuzhou, but also in areas of central, northern and eastern Fujian. Frequently using red vinasse in dishes, Fuzhou food usually is sour and sweet, fresh, tender and tastes refreshing. Fuzhou cuisine attaches importance to soups, and the most Fuzhou dishes are soups. Boiled Sea Clam with Chicken Soup is the representative of Fuzhou food.

Southern Fujian Cuisine: It is popular in Xiamen, Jinjiang, Youxi in Fujian, as well as Taiwan. It is good at using condiments, especially spicy ones, however, it has a light flavor in general. Satay, mustard, orange juice, Chinese medicine, fruits could also be added into dishes, which makes Southern Fujian cuisine unique. Sautéed Satay Beef, and Steamed Brisket Soup with Chinese Angelica Root are the best-known dishes.

Western Fujian Cuisine: Popular in Hakka areas in Fujian, the food tastes thicker with a strong aroma, which are a little salty and oily. Chefs in western Fujian are good at cooking delicacies from mountains, and ginger is the most-used seasoning. The famous Shuan Jiu Pin is similar to hot pot. The beef slices are cut off from nine different parts of cattle, and people eat the beef from a hotpot that the soup is boiled with rice wine as well as herbs.

Travel with Us to Taste Authentic Fijian Cuisine
- Last updated on Apr. 13, 2020 -
Questions & Answers on Fujian Cuisine
Asked by Mrs.Wan from MALAYSIA | Nov. 25, 2010 10:12

Reply
Recently my family and I visited Hangzhou. At the Hong Ni Restaurant, we tried its wonderful Duck with Preserved Bamboo Shoots soup. I keep thinking of that soup since my return. Can anyone give me that recipe please? Thank you. Mrs. Wan.
Answers (1)
Answered by Mrs.Sara | Nov. 25, 2010 22:05

5

2

Reply
The recipe is as follows:
Ingredients: lean duck, fresh bamboo shoots, ginger slices, green onion sections, dry chili pepper, cooking wine, salt & pepper powder.
Cooking methods: Blanch the duck after being cleaned in a pot of boiling water with ginger, spring onion and cooking wine to remove stinks of blood, then remove the duck from water, and pour out the water in the pot. Put the duck and cleaned bamboo shoots in a clay pot, put ginger,spring onion and dry chili pepper on top, add in some water until the all of the ingredients are immersed. Turn on the heat to heat it until it boils, change to low heat and simmer it for 2-3 hours.
I get more Chinese food recipes(https://www.travelchinaguide.com/tour/food/chinese-cooking/) for your refernce, hope you can enjoy them.