Xiamen Shopping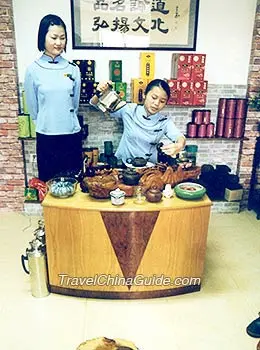 An advantageous geographical location and distinct natural environment endow Xiamen with plenty of special local products including sugarcane, fruits such as olives and longans as well as various sea products such as fish, prawns, crabs, abalone and lancelets. Among such abundant special local products, the pies on Gulangyu Island, the vegetarian cakes in Nanputuo Temple, and the dried sea products and tea leaves sold along Xiaxi Road should certainly be on your shopping list.

This city has seen great advances in modern development in recent years, including many large commercial areas, huge shopping malls, supermarkets, and small stores with their own unique features. Consequently, the various choices will be sure to make your trip to Xiamen an exciting shopping experience.

Nowadays, there are five main commercial areas:


Zhongshan Road
Zhongshan Road is one of the most prosperous traditional and comprehensive commercial areas in Xiamen. With a very long history, the architecture along the road is a combined style of East and West. The large shopping centers, together with a variety of small retail stores here, are characterized by an abundance of items as well as a fairness of price, attracting many tourists. The Buses Nos.2, 3, 4, 10, 12, 23, 25, 27, and 30 pass the road, making it not only easy to get to but also so crowded that many stores are open from nine o'clock in the morning until very late at night. North and South Siming Road and Lady Street nearby are also good places for shopping.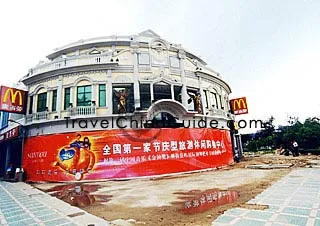 Recommended Shopping Places
Hualian Commercial Plaza
Address: No.1, Zhongshan Road
Xiamen No.1 Department Store
Address: No.81, Zhongshan Road
Paris Spring Department Store
Address: No.76 - 132, Zhongshan Road
Dafeng Shopping Mall
Address: No.56 - 72, South Siming Road
Longtou Road on the Gulangyu Island
This is the main commercial street on Gulangyu Island and features diverse tourist souvenirs. There are plenty of stores on both sides of the street selling handicrafts, calligraphy, and painting. Traditional local crafts such as bead embroidery, lacquerwares, colored sculptures, and colored figulines are very popular with the foreign visitors, along with curios, boulders, paintings, and figulines from all over the country. It is also a good place to buy some dried fish and snacks like pies, peanut crisp, etc. However, when buying dried sea-products, it's best to bargain with the venders so you won't be overcharged.
Xiahe Road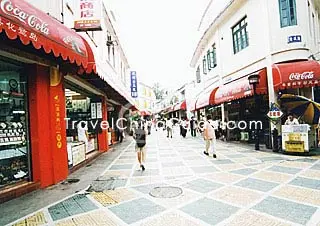 Xiahe Road is an up-and-coming commercial street. A number of large commercial plazas and shopping centers are scattered along the road, providing a comfortable and pleasant shopping environment and a large number of good quality commodities.
Recommended Shopping Places
Lijing Commercial Plaza
Address: No.358, Xiahe Road
Friendship Shopping Mall
Address: No.915, Xiahe Road
Wal-Mart
Address: International Trade Center, No.878 - 888, Xiahe Road
Egret Alluvion Shopping and Entertainment City
Located on the northern part of the Middle Hubin Road, the Egret Alluvion Shopping and Entertainment City is on the routes of the Buses Nos.8, 12, 26, and 72 so you can enjoy convenient transportation. It is a comprehensive center providing shopping malls, restaurants, and various entertainments. In addition, a series of small theme parks have been built, which often feature traditional folk programs and performances. You'll be sure to have a different shopping experience here.
Recommended Shopping Places
Huadu Department Store
Address: No.51, South Hubin Road
Fushan Chengda Shopping Mall
Address: No.398, South Hubin Road
SM City Plaza
The SM City Plaza, which was built with investment money from the Philippines, is situated at the intersection of Xianyue Road and Jiahe Road. With six floors and a construction area of 126,000 square meters, it attracts many world famous brands like Wal-Mart, Watsons, Cybermart, McDonald's, and KFC, making it a combined emporium of furniture, home appliances, and daily commodities. The complex also includes an exhibition center, a business club, a gymnasium and some restaurants. The best collection of special local products from Xiamen is on the first floor. The clothes sold here are all in tasteful, fashionable style and the electronic products are the latest available. Moreover, it has the largest bookstore in Fujian Province.
Shopping Places in Other Parts of Xiamen
Carrefour Supermarket
A French supermarket chain opened in 2006.
Address: Mingfa Business Square at the intersection of West Lianqian Road and Jiahe Road, Siming District
Bus Routes: 3, 7, 18, 25, 37, 44, 56, 89, 96, 101, 106, 505, 512, 526, 534, 616, 617, 622, 806, 808
Trust-Mart
Address: No.398, South Hubin Road, Siming District
Bus Routes: 10, 23, 27, 37, 45, 96, 509, 518, 526
Rainbow Department Store
Address: Huiteng Mansion, No.323, Jiahe Road
Bus Routes: 51, 52, 54
Metro Supermarket
Address: No.8, Changhao Road, Huli District
Bus Routes: 22, 80, 96, 504, 813