Putian Travel Guide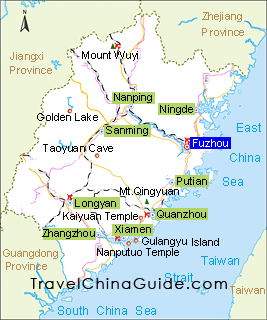 Putian Facts
Chinese Name: 莆田市 (pú tián shì)
Population: 3,603,000
Area: Land Area: 4,200 square kilometers (1,622 square miles), Sea Area: 11,000 (4,247 square miles)
Location: in the central part of the coastal area of Fujian Province, southeastern China
Administrative Division: 4 districts (Chengxiang, Hanjiang, Licheng, Xiuyu); 1 county (Xianyou)
Area Code: 0594
Zip Code: 351100
GDP (2018): CNY 225.2 billion (USD 34.03 billion)

China's Famous Sneaker Manufacturing Base
Situated in the central part of the coastal area of Fujian Province, Putian neighbors Fuzhou on the northeast and Quanzhou on the southeast, separated from Taiwan by the Taiwan Strait. Putian's shoe making technology is very developed, especially the sneaker manufacturing. Since the 1980s, some sports brands like Nike, Adidas, Puma successively settled in Putian for production and processing. Until now, more and more luxury brands move their factories to Putian because of excellent production technology and high-quality production process here. Putian is also known for Mazu culture as the Meizhou Island in Putian is the hometown of Mazu, who is a sea goddess on the southeast coast of China.
Attractions

Meizhou Island and Guanghua Temple
: Meizhou Island is believed to be the hometown of the Goddess of the Sea, Mazu. Today, this beautiful island has become a national tourist zone with several spots on the island, including the Mazu Temple, the Ewei Mountain and the huge Mazu Stone Carving. Blessed with a long history, Guanghua Temple is a famous temple with tranquil environment.

Jiuli Lake: 31 kilometers (19 miles) from the county town of Xianyou, this scenic area is famous for its natural lakes, caves, pools and stones. The Jiuji Waterfalls are the most popular sight around Jiuli Lake. In addition, there are also some stone inscriptions, Taoist buildings and some other historical sites.
How to get there
Putian Beigao Airport
is under construction at Beigao Town, about 15kilometers (9 miles) from downtown Putian. Currently, passenger can fly to nearby
Quanzhou Jinjiang International Airport
or
Fuzhou Changle International Airport
, then take an airport shuttle bus, a train or a coach to reach Putian.
Putian is 108 kilometers (67 miles) from Fuzhou, from which visitors can get to Putian by bus within two hours.

See More:
Fujian Ports: Port of Fuzhou, Xiamen, Quanzhou, Putian
Weather
-
Putian is adjacent to the sea, and consequently the weather is moderate and humid all the year round. Enjoying a typical subtropical oceanic monsoon climate, the city has plentiful rainfall and adequate sunshine. The weather in spring and autumn is favorable and cool.

When to Go: The winter is short so April to October is the best time to visit Putian.
Putian Travel Tips

History: Putian County was formed in the year of 568. Over the hundreds of years following that, it was abolished and then re-established several times. Through all these major and minor changes, Putian City emerged in 1983.

Physical Features: The city nestles to the hilly area of southeastern coastal area of Fujian. The whole terrain inclines from the northwest to the southeast, and the land is higher in the north, lower in the south. There is a shortage of cultivated areas.

Local Products: Fruit: longan, loquat, lychee, honeyed shaddock (pomelo)
Others: rice noodles, lacquer wooden bowl
Mazu is the most respected god on Meizhou Island, even southern Fujian Province. There are several festivals on the island to celebrate the birthday of this Goddess of Peace on the sea, as well as the day of her ascension. Celebrations are held on the twenty-third day of third lunar month and ninth day of the ninth lunar month respectively and it is the best time to learn more about the Mazu culture of the city.
- Last modified on Jan. 20, 2020 -
Questions & Answers on Putian Travel
Asked by James from SINGAPORE | Aug. 22, 2018 15:34

Reply
looking for a travel guide to visit around Putian area in October
Hi I am coming from Singapore and I don't speak Chinese.
Thanks in advance.
James
Answers (2)
Answered by Tina from CANADA | Aug. 22, 2018 23:40

0

0

Reply
You are suggested to find a local travel agency.
Answered by Fauza saputra from INDONESIA | Dec. 09, 2019 08:06

0

0

Reply
Hello, james, last year, when you went to Putian, did you get the guide? if you get, can you give him contact?. Thank you
Asked by ong from MALAYSIA | Jul. 23, 2018 23:14

Reply
6 days enough to visit heshan, xiamen, putian and fuzhou?
Hi, I am coming to shantou for 6 days (first day arrive in evening) and I want to visit heshan, xiamen, putian and fuzhou. Do I have enough time and what is the best advise. Please advise. Thanks.
Answers (1)
Answered by Sally from NETHERLANDS | Jul. 24, 2018 19:21

0

0

Reply
I think your time is too tight. You are suggested to visit Xiamen and Fuzhou and leave the other 2 cities for the next time.
Asked by Liz from USA | Aug. 04, 2017 00:40

Reply
Moving to putian for a year
Hi, how's the weather around fall and spring? Is it cold enough for a thick rainproof jacket or a thin jacket? I'm coming in from California where its dry heat all year long.
Answers (2)
Answered by Bruce from USA | Aug. 04, 2017 00:51

0

0

Reply
According to history data, the temperature may range from 50F to 75F in the spring and 60F to 80F in fall. You may wear the thin jackets in these two seasons in the city.
Answered by Yvette from ENGLAND | Aug. 15, 2018 04:57

0

0

Reply
I lived in Putian through summer, fall and winter. Once the Chinese reach their Autumn festival they disappear into their thick winter clothes but I wore t-shirts until New Year as I found it still pleasantly warm. Once winter did arrive though I had to layer up with thick jumpers and fleeces.