Shenzhen Travel Guide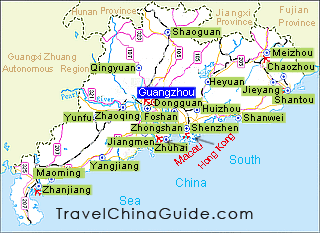 Shenzhen is located in the southern portion of the Guangdong Province, on the eastern shore of the Pearl River Delta. Neighboring the Pearl River Delta and Hong Kong, Shenzhen's location gives it a geographical advantage for economic development. In 1980, the first Special Economic Zone of China was built in this city. From then on, the city become a highlight of China, one known for its rapid economic growth.

More than thirty years ago, it just was a small fishing village called Bao'an County. In 1979, it was renamed Shenzhen City. When the Special Economic Zone was built, the city was divided into six zones, four of which are located in the Special Economic Zone.

Each year, more and more people come to Shenzhen to try to find employment. As a result, the city has become increasingly crowded. The local government has recently made city-wide environmental improvements in an effort to combat problems caused by overpopulation. In recognition for these improvements, the city was awarded the Garden City Award in 2000.
While Shenzhen does not have as many historical attractions as other famous cities in China, it has created a number of excellent theme parks which entertain while teaching visitors about China and the world. Splendid China - Folk Culture Villages introduces visitors to China's long history and varied cultures, while Window of the World will take you to every corner of the world in one day. Additionally, if you want to make your stay even more luxurious, visit Happy Valley, the largest of its kind in the city, situated on a picturesque coastline. More attractions are: Dameisha Beach, Xiaomeisha Beach, Meridian View Center, Overseas Chinese Town East, Shenzhen Safari Park, Xiaomeisha Sea World and Xili Lake Holiday Resort. Come to enjoy the coastal view, the theme parks, the city, and especially the local people.
| | |
| --- | --- |
| Dameisha Seaside Resort | Thailand Royal Palace, Window of the World |
Other Attractions:
Xiaomeisha Sea World
Chung Ying Street

See Top 7 Things to Do in Shenzhen
Recommended Tours
Shenzhen City Tour: 2 days visit to Splendid China - Folk Culture Villages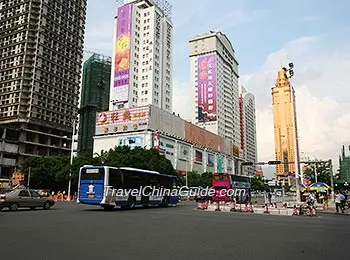 Street Scene
Thanks to its developed economy, it is easy to get there quickly and comfortably by air, train or ship. What's more, Shenzhen is the only city in China that provides three modes of transportations for simultaneous comings and goings. Unfortunately local transportation is not equally convenient; transportation in the city is hit-or-miss due to the large population. However, the number of transportation options available helps to counteract the problems caused by crowding. In contrast, lodging in this city is very easy to do, as there are a number of hotels which frequently host businessmen and visitors from all over the world. Finally, when you visit there, make sure that you plan a day trip to
Hong Kong
, where you can enjoy the sites and attractions of the famous international metropolis.
Dining Shopping Visa on Arrival 144-Hour Visa-Free Transit
While the city has had to overcome a number of obstacles resulting from this population swell, the city has also benefited from the increased diversity. Workers come to the city from almost every part of china, bringing with them their local traditions and cuisines. Visitors are able to sample foods from each of China's famous eight cuisines. Local dishes are also worth trying - Kejia is one of the many dishes that should not be missed.
- Last modified on Nov. 15, 2018 -
Questions & Answers on Shenzhen Travel
Asked by GIRAUD from FRANCE | Nov. 15, 2018 09:04

Reply
I will be flying from France to New Zealand.
I have 2 hours layover in Shenzhen just to take an other fly with the same company.
Do I need a visa?
By the phone, a company which is able to issue a visa told me that we can get a free 72 hours visa when we gonna land at the airport since this year.
Is it true?

As weel, my first layout is in Pekin,
In fact I do Paris to Pekin, Pekin to SZ, then to Auckland. But never more than 5 hours in the airport .
Thank you
Answers (1)
Answered by Victor from FRANCE | Nov. 15, 2018 22:16

0

0

Reply
According to your itinerary: Paris - Beijing - SZ - Auckland, you are eligible for 24-hour free visa, not the 72-hour free visa.
Asked by Thai from HK | Nov. 08, 2018 20:09

Reply
Which train from Hong Kong stop at Pingshan?
Answers (1)
Answered by Aaron from USA | Nov. 11, 2018 17:51

0

0

Reply
There are about 3 bullet trains from Hong Kong to Pingshan: G6390, G6384, G6388.
Asked by Kathleen from MALAYSIA | Nov. 06, 2018 22:30

Reply
Can i take subway from shenzhen airport directly to laojie metro station
Answers (1)
Answered by Nerty from AUSTRALIA | Nov. 07, 2018 19:56

0

0

Reply
Yes, you can. You can first take the metro line 11 at the airport and get off at Che Kung Temple. Then transfer to take the metro line 1 Luobao Line and get off at Laojie metro station.
Asked by Chea Ying from MALAYSIA | Oct. 27, 2018 19:26

Reply
Would like to ask recommended itinerary to Guangzhou for 5 days 4 nights
I will go to the city and spend a day in Luoding. Any recommended itinerary? Your advice is much appreciated. Thanks
Answers (1)
Answered by Kacie from USA | Oct. 30, 2018 00:07

0

0

Reply
Oh, Chea Ying, you can tour in the following way:

Day 1:Grand World Scenic Park - Fenghuang Mountain Forest Park
Day 2: Canton Tower - New city of Pearl River - Flower City Square - New Yuanming Palace
Day 3: Couples Road - OCT East Valley - Dongmen Pedestrian Street
Day 4: Chung Ying Street - Yuexiu Park - Haizhu Square
Day 5: Longwan Ecotourism Area - inscriptions on precipices - Luoding Confucian Temple

Have a nice trip!
Asked by Nicole from HK | Oct. 23, 2018 00:50

Reply
what is the most time efficient way from Shenzhen airport to Hong Kong?
Answers (1)
Answered by Ken from USA | Oct. 23, 2018 20:53

0

0

Reply
You can take the direct bus from Bao'an airport to Hong Kong, with duration of about 70 minutes.