Shenzhen Train
dd
Shenzhen, which is located on the Pearl River Delta, close to Hong Kong, is a modern city with the busiest transportation system in China. There are six train stations in the city: Shenzhen Railway Station, West Railway Station, North Railway Station, Futian Railway Station, East Railway Station and Pingshan Railway Station.

Both ordinary and bullet trains are operated here, so it's easy for you to reach many major cities in the country starting here, such as Beijing, Shanghai, Guangzhou, Xi'an, Guilin, Hangzhou, Changsha, Nanjing, Shenyang, Wuhan, Zhengzhou, and Xiamen.
Major Rail Lines from Shenzhen to:

See detailed
Shenzhen Train Schedule
The Railway Station, known as Luohu Railway Station, is located on Heping Lu, Luohu District. First built in 1911, it was reconstructed in 1990 and came into use in 1991. It is close to the Luohu border, the major land border between Mainland China and Hong Kong. It is also the southern starting point of the Guang–Shen Railway. Alongside the railway station there is Luohu Station on Metro Line 1 of the city and the Luo Hu Border Checkpoint building.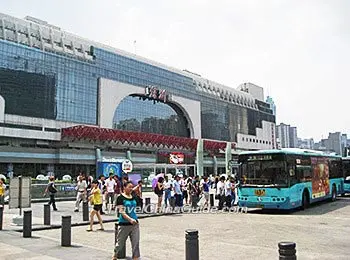 City Railway Station
There are two levels in the station building. The first level is the transport level which has both a Ticket Hall and Waiting Hall for the Guang-Shen Bullet Trains to and also gives passengers easy access to the subway station, bus stop and taxi stop. The second level also includes a Guang-Shen Ticket Hall and Waiting Hall in the south as well as a Long Distance Railway Ticket Hall and Waiting Hall in the north.

More than 100 schedules depart from or arrive at this railway station everyday. Passengers can get to the following cities in China easily from here: Beijing, Shanghai, Guangzhou, Xi'an, Guilin, Zhengzhou, Fuzhou, Shantou, Jinan, Hefei, Tianjin, Nanjing, Chengdu, Shenyang, Lanzhou, Nanchang, Changsha.



Buying Tickets
Passengers taking the Guang–Shen Bullet trains can buy tickets at either the first floor or the second floor ticket hall. After buying a ticket, you can go straight to the waiting hall that is connected to the ticket hall and wait. Services on this line run very frequently and there is no need to reserve a seat in advance. Passengers taking other long distance railways will need to buy tickets from the ticket hall at the north of the station building. It is recommended that you arrive there 1 hour in advance.

Apart from the railway station, passengers can also purchase tickets from several downtown ticket offices including Futian Citizen Center, Sunshine Hotel and Zhong Jian Mansion. Foreigners who are not familiar with Chinese may prefer to book their tickets through a tour agency.



Transportation
The railway station is easily accessible by public transport. Luohu Station on metro Line 1 is right in front of it. There are more than 40 bus lines to other parts of the city and passengers can take a bus from either the Railway Station Stop or the Railway Station West Square Stop. The former is located on the square in front of the station building and the latter is located on West Square. The buses for each stop are:
Railway Station Bus Stop: Nos. 1, 7, 12, 17, 25, 38, 82, 83, 97, 101, 102, 205, 215, 220, 302, 306, 337, 352, 387, K302, K528, K533, K538, K545, N2, N4, N5, N7, N14, N15, N16, N18 and Peak Hour Line 2.
Railway Station West Square Stop: Nos. 2, 8, 18, 28, 61, 207, 228, 309, 321, 386, 389, K548, Airport Shuttle Bus Line 1 and Peak Hour Line 31.
Taxi fare from Baoan Airport to the station should be around CNY130 and it is around CNY60 from West Railway Station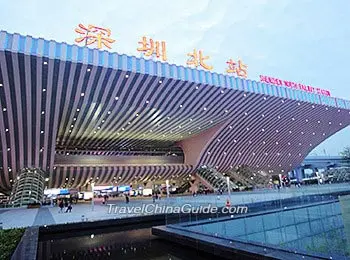 North Railway Station
This station is located at Longhua Street,
Bao'an District
and 9.3 kilometers away from the Civic Center in city center. It is built to be a comprehensive hub of the
Guangzhou-Shenzhen-Hong Kong High-Speed Railway
and the Xia-Shen High-Speed Railway. Currently, there are CRH railways running to Wuhan and Beijing to the north as well as Xiamen and Shanghai to the east. In the future plan, it will opening railway routes to Maoming and Zhanjiang to the west, and Hong Kong to the south. From Dec 26, 2012, the 96 pairs of high-speed ones have been put into operation between North Railway Station and Guangzhou South Railway Station. It takes only 30~45 mins. from the city to Guangzhou, and vice versa.

Transportation: subway
Line 4
(Longhua Line) and
Line 5
(Huanzhong Line); buses of no. 54, 330c, b647, b666, b667, b730, b742, e11, e22, e7, m217, m299, m300, m341, m343, m344, m347, m352, m353, m354, m365, Gaofeng Special Line No. 38, Shenhui Line 3b, Shenguan Line 2 and get off at North Railway Station Bus Stop.
West Railway Station
West Railway Station, known as Nantou Railway Station, is located on Xuefu Lu,
Nanshan District
. Opened in 1994, this station was initially planed to be a freight only base but a passenger service was started in 1995. It is about 10 kilometers from Shekou Port. It will no longer operate as a passenger station once the new North Railway Station is finished.
Thirteen railways arrive and depart from here daily. Passengers can take them from here to 12 cities including Lanzhou, Tianjin, Chengdu, Nanjing, Hefei and Jinan. Most of the tickets from here are a little cheaper than the tickets at the Railway Station, as the facilities and services in this station, as well as the facilities and services on the trains are not as good as in the Railway Station.



Transportation


By Bus to reach the station:
In total there are 8 buses available there: Nos. 36, 58, 227, 229, 234, 353, B623 and B682.


By Taxi to reach the station:
1. The taxi fare from Huang Gang Border should be around CNY50.
2. The taxi fare from Luo Hu Boarder should be around CNY60.
3. The taxi fare from Baoan Airport should be around CNY55.
Futian District
, the station mainly operates bullet trains to/from Guangzhou, Humen. In the near future, trains to/from Hong Kong are also handled from the station. Besides, one can get to North Railway Station from here within 10 minutes or so.

Transportation: one can easily reach the station by metro
Line 1
(Luobao Line),
Line 2
(Shekou Line),
Line 3
(Longgang Line) and Line 4 (Longhua Line), or one can choose bus nos. 38, 41, 59, 60, 64, 107, 123, 234, 235, 236, 327, 374, 398, Gaofeng Special Line 62 or 96, E18, K204, M221, M262, M390, M413, M454, K578, N4, N9
Longgang District
. The East Station mainly operates normal trains to/from Guangzhou, Wuhan, Chengdu, Hefei, Changsha, Hohhot, and Nanchang, etc.

Transportation:

By subway: line 3, line 5

By city bus: 8, 58, 69, 85, 303, 307, 308, 309, 312, 321, 322, 323, 357, 366, 369, 371, 372, 375, 376, 379, 383, 398, 821B, 822, 836, 839, 937, 954, 956, 977, 980, E24, K69, M233, M265, M267, M268, M269, M271, M272, M273, M311

Railway Station Transfer Service
- Last updated on Nov. 04, 2020 -
Questions & Answers on Shenzhen Train
Asked by Lorellie yee from PHILIPPINES | Oct. 23, 2019 00:53

Reply
What is the last trip of train take from hongshan station to baoan shenzhen airport?
Answers (1)
Answered by Mateo from FRANCE | Oct. 24, 2019 02:17

0

0

Reply
For the transportation, you need to take metro line 4 from Hongshan to Conference & Exhibition Center and transfer to metro line 1 to Chegongmiao. Then take metro line 11 to Airport Station.
About the last schedule:
Line 4: 23:00
Line 1: 23:00
Line 11: 23:05

Hope helpful!
Asked by srinivasan venkataraman from INDIA | Mar. 22, 2019 23:55

Reply
is there bus from Shenzhen Airport to pingshan railway station?
Answers (1)
Answered by Vivian from GERMANY | Mar. 27, 2019 23:43

0

0

Reply
It is advised to take metro line 11 from airport to Futian Station and then transfer to metro line 3 to Nanlian Station, Exit A2. After arriving, change to bus no.M359 to the Pingshan Railway Station.
Asked by Chi from AUSTRALIA | Mar. 11, 2019 14:50

Reply
How to travel from yang shuo to LuoHu (Shen Zhen) train station
I know about a train from Xing Ping (Yang Shuo) to SZ North train station. I need to get to LuoHu train station in SZ, how to I get there from Yang Shuo?
Answers (1)
Answered by Amanda from BELGIUM | Mar. 11, 2019 20:47

0

0

Reply
Hi, the trains can only direct to Shenzhen North Railway Station.After arrival, you can take Metro Line 4 from the railway station to Exhibition Center and then transfer to Metro Line 1 to Luohu.
Asked by Kevin from AUSTRALIA | Aug. 23, 2018 08:47

Reply
How much from Shenzen Bao'an International Airport to Xiangxi by
1. taxi
2. bus
3. other type of transportation available
Answers (3)
Answered by Peter from CANADA | Aug. 23, 2018 20:15

0

0

Reply
1. The taxi fare is about CNY 130 in the day time.
2. You can take Metro Line 11 to Futian and transfer to Metro Line 2 to Hubei. Then get out of the Exit D and walk about 5 minutes, you can get there. It takes about CNY 10.

Answered by Kevin from AUSTRALIA | Aug. 24, 2018 03:17

0

0

Reply
Thank You for the respond.
Do you have schematic diagram of a map where the train each go and where you need to tranfer/exit to reach its destination. Cheers
Answered by Peter from CANADA | Aug. 26, 2018 19:24

0

0

Reply
I'm sorry I don't have such a map, but you can see that at each metro station and the staff in the station will offer help to you if necessary.