Shenzhen - Lanzhou Train
At present, there are only two pairs of normal trains between Shenzhen city and Lanzhou city; no high speed trains are available. Due to the long distance of around 2,693 kilometers (1,673 miles), it takes 31.5 - 44 hours to travel by normal trains. A hard sleeper costs CNY 536.5 or 566.5 depending on different running routes.
To save time, passengers could take a transfer at Guangzhou to have a high speed rail ride.
Shenzhen to Lanzhou Train Schedule
(Last Update on Apr 25, 2023)
| Train No. | Departure - Arrival | Travel Time |
| --- | --- | --- |
| Z230 | 09:08 - 16:29+ | 31h21m |
| K134 | 10:15 - 05:59++ | 43h44m |
| K1312 | 17:09 - 07:02++ | 37h53m |
See more
Shenzhen Schedule
Lanzhou to Shenzhen Train Timetable
(Last Update on Apr 25, 2023)
| Train No. | Departure - Arrival | Travel Time |
| --- | --- | --- |
| Z232 | 10:57 - 19:15+ | 32h18m |
| K132 | 13:49 - 07:55++ | 42h6m |
| K1310 | 22:52 - 13:49++ | 38h57m |
See more
Lanzhou Schedule
Notes:
1. "+" indicates the second day; "++" indicates the third day.
2. The above timetable is for reference only. Please use our tool on top of this page to search for the real-time schedule.
Ticket Fare of Shenzhen - Lanzhou Train
(Last Update on Apr 25, 2023)
Nos.
Soft Sleeper
Hard Sleeper
Hard Seat
Z230/Z232
---
CNY 524.5 / USD 77
CNY 290.5 / USD 43
K134/K132
CNY 871.5 / USD 128
CNY 565.5 / USD 83
CNY 313.5 / USD 46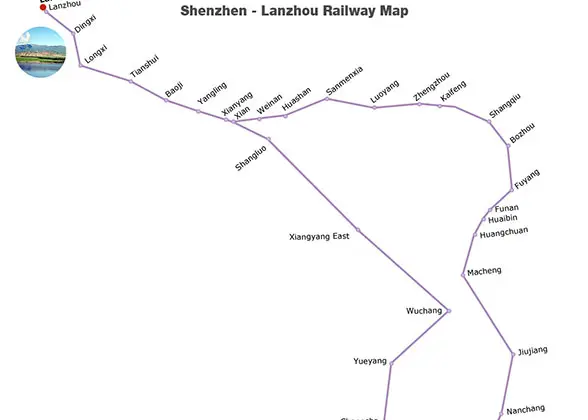 Shenzhen - Lanzhou Railway Map
Stations along the way for Z230 / Z232:
Guangzhou
, Shaoguan East, Chenzhou,
Hengyang
,
Changsha
, Yueyang,
Wuchang
, Xiangyang East, Shangluo,
Xi'an
, Baoji, Tianshui
Stations along the way for K134 / K132: Dongguan East, Huizhou, Longchuan, Xinfeng, Ganzhou, Ji'an,
Nanchang
,
Jiujiang
, Macheng, Huangchuan, Huaibin, Fuyang, Bozhou, Shangqiu, Minquan, Lankao, Kaifeng,
Zhengzhou
, Gongyi, Yanshi,
Luoyang
, Xin'anxian, Sanmenxia,
Huashan
, Weinan, Xi'an, Xianyang, Yangling, Baoji, Tianshui, Gangu, Longxi
At one side, all trains use
Lanzhou Railway Station
, while at the other side, Z230 / Z232 use
Shenzhen Railway Station
and K132 / K134 use the West Railway Station. Both stations are convenient to reach, with public buses and subway lines available. However, trains using Shenzhen Railway Station take shorter time, a preferable choice for passengers.
Connecting Trip in Guangzhou by High Speed Trains
Currently, there is no high speed train between Shenzhen and Lanzhou. Considering your time, if you could take an early morning or late evening G-train between
Shenzhen North Railway Station
/
Futian Railway Station
and
Guangzhou South Railway Station
, then you can take a transfer in Guangzhou by high speed trains. In this case, you can reach your destination within one day. Notice that there is only one pair of high speed trains between Guangzhou and Lanzhou. The schedules are as follows:
G96 from Guangzhou South to
Lanzhou West
: 08:55 - 19:24; duration: 10h29m.
G834 for the opposite direction: 08:05 - 20:26; duration: 12h21m.
Shenzhen - Lanzhou Train vs. Flight
For business clients, if you want to save time, taking a flight is also considerable. Direct flights are available and convenient between the two cities. During travel low season from Dec to Feb except holidays, the 65% off discount price is around USD120 per ticket.
Tips:
For leisure travelers, if you have sufficient time, you could consider taking G-rail from Shenzhen North to
Xi'an North
firstly, staying at Xi'an for one or two days to enjoy a good time there, then go on taking G-rail to Lanzhou West.

Major Rail Lines from Shenzhen to:

Major Rail Lines from Lanzhou to:
- Last updated on Apr. 25, 2023 -
Questions & Answers on Shenzhen - Lanzhou Train
Asked by IRENE from INDONESIA | Dec. 02, 2019 17:26

Reply
Departure station of Z230
Which station is the departure station? It only says from Shenzhen. Please clarify, thank you.
Answers (1)
Answered by TravelChinaGuide | Dec. 03, 2019 18:51

0

0

Reply
Thank you for your inquiry.

Z230 departs from Shenzhen Railway Station, the one at No. 1003 Jianshe Road. It is near Luohu station on metro line 1. This station is named by city name, so it is just called "Shenzhen" Station. Hope for your kind understanding.
Asked by Damon from SAN MARINO | Jan. 25, 2019 01:46

Reply
G6016 from Shenzhen North to Guangzhou South and then G844 to Lanzhou West
Can I still find taxi at nearly midnight at the station to city center area? I have a hotel booked near Zhangye Street.
Answers (1)
Answered by Lin from MALAYSIA | Jan. 27, 2019 17:09

0

0

Reply
You can still find taxi at the station as long as there are train arrival, but less than day time and the taxi fare would be higher. Sometimes, driver do not go by meter during night. So you need to negotiate the price with driver.