Lanzhou West Railway Station
Lanzhou West Railway Station has been put into use on December 26th, 2014 as the largest terminus along the
Lanzhou-Xinjiang High Speed Railway
. It is also the largest terminus along the
Xi'an-Lanzhou High Speed Railway
which was put into service since July 9th, 2017. The station is about 6.2 miles (10 km) away from the
Lanzhou Railway Station
, 37 miles (60 km) from the
Lanzhou Zhongchuan Airport
, and 985 yards (900 meters) from the
Gansu Provincial Museum
.
Address: Xijin West Road of Qilihe District

Schedule and Ticket Booking
The station mainly operates high speed trains including those to/from Beijing, Xining, Zhangye, Jiayuguan, Jiuquan, Yumen, Kumul, Turpan and Urumqi.


Major Rail Lines from Lanzhou to:

(Last Update on Apr 25, 2023)
To
Trains
Duration
Ticket Fare (CNY)
First/ Second Class Seat

Beijing West

G430, G92 at 08:55 and 15:59
6h43m - 8h19m
CNY 1,109.5/ 700
USD 163/ 103

Shanghai Hongqiao

G3166, G1972, G3182 from 08:29 to 11:11
10h39m - 11h45m
CNY 1,364/ 867.5
USD 201/ 128

Xining

D2741, D2711, D2721, D2701...
15 departures from 06:40 to 21:14
2h9m - 3h23m
CNY 84/ 52
USD 12/ 8

Xi'an North

D2680, D2686, G2686, G866...
49 departures from 06:33 to 20:22
2h29m - 6h14m
CNY 213.5/ 160.5
USD 31/ 24

Chongqing

D754, D806, D756, D752...
5 departures from 08:48 to 15:31
7h2m - 7h30m
CNY 356/ 222
USD 52/ 33

The above schedule is for reference only. For real-time schedule and ticket booking, please click the arrival stations.
See detailed
Lanzhou Train Schedule
Station Plan
The station mainly consists of a terminal building and two squares. There are 3 floors inside the terminal building, two above ground and one underground.

2F: waiting hall

1F: ticket offices, platforms and rail tracks

-1F: arrival hall
How to get to West Railway Station from downtown Lanzhou?

Arrival by bus:
At West Railway Station Bus Station: 1, 5, 14, 18, 31, 32, 35, 50, 53, 58, 77, 105, 106, 108, 129, 132, 136, 137, 302, 308, 309, 314, 602, B1, K102, tb1.
At No.55 Middle School: 109
Passengers arriving by bus will get off at the west side of the north square. For those having a ticket in hand, enter the station directly. Afterwards, go to the waiting hall on 2F. For those without a ticket, go to ticket office at the northeast side of 1F to obtain a ticket, and then go up to the waiting hall.

Arrival by metro:
Passengers can take
metro line 1
and arrive at West Railway Station directly.

Arrival by taxi:
From Gansu Provincial Museum: CNY10
From Railway Station: about CNY 20
From
White Pagoda Park
: about CNY18-20
From Zhongchuan Airport: about CNY170-190
From
Waterwheel Garden
: about CNY15
If arriving by taxi, you will be dropped off at the west side of the station. If you already have a ticket, just enter the station and read the ticket carefully to find your waiting hall. If not, please go to the ticket office on 1F to obtain a ticket and then go to find the waiting hall.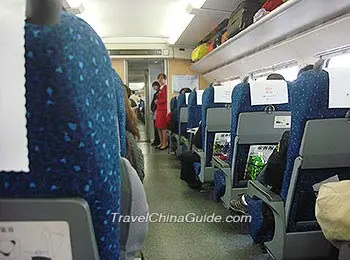 Second Class Carriage
Ticket Check and Boarding
There are 23 ticket check points located symmetrically on the east and west two sides of the waiting hall numbered 1A, 1B, 2A, 2B… Passengers should read the ticket carefully to know the correct check point. Please note that the check points are usually opened 30 minutes before departure and closed 5 minutes before. After going through the check point, take the escalators down to platforms for boarding.
How to exit and leave Lanzhou West Railway Station?
Upon arrival, all passengers will be led to -1F transfer hall for exiting. Upon exiting, take the escalators to 1F to arrive at the parking lot to take a bus. Or alternatively, they can go straight to the taxi waiting area to take a taxi.

Leave by bus:
The bus station is located on the east side of the north square. Passengers can easily follow the direction boards to find it.

Leave by taxi:
Passengers can follow the directions boards to get to the taxi stand on-1F to take taxis.

Transportation to other places from the station:

Railway Station:
Take bus line 1, K102 or 302.

Gansu Provincial Museum:
Take bus line 53, 58 or 77.

White Pagoda Park:
Take bus line 35, 53, 105, 108 or 137.

Zhongchuan Airport:
1. Take bus 1, 58 or 302 to West End of Panxuan Road, and then walk to Civil Aviation Ticket Office to take an airport shuttle bus to reach the airport. The airport shuttle bus departs from 05:30 to 19:00 with an interval of about 30 minutes. Duration is about an hour and ticket fare is CNY 30.
2. Take a direct train to the airport which is reachable daily from 07:52 to 17:00. The travel time is about 40 minutes and ticket fare is CNY22 for a first class seat and CNY18.5 for a second class seat.

Waterwheel Garden:
Take bus line 1, 105, 106, 109 or 137.
Facilities and Services of the Station

Ticket Offices:
There are eight ticket offices in this station. However, only three of them are currently open to the public. They are located in northeast of 1F, northwest of 2F and the north side of -1F. A total of 74 ticket windows provide passengers with services including ticket buying, ticket collecting, ticket change, ticket refund and lost ticket reporting. Additionally there are 48 ticket vending machines (TVM) including 40 ticket selling machines and 8 ticket collecting machines which are easily accessible; however, they only recognize Chinese ID cards.



LED Screens:
LED Screens are available in the waiting hall showing train nos., departure time, check points, and boarding platforms. In the arrival hall they show arrival time, platforms, and exits.



Information Desk:
Located in the waiting hall, it provides a series of services including medicine and medical assistance, paper, tool case and wheelchairs for the old, weak, sick, disabled and pregnant etc. Fax and copy service is offered for business travelers. Moreover, foreign language services are also available here including English, German, French, Korean, Japanese and two minority languages, Tibetan language and Uighur language. Passengers from foreign countries can consult related travel questions freely.



Washrooms:
Passengers can find washrooms and hot water in the waiting hall. The washing rooms are also equipped with changing rooms. Barrier-free washrooms are also easily accessible to the old, weak, sick, disabled and pregnant.



Others
In addition, a shopping center and restaurants can be found in the 2F waiting hall in this station. Passengers can go shopping or enjoy a meal. It is very convenient.
Print

- Last updated on Apr. 25, 2023 -
Questions & Answers on Lanzhou West Railway Station
Asked by Iris from SWISS | Jun. 01, 2020 18:51

Reply
What can I do in Lanzhou?
My train will arrive at Lanzhou West station, and then I will connect a flight in Zhongchuan airport 8 hours later, how can I spend my time in Lanzhou?
Answers (1)
Answered by Amber from CHILE | Jun. 02, 2020 18:05

0

0

Reply
But you need to arrive at the airport at least 1.5 hours beforehand, there is train between Lanzhou West to Zhongchuan airport, the train ride takes one hour, that is to say, you need at least 1.5 – 2 hours for the train ride. Moreover, you need to find a suitable train schedule and catch it. Thus, I suggest you just wonder around Lanzhou West and go outside for some food, there is no time for sightseeing.
Asked by zaza from MALAYSIA | Sep. 18, 2019 04:35

Reply
Convenience stores
I'll be taking the 6.40AM train to zhangye. will there be any convenience stores open in the station to grab water and food? Thank you!
Answers (1)
Answered by Penney | Sep. 20, 2019 04:35

0

0

Reply
The shops inside station is not operated by station itself. They do not work the same time as station. You'd better to take some food of your own.
Asked by Irene Yong from UNITED KINGDOM | Aug. 22, 2019 05:42

Reply
Lanzhou west station to Lanzhou station.
Please advise me how to get to Lanzhou west station to Lanzhou station because my hotel is near there.
Answers (1)
Answered by Hadley from UNITED KINGDOM | Aug. 22, 2019 19:06

0

0

Reply
If time fits, you can take a train from Lanzhou West to Lanzhou Station. If not, you may take metro line 1 to Lanzhou University and then change to bus 131 or 110 to the railway station.
Asked by Winifred from ARGENTINA | Jul. 26, 2019 03:17

Reply
C trains from Lanzhou airport to Lanzhou West Station
We are wondering if it is possible to buy tickets at airport after our landing? Online booking could be a problem if our flight to Lanzhou delayed. Any advice?
Answers (1)
Answered by Ailsa from CROATIA | Jul. 28, 2019 17:25

0

0

Reply
I think it is not a problem to get ticket after landing. If the seats sold out, you can still get standing tickets. They are not as popular as other long distance trip. Except this rail transfer, there are bus and taxi can be used too!
Asked by Farah from MALAYSIA | Apr. 06, 2019 02:07

Reply
Lanzhou Operating Hour
What are the basic operating hour for this west railway station? I will be arriving in Lanzhou Airport at around 11pm and will catch the first train to Zhangye west the next morning. Im thinking to have an overnight there in the station, is it possible and allowable? Is there any designated area for passengers to overnight at the station?

Thanks.
Answers (1)
Answered by Shawna from SAMOA WESTERN | Apr. 09, 2019 02:51

0

0

Reply
Do you mean this West Station? I think it does not open 24 hours. The earliest one departs from 6am there so I think it opens around 5am. But it may closed around 11pm. So I am not sure if you can stay overnight there.