Lanzhou Railway Station
Lanzhou Railway Station is an important transportation terminal both in Chinese Silk Road and Eurasian Continental Bridge. The station also functions as a window for the northwest area looking into the rest areas in China. It is either a starting point or a terminal point of five main railways to Lianyungang, Baotou, Alataw Shankou (Pass) in Xinjiang, Xining and Chongqing.

Address: No. 393 of East Huochezhan Road

Arrival and Departure
Facing to the north, the station is composed of a large square and a three-story station building. Passengers can take taxis and buses to reach the square, and there are parking lots for buses, taxis and personal cars in the square. When passengers arrive at the station from other cities, then need to note that there are two exits, eastern exit and western exit. Getting out of the eastern exit, you can have easy access to the public buses, and the western exit leads to taxi stands. It's quite difficult to get a taxi out of the exits, so you are suggested to walk a few minutes to the front street to hail a taxi to the downtown area.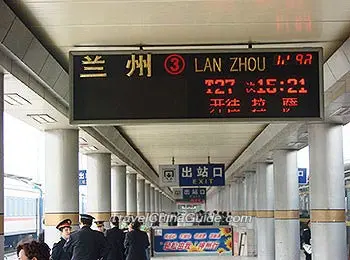 Platform
Ticket Office
The station entrance is in the middle of the station building. You can find the Ticket Hall to the west of the entrance, very obvious. There are two Ticket Offices in the hall, one is in service 24 hours with 24 windows open for ticket selling, and the other is usually open during the busy season, such as in holidays, school vacations and spring festivals.
Waiting Room
After purchasing the ticket, you can get to the entrance, where you can take the escalators to the second floor. You may find your waiting room according to the information presented on the LED screen. In the waiting room, there are listed facilities and services as below.

International Waiting room: Foreign passengers can get into the room. There are books, magazines and music in multiple languages accessible.

Soft seat/sleeper Waiting Room: The room also has books, magazines and newspaper services. The passengers in this room can board the train in advance under the station staff's guide.

VIP Room: There are also VIP rooms available, charging an extra fee of CNY 10 per pax. Passengers can utilize the WI-FI there for free.

Mother & Baby Room: There will be station staff to guide and help the passengers to board in prior.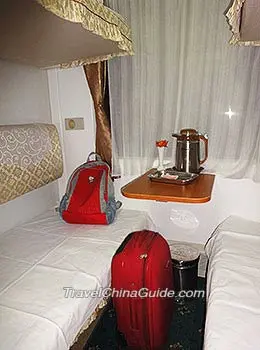 Soft Sleeper Cabin
Other services:

Battery Charging: On the pillars of the waiting room there are sockets that you can charge your mobile phones, laptops and other electronic gears.

Left Luggage: Near the station entrance, there is left luggage service. It charges about CNY 5 for a small bags and CNY 10 around for a large piece of luggage in 24 hours.

News Stands: In the waiting hall, there are newsstands, where you can do some reading to kill the time.

Drinking Water: In the drinking center, you can get boiled water for free, just take a bottle with you.

Wheelchairs: On the first floor of the waiting hall, there are wheelchairs available for the physically challenged passengers.

English-speaking Service: In the central check-in counter, International and soft seat/sleeper room, English-speaking service is available.
Train Schedule

Major Rail Lines from Lanzhou to:
High Speed Train Schedule
(Last Update on Nov 25, 2019)
To
Trains
Duration
Ticket Fare (CNY)
First/ Second Class Seat

Xining

D2751, D2743, D2701, D55...
16 departures from 06:33 to 20:52
2h6m - 2h42m
CNY 93/ 58
USD 13/ 8

Xi'an

D4062, D2680, G866, G1904...
47 departures from 06:31 to 19:50
2h31m - 3h27m
CNY 231.5/ 174.5
USD 33/ 25

Taiyuan

D2566, D2570, D2568 from 08:42 to 15:02
6h38m - 6h49m
CNY 517.5/ 353
USD 74/ 50

Urumqi

D2701, D55, D2703, D2711 from 08:07 to 11:13
11h45m - 12h47m
CNY 882/ 551
USD 126/ 79

Chongqing

D754, D752 at 09:11 and 15:35
6h40m - 7h6m
CNY 356/ 222
USD 51/ 32
Normal Speed Train Timetable
(Last Update on Nov 25, 2019)
To
Trains
Duration
Ticket Fare (CNY)
Soft/ Hard Sleeper

Wuwei

K453, K679, K543, Z6201...
32 departures from 04:11 to 22:00
2h56m - 5h50m
CNY 185.5/ 100.5
USD 27/ 14

Jiayuguan

K453, K679, K543, Z6205...
23 departures from 04:11 to 22:00
7h15m - 10h10m
CNY 319/ 190
USD 46/ 27

Longxi

K378, K680, Z274, K1616...
30 departures from 00:37 to 23:52
2h5m - 4h25m
CNY 163.5/ 78.5
USD 23/ 11

Dunhuang

K9667, Y667, K367 from 16:52 to 19:00
11h53m - 14h33m
CNY 426.5/ 261.5
USD 61/ 37

Tianshui

K378, K680, Z274, K1616...
32 departures from 00:37 to 23:52
3h55m - 5h7m
CNY 155.5/ 97.5
USD 22/ 14

Pingliang

K1616, K9664 at 03:55 and 20:00
8h8m - 10h39m
CNY 250/ 142
USD 36/ 20

Shanghai

K378, T118, K2188, Z42...
7 departures from 00:37 to 16:05
23h19m - 30h2m
CNY 685/ 436
USD 98/ 62

Beijing West

Z76, Z56, K886 from 09:03 to 21:10
16h28m - 26h27m
CNY 549.5/ 343.5
USD 79/ 49

Guangzhou

K778, Z232, Z136, Z266...
5 departures from 08:18 to 21:36
30h19m - 38h28m
CNY 850.5/ 496.5
USD 122/ 71

Shenzhen West

Z232, K132 at 11:09 and 13:12
32h19m - 44h3m
CNY 879.5/ 536.5
USD 126/ 77

Taiyuan

Z56 at 21:10
11h47m
CNY 405.5/ 247.5
USD 58/ 35

Xi'an

K378, K680, Z274, K170...
33 departures from 00:37 to 23:52
8h2m - 10h29m
CNY 296/ 174
USD 42/ 25

Hangzhou

K596, T114, K306, K1042 from 10:46 to 22:05
28h49m - 32h1m
CNY 674/ 428
USD 96/ 61

Chengdu

K454, K1060, K1618, K2618...
8 departures from 00:04 to 23:35
10h50m - 11h57m
CNY 346/ 208
USD 49/ 30

Wuhan

Z232, T308, Z136, Z266...
7 departures from 11:09 to 21:36
18h53m - 25h2m
CNY 549.5/ 343.5
USD 79/ 49

Zhengzhou

K378, Z274, K420, K596...
22 departures from 00:37 to 23:45
14h18m - 18h24m
CNY 443.5/ 272.5
USD 63/ 39

Qingdao

Z274, K1028 at 01:40 and 23:45
27h10m - 31h43m
CNY 699/ 444
USD 100/ 63

Hohhot

K886, 2636, K1518, Z312...
5 departures from 09:03 to 20:11
15h44m - 19h00m
CNY 409.5/ 244.5
USD 59/ 35

Xining

K2637, K1517, K177, K815...
17 departures from 04:41 to 18:34
2h29m - 3h31m
CNY 163.5/ 78.5
USD 23/ 11

Urumqi

K679, K543, K2059, T283...
18 departures from 04:56 to 21:13
16h29m - 25h32m
CNY 630/ 397
USD 90/ 57

The above schedule is for reference only. For real-time schedule and ticket booking, please click the arrival stations.
See detailed
Lanzhou Train Schedule
Transportation

How to reach the station?
You can take any of the listed buses to reach the Lanzhou Railway Station square: No. 1, 6, 7, 9, 10, 12, 16, 31, 33, 110, 114, 124, 126, 131, 137, 181, 302, 601, 801 and K102.
From
West Railway Station
, you can take the bus No. 1, 31 and K102 to this train station directly.
You can take the airport shuttle bus to HNA Business Hotel, and then you walk along the Dingxi Road westwards about 150 yards to take the bus No. 124, 12, 114 or 33 to the railway station.

How to get around from the train station?
To
Waterwheel Garden
: Walk to the front of the station square, you will find the Lanzhou Railway Station bus stop, where you can take the bus No.6 to Shengwei Station. Then walk northwards about 760 yards to the garden. Alternatively, take the bus No. 7 or 126 to Jinchanglu Beikou station, then walk about 820 yards to the destination.
To
Gansu Provincial Museum
: Take the bus No.1, 31, 302 or 137 to Qili Heqiao Station, which is about 380 yards from the museum. You can cover this distance in some minutes of walking.
To
Zhongchuan Airport
: Take a direct train to the airport which is available daily from 07:38 to 20:58. Duration is about 50 minutes and ticket fare is CNY 26 for a first class seat and CNY21.5 for a second class seat.
Print

- Last modified on Nov. 22, 2019 -
Questions & Answers on Lanzhou Railway Station
Asked by Mazleena from MALAYSIA | Nov. 01, 2019 01:10

Reply
Train to lanzhou train sttuon
Hi
What time the last train depart from airport going to lanzhou train station?
Reaching lanzhou ard 11pm.
Answers (1)
Answered by Tammy | Nov. 01, 2019 02:37

0

0

Reply
The last one should be at 11:59pm from Zhongchuan airport to Lanzhou Station. If your flight will land at 11pm,it is a little bit risky to catch it, but shuttle bus should be available. Usually shuttle bus works accoring to flight landing.
Asked by AZAM AZIZ from MALAYSIA | Aug. 01, 2019 04:31

Reply
staying overnight at lanzhou station
i will arrive around 1:00 a.m at the lanzhou railway station and my train is on 06:33 a.m, is it recommended to stay in VIP room? is it enough seat inside there even we pay to enter?
Answers (1)
Answered by Marin from LITHUANIA | Aug. 04, 2019 23:04

0

0

Reply
The station open 24 hours so it should be no problem to stay there until the 6:30 train. There are VIP lounge. If you cannot find free seats in common waiting room you can pay extra to wait in VIP lounge. If you hold a soft sleeper ticket got the second trip, there should be a waiting room for soft sleeper ticket holder too.
Asked by Oprah | Jul. 26, 2019 03:18

Reply
If we book soft sleeper beds for night train to Xi'an, can you confirm to give us a private cabin?
We have 3 people but we can buy one extra ticket if necessary.
Answers (1)
Answered by TravelChinaGuide | Jul. 28, 2019 17:26

0

0

Reply
Thank you for your inquiry.

According to the policy, each passenger can only buy one tickets on each train. Therefore, to buy one extra ticket, you need a fourth passenger's passport. To buy 4 tickets, we will always tried our best to book a whole cabin for clients. It is usually OK as long as there are still suitable cabin offered for sale. However, after boarding, according to our experience, there is a possibility that the forth empty bed may sold again to other people by train staff. In this case, we cannot 100% guarantee if you will be able to have a private cabin of your own even with 4 beds booked. Hope for your advanced notice.

Asked by Patrick Mayne from DINAMARCA | Jun. 16, 2019 08:33

Reply
HI, I have 1 hour transfer between train rides, is that enough in this train station? i
is it easy to navigate for non chinese speakers? thanks
Answers (1)
Answered by Fatima | Jun. 16, 2019 20:11

0

0

Reply
It should be no problem if you transfer within the same station.
Asked by Benjamin Leong from MALAYSIA | May. 04, 2019 01:07

Reply
Ive 2 pax here from Lanzhou to Lhasa. If I want a private berth what would you recommend?
Answers (1)
Answered by Marian from USA | May. 04, 2019 22:48

0

0

Reply
The problem is that the best class on these trains are soft sleeper cabin which is for 4 people. Each passenger can also only buy one ticket, so you cannot buy 2 tickets each people to get a private cabin of your own.