Lanzhou Travel Guide
Lanzhou is the capital city of Gansu Province in northwest China. The Yellow River, the Chinese Mother River, runs through the city, ensuring rich crops of many juicy and fragrant fruits. The city is the transportation and telecommunication center of the region. Covering an area of 1631.6 square kilometers (629.96 square miles), it was once a key point on the ancient Silk Road. Today, it is a hub of the Silk Road Tourism Ring, with Maiji Caves to the east, Bingling Temple Grottoes to the west, Labrang Monastery to the south and Dunhuang Mogao Caves to the north.
With mountains to the south and north of the city and the Yellow River flowing from the east to the west, Lanzhou is a beautiful modern city with both the grand beauty of northern cities and the prettiness of southern cities. The city downtown comprises five districts: Chengguan, Qilihe, Xigu, Honggu and Anning. Among them, Chengguan District, situated in the eastern part of the city, is the center of politics, economy, culture and transportation. Anning District, in the northwestern part, is the economic development zone as well as the area where most colleges are located.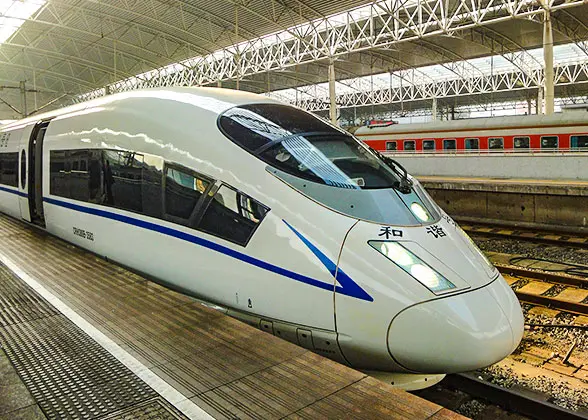 As a transportation hub, Lanzhou connects western and central China. Flights are frequent from many large cities such as Beijing and Shanghai. It is the termination of the Longhai Railway, an important east-west rail route in China.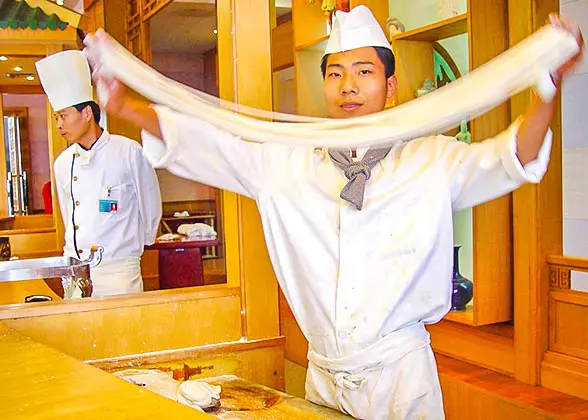 Owing to its location, local cuisine absorbs characteristics from Islamic food. Beef and Mutton are common local food. The Beef Noodles are famous nationwide. In addition, there are many snacks such as Niangpi, Hui Dou Zi (Gray Bean) and Fried Noodles. Although many restaurants serve Islamic food, various cuisines such as hot pots and western food are also offered for travelers. There is no problem with finding something you will like.
Zhongxin Square, also named Dongfanghong Square, is the largest square in Lanzhou City, situated in the central area. Around this square, many shopping malls can be found. The square is the daily entertainment place for local people and is also an ideal shopping area for tourists. In addition, there are many popular commercial streets such as Qingyang Road,
Zhangye Road Pedestrian Street
, and Zhongshan Road.
Nightlife in Lanzhou is not boring. Bars, KTV, and nightclubs are easily found in commercial areas. Or visitors can walk along the banks of the Yellow River to enjoy its beauty with lights in the evening. If you are interested in local snacks, several night markets are waiting for you.
Some basic facts and information are provided to help your trip, study, business or life.
Area Code & Zip Code
Useful Phone Numbers
Post Office
Banks
Hospitals
Famous Universities
- Last modified on Nov. 07, 2019 -
Questions & Answers on Lanzhou Travel
Asked by Mei from MALAYSIA | Nov. 07, 2019 01:43

Reply
How do i get to dunhuang zhixing hotel (Lanzhou yellow river) from the Lanzhou airport
By train, bus or taxi better for 4 person and the price? Is it available from midnight because my flight reach airport 10.30 pm then all the immigration stuff until something at night..
Answers (1)
Answered by Gina from CANADA | Nov. 10, 2019 18:15

0

0

Reply
Don't worry, you still can catch shuttle bus line of Chengguan district and you could get off at Ruida Hotel station, which costs CNY30/person. Then you can take taxi to your hotel with around CNY10.
Asked by Mona from MALAYSIA | Oct. 21, 2019 20:16

Reply
Helo going to lanzhou 10nov-17nov,any mountain i can visit for snow?
and place to stay at the mountain. thanks
Answers (1)
Answered by Kaylee from GERMANY | Oct. 21, 2019 23:32

0

0

Reply
As I know, you can go to Xinglong Mountain (兴隆山), which have nice snow scenery in winter. In addition, you can find several hotels nearby the entrance. Don't worry.
Asked by Florence from MALAYSIA | Oct. 20, 2019 10:21

Reply
Best way to get from lanzhou airport to ibis dongfanghong plaza at 2300 pm
Pls advise train, bus and taxi options and cost.
Answers (1)
Answered by Aaliyah from NETHERLANDS | Oct. 21, 2019 23:35

0

0

Reply
Upon landing, you can take shuttle bus Chengguan District Line and get off at Dongfang Hotel. Then walk west around 1km to find the hotel. The ticket fare is CNY30 per person.
If by taxi from the airport, the fare is CNY 150 to CNY 170.
Asked by Harry from MALAYSIA | Oct. 02, 2019 15:14

Reply
How many do I need and the best month to travel lanzhou
Answers (1)
Answered by Bowen from USA | Oct. 10, 2019 02:25

0

0

Reply
September is the best month to travel here. Actually, it is suitable for visit in Summer and Autumn.
Asked by Mrs. Sathiya from MALAYSIA | Oct. 01, 2019 02:44

Reply
Lanzhou - Harbin - Beijing road trip
Hi, I plan to do road trip with 3 stop cities: Lanzhou - Harbin and Beijing on Dec this year during 14 days.
Might you give me some tips about the hotel and transportation to connect those cities.
Thanks alot!
Answers (2)
Answered by Theo from USA | Oct. 09, 2019 02:33

0

0

Reply
You can't imagine how far Lanzhou is from Harbin. It is suggested to have the road trip Lanzhou - Beijing - Harbin. You need to choose the hotel that can accepct foreigners.
Answered by Mrs. Sathiya from MALAYSIA | Oct. 09, 2019 23:48

0

0

Reply
Thank you so much for your feedback! I will do my road trip itinerary as your suggestion.