Gansu Travel Guide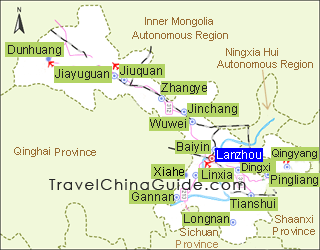 Dear friends, would you like to ramble along the ancient
Silk Road
and re-enter the historic long river? Come then to Gansu, a memorable tour awaits you.
Located in the upper reaches of the Yellow River, northwest China, Gansu is one of the cradles of Chinese cultures. It occupies a total area of 450,000 square kilometers (173,700 square miles). Neighboring provinces are Shaanxi to the east, Sichuan to the south, Qinghai and Xinjiang to the west and Inner Mongolia and Ningxia Hui Autonomous Region to the north. With a population of 23.7 million, this city has a multinational population which includes ethnic minority groups of Kazak, Mongolian, Tibetan, Hui, Dongxiang, Tu and Manchu. They mutually influence each other in the fields of economics, politics and culture and hold close ties with the Han people. They have thus developed a unique cultural community.
Lanzhou, a well-known ancient city in China, is the capital of Gansu. It is the second largest city in northwest China, and also the political, economic and cultural center of the province.


Cities in Gansu
What to See
With a long history and brilliant cultures, Gansu is abundantly endowed with cultural relics and natural scenery. Vast and graceful natural scenery like endless desert and pure glacial landscape presents an impressive and breath-taking picture before your eyes. Take for example the world-famous
Mogao Caves
. It is the largest and most well-preserved Buddhist art palace and also a post along the ancient Silk Road; the grand
Jiayuguan Pass
, an important outpost in ancient China, is the western end of the Great Wall; the
Labrang Monastery
in Xiahe is one of the largest Tibetan Buddhist resorts in China while the
Bingling Temple
in Lanzhou is a treasure trove of Han Buddhism. All of these are commendatory points of interest for your tour.
| | |
| --- | --- |
| Mogao Caves, Dunhuang | Labrang Monastery, Xiahe |
When to Go
It is important for tourists to be familiar with the local weather. The annual average temperature is about 0

C to 15

C. The lowest temperature occurs in January and is approximately -14

C to 3

C and the highest temperature is in July between 22

C and 25

C. Average annual rainfall is between 30 to 860 millimeters (1.18 to 33.86 inches). With plenty of rain, you would be well-advised to take an umbrella along with you for the tour. However, despite the changeful weather, your sightseeing visit from May to October would be uninterrupted.
The local traditional handicrafts are archaized carpets (using patterns from ancient carpets), luminous cups and the duplicates of sculptures and murals of the Mogao Grottoes in Dunhuang.
Bingling Temple

, Lanzhou

Jiayuguan Pass

Recommended Gansu Tours:
Silk Road Dunhuang Trip: 4 days to Mogao Grottoes, Echoing-Sand Dune, Crescent Lake, Yumen Pass...
Lanzhou to Xiahe Labrang Monastery: 5 days travel of Lanzhou and Xiahe with cheap price
More China Tour Packages
- Last modified on Aug. 10, 2018 -
Questions & Answers on Gansu Travel
Asked by Jackie from MALAYSIA | May. 08, 2019 03:54

Reply
Why most if the tourist choose train to Dunhuan instead of flight.
As compare the flight ticket( domestic )
Is about same price to train ticket
But if take train ...the journey take 12 to 13 hours
But if take flight..the journey only take 2 .30 hours

Answers (1)
Answered by Henry from NEW ZEALAND | May. 09, 2019 00:35

0

0

Reply
Because they can drop by other attractions along the way. In fact, it is more appropriate for the tourists who have enough time.
Asked by Emin from TURKEY | Jun. 17, 2017 00:19

Reply
I'll move from Dunhuang at 7am and will be at Jiayuguan around 12.
After I arrive is a half day enough to see all Jiayuguan Pass, Overhanging Great Wall, First Fire Tower of the Great Wall? And please make a transportation recommendations for this route
Answers (2)
Answered by Ella from RUSSIA | Jun. 23, 2017 02:23

0

1

Reply
As I know, the half day is enough for you to cover these attractions. Generally, people will charter a car to visit them. The fare is around CNY200-300.
Answered by Emin from TURKEY | Jun. 23, 2017 06:39

0

0

Reply
Is it possible to rent a electric motorcycle
Asked by JoChan from MALAYSIA | May. 24, 2017 05:59

Reply
Need suggestion on Lanzhou-Zhangye-Qilian-Qinghai
Hope someone can help to check whether my suggested travel route of Lanzhou-->Zhange -->Qilian --> Qinghai is feasible or not. I'm making Lanzhou as my base, I have approximately 7 days to spare, doing solo travel.

Need also info on cheap but good accommodation there. Oh... will be traveling in mid-June. How's the weather during that time?

Thank you very much in advance.
Answers (2)
Answered by Nida from GERMANY | May. 30, 2017 20:38

3

1

Reply
Well, in my opinion, your travel route is feasible.
There are many convenient and economic hotels in these cities, and I will list some for you.
Lanzhou:
Super 8 Hotel (Lanzhou Railway Station Branch): no.218 East Minzhu Road CNY150-200/night for a double room
Jinjiang Inn (Lanzhou Railway Station Branch): no.182, South Tianshui Road CNY200-300/night for a standard room
Zhangye:
Home Inn (Zhangye Nandajie Branch): no.238, Nandajie, Ganzhou District CNY120-200/night for a standard room
Hanting Hotel (Zhangye Municipal Government Branch): no.3, Zhangye Xihuan Road CNY140-200/night for a standard room
Qilian:
You may find a hotel near the scenic spot. Qilian Shanye Muge Resort located at the crossing of ZHuo'ershan Scenic Spot will be a nice choice. It charges CNY400-500/night for a standard room.
Qinghai:
Hanting Hotel (Xining Railway Station Branch): no.144, West Huzhu Road, Chengdong District CNY140-200/night for a standard room
Jinjiang Inn (Xining dashizi Branch): no.37-9, Yinma Street, Chengzhong District CNY200-300/night for a standard room
According to the history data, it will be cloudy and rainy in Lanzhou at that time. The temperature will be 55F to 80F.
Answered by JoChan from MALAYSIA | May. 31, 2017 06:57

1

0

Reply
Thanks, Nida!
Asked by Karen from CANADA | Apr. 26, 2017 23:24

Reply
Gansu Province: 5 Day Itnerary and transportation
Further to a response written on April 18, 2017 by Jerry regarding transportation. I too am considering a trip to see the Mogao Caves and other sites in this province. (Autumn 2017) You mentioned renting and chartering a car in some of the places. I assume this means with a driver. How can this be done and what is the average cost?
Answers (1)
Answered by Marry from USA | Apr. 28, 2017 02:07

0

0

Reply
You are advised to charter a car from the formal companies. The Silk Road Through Train Travel Housekeeper will be a wise choice. You can ask a Chinese friend to help you search the official website, and book the route you would like to follow. You can also dial the hotline 400-0909-170. The different routes have diverse prices, for instance, one day tour to Mogao Caves plus Crescent Lake & Echoing-Sand Mountain (including the ticket of Mogao Caves) will costs around CNY450.
Asked by Claudio from ITALY | Apr. 17, 2017 10:01

Reply
Gansu including Jiayuguan
Hello!
as holidays are always too short because of work does anybody would reccomend a 5 days itinerary in the province (including Jiayuguan!) Thanks a lot!
Answers (5)
Answered by Jerry from CHINA | Apr. 18, 2017 03:44

2

0

Reply
Claudio. I'd like to recommend a classic route for you.
Day 01: Lanzhou
You can visit GS Provincial Museum, Yellow River Mother Sculpture, Zhongshan Bridge, Dazhong Street, Waterwheel Garden and White Pagoda Mountain Park today.
Day 02: Dunhuang
You may go to the Mogao Caves, Sanwei Mountain, Echoing-Sand Mountain and Shazhou Market there.
Day 03: Dunhuang
You are advised to charter a car to visit Dunhuang Ancient Town, West Thousand-Buddha Cave, Yangguan Pass, Hecang, Yumenguan Pass, Great Wall of Han Dynasty and Yardang National Geopark.
Day 04: Jiayuguan
You can pay a visit to Jiayuguan Pass, Overhanging Great Wall, First Fire Tower of the Great Wall and Wei-Jin Art Gallery today.
Day 05: Zhangye
You may travel to Wooden Tower of Sui Dynasty, Danxia National Geological Park, Shandan Buddha Temple and Shandan Horse Farm, and Giant Buddha Temple.
If you feel a little tight about this schedule, you may cancel some attractions you are not interested.
Answered by Claudio from ITALY | Apr. 18, 2017 05:09

0

0

Reply
Hello Jerry and thanks for your quick comment.
Could you also advice how to transfer within the suggested places you mentioned? Please consider we will be two people (one speaking Chinese).
Thanks

Answered by Jerry | Apr. 18, 2017 23:01

0

0

Reply
From the GS Provincial Museum to Yellow River Mother Sculpture: You can take bus no. 31, no.58 or no.18 at the Qilihe Bridge Bus Stop to Xihu Park Bus Stop. Upon arrival, you can just walk along the Xiao Xihu to the destination.
From the Yellow River Mother Sculpture to Dazhong Street: You can take bus no.25 at the Yellow River Mother Bus Stop and get off at the North Crossing of Yongchang Road Bus Stop. Then walk ahead for 100 yards to the street.
From Dazhong Street to Zhongshan Bridge: You can take bus no.74 to the South Chengguan Huanghe Bridge Bus Stop. Then you may walk around 130 yards to the destination.
From Zhongshan Bridge to Waterwheel Garden: You can take bus no.20 at the City Hall Bus Stop to the Waterwheel Garden Bus Stop directly.
From the Waterwheel Garden to White Pagoda Mountain Park: You can take bus no.20 to the White Pagoda Mountain Park directly.
From Lanzhou to Dunhuang: You can take a direct train at the railway station to Dunhuang. The train usually leaves at 17:00, 17:54, 19:09 and 19:30.
You are advised to charter a car to travel in Dunhuang.
From Dunhuang to Jiangyuguan: You can also take a train to go there. It usually departs at 15:00, 15:22, 18:35, 18:55, 19:40, 20:07 and 22:53 with the duration of around 4.5 hours.
People usually rent a car to travel around Jiayuguan.
From Jiayuguan to Zhangye: You are advised to take a high speed train at the South Jiayuguan Railway Station to West Zhangye Railway Station. There are many trains operating during 12:25 to 19:10. The duration is around 1.5 hours.
You may need to charter a car in Zhangye, because it could be a little far among the attractions.
Answered by laura from GREECE | Apr. 16, 2018 03:42

0

0

Reply
Hello, and thank you so much for this itinerary. I am also going there in October but for a whole month and although landing in Lanzhou, i would like to visit Xinjiang as well as Ningxia. The chinese consulate told me that I cannot go to Xinjiang unless I am part of a group.( actually i had booked a flight to Urumqui and I cancelled it - with high fees-- because I thought these restrictions only existed for Tibet. Nowhere on the internet did i read anything like that concerning Xinjiang.
They told me that I would not be allowed to step out of the airport alone without a group in Urumqui and I was wondering, could I go by train or bus? because reading people comments they say that the Chinese do not like it that you want to go to Xinjiang when you apply for a visa, but then it does not matter( only Tibet being the group issue) thank you for any help
Greetings
Laura
Answered by Nancy from SINGAPORE | Apr. 16, 2018 21:27

0

0

Reply
Hi, Laura! It's really strange, since my friends and I went to Xinjiang last October, and we didn't join any tour group. I think you'd better check it out with others.