Tianshui Travel Guide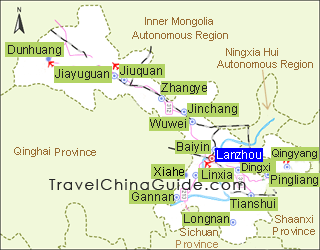 Tianshui Facts
Chinese Name: 天水市 (tiān shuǐ shì)
Population: 3,500,000
Area: 14,392 square kilometers (5,557 square miles)
Nationalities: Han

Location: Tianshui City was once the first stop that the Silk Road made upon entering the Gansu Province. Situated in the southeastern region of Gansu, it lies halfway between Lanzhou and Xi'an, and along the upper branch of the Weihe River, where Shaanxi, Gansu and Sichuan provinces converge.

Administrative Division: 2 Districts (Qinzhou, Maiji); 1 Autonomous County (Zhangjiachuan Hui Autonomous County); 4 Counties (Qingshui, Qin'an, Gangu, Wushan)

Useful Telephone Numbers:
Tourist Complaints: 0938-6811870
Weather Forecast: 121
Zip Code Inquiry: 184
Bank of China: 0938-8213515
Tianshui Attractions - Things to Do
Maiji Caves: 40 kilometers (25 miles) southeast of Tainshui City, the Maiji Caves features one of the four famous grottoes of China, which were built between 348 AD and 417 AD. Today thousands of statues and frescoes remain in the grotto.

Fuxi Temple: This temple was built during the Ming Dynasty, as a means of appeasing Fuxi in hopes that local prayers for happiness and safety would be granted. Today, the Tianshui Fuxi Culture and Tourism Festival is held here each year.


Fu Xi Temple Video
| | |
| --- | --- |
| Fu Xi Temple | Maiji Caves |
Water Curtain Cave: This cave is in the Zhonglou Mountain, 25 kilometers (16 miles) northeast of Wushan County. In addition to beauty of the surrounding valley scenery, the Water Curtain Cave Grottoes and cliff-side inscriptions are also unforgettable sights.

Dadiwan Site: This is an ancient village site from the Neolithic Era, which gives a glimpse into the daily life of those who lived 4,800-7,800 years ago. Excavations in the site best show the Yangshao Culture of ancient China.
How to get to/around Tianshui
1. Tianshui is a five hour drive from Lanzhou. From downtown area, visitors can take city buses to the foot of Maiji Mountain (a 40 minute trip; busses are located opposite the train station), and it is still 5 kilometers (3 miles) from the Maiji Caves.
2. The Fuxi Temple is easily accessible once you are in the downtown area of Tianshui - simply walk down the street south of Central Square. Temple admission is free from the first day to the seventh day of the first lunar month.
3. There are trains available between Xi'an and Tianshui.
See detailed
Xi'an - Tianshui Train
Weather
-
Enjoying a temperate continental climate, Tianshui has distinct seasons, with extreme heat appearing in July, fading into an overcast and rainy autumn. The yearly temperature is around 11

C (52

F).

When to Go: September, October, and November are the best months to visit there.
Tianshui Travel Tips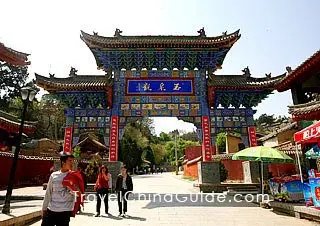 Yuquan Temple

History: Tianshui is said to have been the hometown of Fuxi, one of ancient China's three wise kings. As such, the city is praised as the root of ancient Chinese culture. In 688 BC historical records referenced the city (though it was then called Qinting). The name 'Tianshui' appeared during the Qin Dynasty (221BC-206BC) when it was given the name Tianshui Shire.



Physical Features: The southern and eastern parts of the city are mountainous, while the north is a loess hilly area (with soil comprised mainly of wind-blown sediment). A fraction of the central area lies in the river valley. As a whole, the City's terrain slopes downward, from northwest to southeast.



Local Highlights: Tianshui Fuxi Culture and Tourism Festival (June)



Special Local Products: Sea Backthern from Qingshui County, carved lacquer products, silk carpets, Wushan jade cavings
- Last modified on Aug. 08, 2018 -
Questions & Answers on Tianshui Travel
Asked by Lorenzo from ITALY | Aug. 07, 2018 06:12

Reply
Where is located the high speed station in Tianshui? Are there 2 stations in Tianshui?
Answers (1)
Answered by Emma from CANADA | Aug. 08, 2018 19:43

0

0

Reply
Yes, there are two stations and the high speed trains operating at TS South Station. It is located at Maiji District.
Asked by Mickey from THAILAND | Jun. 24, 2018 01:41

Reply
How to get to south train station from tianshui train station?
Answers (2)
Answered by Bill from POLAND | Jun. 25, 2018 21:51

0

0

Reply
You can take the bus line 58 from the Railway Station to south station. Get off the bus and walk about 800m you can get there.
Answered by Mickey from THAILAND | Jun. 26, 2018 04:02

0

0

Reply
Thank you
Asked by LILIANA from MEXICO | Mar. 19, 2018 10:45

Reply
coming from xining to tianshui
which is the nearest train station to get to maijishan caves if im coming from xining thank you
Answers (2)
Answered by Gloria from FINLAND | Mar. 19, 2018 21:22

1

0

Reply
As I know, the distance from TS Train Station and TS South Train Station to the scenic area is nearly the same.
Form the TS Station, you can take bus 34 to Maijishan directly.
From TS South, you can take bus 60 directly.
Answered by Liliana Ortiz from MEXICO | Mar. 20, 2018 08:12

0

0

Reply
Thank you Gloria!! Cheers from
México
Asked by Cristofre from GRENADA | Jan. 19, 2018 10:21

Reply
Hello, Can you tell me the fastest route to Tianshui from Guangyuan?
So far I have only been able to find the 11 hr + over night train? Are there busses that travel this route? Thank you for your help.
Answers (2)
Answered by Amenda from UK | Jan. 22, 2018 00:36

0

0

Reply
Sorry, but no bus is available. You can only take the train at 18:20.
Answered by Cris from GRENADA | Jun. 30, 2018 07:52

0

0

Reply
Take fast train to Xi'an, and then a second fast train to Guangyuan. About 4+ hrs.
Asked by worawit from THAILAND | Sep. 06, 2017 09:16

Reply
How to get to Tianshui Railway staytion from local South Railway Station by public transportation ?
Answers (1)
Answered by Brain from USA | Sep. 06, 2017 21:29

0

0

Reply
Take express bus no. 806 to navigate and it takes around 20min. If taking a taxi, the cost is CNY15 or so.