Jinchang Travel Guide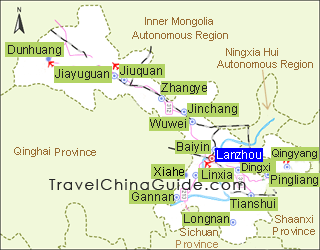 Jinchang Facts
Chinese Name: 金昌市 (jīn chāng shì)
Population: 467,000
Area: 9,593 square kilometers (3,704 square miles)
Nationalities: Han

Location: Jinchang City is located in northwestern Gansu Province at the north foot of the Qilian Mountains. It neighbors Wuwei City in the southeast within the province, and shares boundaries with Qinghai Province in the southwest and Inner Mongolia in the northwest.

Administrative Division: 1 district (Jinchuan); 1 county (Yongchang)
Seat of the City Government: No.82, Xinhua Road, Jinchuan District

Useful Telephone Numbers:
Tourist Complaints: 0935-8214499
Weather Forecast: 121
Zip Code Inquiry: 184

Bank of China Branch: Xinhua Road (East), Jinchuan District
China Post Branch: No.87, Xinhua Road, Jinchuan District
Jinchang Attractions - Things to Do

Shengrong Temple: In the Yushan Gorge at the end of the Jinchuanxia Reservoir stands the famous temple in northwestern Gansu, Shengrong Temple. It was first built in 561, and once changed into Tonggan Temple in the Sui Dynasty (581-618). Pagoda of Tang Dynasty, Ruins of the Great Wall of Han and Ming Dynasty, tombs and stone carvings of Xixia Kingdom, as well as many other relics are well preserved in the temple.



Badain Jaran Desert is the third largest desert in China, located 90 kilometers (56 miles) northeast of city proper. August to October is the best time to admire the desert landscape.



Other Scenic Spots: Qilian Hegou Scenic Area, Liqian Ancient City, Yongchang Bell and Drum Tower (Zhonggulou)
How to get to Jinchang
Jinchang is 396 kilometers (246 miles) from Lanzhou, and there are direct buses at Lanzhou Bus Station located at No.133, Pingliang Road, Chengguan District. Jinchang Bus Station in Xinhua Road (East) offers buses to and from Lanzhou, Wuwei, Jiayuguan and many other places within the city or neighboring cities.
Weather
-
Jinchang bears a dry continental climate in temperate zone. It is rich in sunshine. Spring is windy and the temperature is unstable. Summer is the rainy season, and the cold air usually attacks the city in mid-September. In the dry and chilly winter, its average temperature will drops between -14.6

C and -9.5

C (14.9

F -5.7

F). On the whole, the local temperature varies greatly both during a day and the whole year.

When to Go: summer and autumn
Jinchang Travel Tips

History: As early as 4,000 years ago, ancestors of Gansu People entered the primitive clan society. Before the Western Han Dynasty (206BC-24AD) established shires and counties to administrate this area, it was successively dominated by several ethnic regimes.

Physical Features: The terrain of the city basically declines from south to north, and its land interleaves mountains and plains. Southern Jinchang is comprised of vast mountainous area. In the central, there are basins, oasis plains and mountain valleys dotted peaks. Desert plain is mainly distributed in northern area.

Special Local Products: trout