Qingyang Travel Guide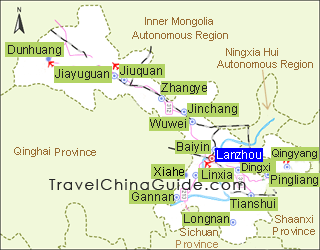 Qingyang Facts
Chinese Name: 庆阳市 (qìng yáng shì)
Population: 2,580,000
Area: 27,119 square kilometers (10,471 square miles)
Nationalities: Han
Administrative Division: 1 district (Xifeng); 7 counties (Qingcheng, Huanxian, Huachi, Heshui, Zhengning, Ningxian, Zhenyuan)
Seat of the City Government: No.186, Changqing Beilu, Xifeng District
Useful Telephone Numbers:
Tourist Complaints: 0934-8212126
Weather Forecast: 121
Zip Code Inquiry: 184
Bank of China Qingyang Branch: No.66, Xi Da Jie, Xifeng District
China Post Qingyang Branch: No.66, Xi Da Jie, Xifeng District
Location: Qingyang is habitually called 'Long Dong' because of its locality in eastern Gansu Province . It borders Shaanxi Province in the east and north in the neighborhood of Ningxia Hui Autonomous Region in the west. Within the province, it is bounded on the south by Pingliang City.
History: Qingyang has an extremely long history. The first paleolith was discovered in Huachi County of the city. The Western Zhou Dynasty (11th century BC to 771 BC) developed and grew in Qingyang and then moved southward. It was during the Qin Dynasty (221BC-206BC) that shires and prefectures began to be set up in this region.
Physical Features: There are ravines crisscrossing and undulating hills all over Qingyang City. It belongs to the Loess Plateau area and mainly consists of three regions: low mountainous and hilly areas in the east, high mountainous and hilly areas in the north and gully areas in the south-central. The terrain is high in the north, west and east as well as being low in the south and center, forming a basin in eastern Gansu.
Climate: Enjoying a continental monsoon climate, the city features little rain with more evaporation along with low humidity. The rainfall is mainly concentrated around July to September. Its annual average temperature maintains between 7

C and 10

C (44.6

F and 50

F).
When to Go: Summer and autumn are the most favorable seasons to travel Qingyang.
Special Local Products: buckwheat, sun-cured tobacco, white melon seed, walnut, acid jujube, Chinese pear-leafed crabapple, apricot, embroidery sachet, shadow puppetry.

Attractions:
Historic Relics: North Grotto Temple, Zhouzuling National Forest Park, Twin Pagoda Temple (Shuangta Temple)Natural Scenery: Xinlong Mountain
Qingyang Travel Tips:
Qingyang Airport lies 8 kilometers (5 miles) northwest of Xifeng District, operating flights to
Lanzhou Zhongchuan Airport
,
Xian Xianyang International Airport
and
Tianjin Binhai Airport
. The bus is the most important means of transportation in Qingyang. The east and west bus stations are located in Changqing Lu and Jiulong Lu.
-