Zhangye Travel Guide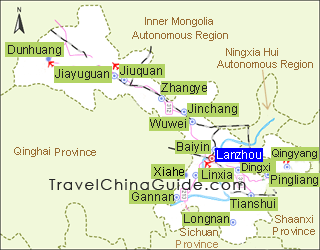 Zhangye Facts
Chinese Name: 张掖 (zhāng yè)
Population: 1,233,800
Area: 38,600 square kilometers (14,904 square miles)
Location: in the west of Gansu Province, northwestern China
Administrative Division: 1 district (Ganzhou), 5 counties (Linze, Gaotai, Shandan, Minle, Sunan)
Area Code: 0936
Zip Code: 734000
GDP (2018): CNY 40.77 billion (USD 6.16 billion)

Highlights Colorful and Grand Danxia Landform
Zhangye is located in the west of Gansu Province and borders Wuwei and Jinchang on the east, Jiayuguan and Jiuquan on the west, Qinghai Province to the south and Inner Mongolia to the north. The colorful and grand Danxia landform at the Danxia National Geological Park is widely known by tourists from home and abroad. Hence it has become one of the top tourism destinations in China. Also, Zhangye shows diverse natural views varying from snow mountains to forests, grasslands, wetlands and deserts. In addition, with abundant rivers, sunshine and fertile land, Zhangye is the largest corn seed production area in China and an important production base of grain, vegetable, melon and fruit, etc.
As an important commercial port on the ancient Silk Road, Zhangye has rich historic sites and amazing natural sceneries. The famous tourist attractions in the city include the Wooden Pagoda Temple, Danxia National Geological Park, Bell and Drum Tower, Shandan Buddha Temple and Shandan Horse Farm, and Giant Buddha Temple.

Mountains: Mt. Qilian, Heli Mountain and Longshou Mountain

Rivers: Heihe River
| | |
| --- | --- |
| Giant Buddha Temple | Wooden Pagoda Temple |
Recommended Tour
5 Days Lanzhou and Zhangye Tour
How to get to/around Zhangye

By Air:
Zhangye Ganzhou Airport
has been in use since November, 2011. It is about 24 kilometers (15 miles) away from the city center. Passengers can fly from Zhangye to Beijing, Shanghai, Chengdu, Lanzhou and Xi'an directly and go to downtown by airport shuttle bus.

By Train: By far the most convenient way to get into and out of the city is still by train.
Zhangye Railway Station
is a major stop along the Lanzhou-Urumqi Railway Line. It has non-bullet trains which run daily to and from Shanghai, Xi'an and Lanzhou.
Zhangye West Railway Station
is a stop along
Lanzhou-Xinjiang High Speed Railway
. It mainly operates high speed trains to Urumqi, Turpan, Jiayuguan, Xining, and Lanzhou.

Major Rail Lines from Zhangye to:

By Long-distance Bus: It is also a convenient way to travel by long-distance bus. The East Long-distance Bus Station, located at the East Circle City Road, has buses running to Wuwei, Lanzhou and Yinchuan. Passengers can also take buses from the South Long-distance Bus Station in Zhangye to Dunhuang, Jiayuguan, Lanzhou, Matisi and Xining.

By public bus and taxi: It is easily to travel around the city by inner-city buses and taxis.
Weather
-

Zhangye Climatic Features: continental climate with average sunlight of over 3,000 hours annually; coldest in January and hottest in July, and the comfortable time for travel is from June to September.
Average Temperature: 7 °C annually
Rainfall: annual average rainfall 104 millimeters-459 millimeters (4 inches-18 inches)



When to Go: The best time to Zhangye is from June to September due to the easeful weather condition.
Zhangye Travel Tips

Physical Features: located in the area where the Qinghai-Tibet and Inner Mongolia Plateaus meet; borders the Mt. Qilian in the south, Heli Mountain and Longshou Mountain in the north; long and narrow climb in the shape of a running horse; the highest altitude in southeast reaches 5,564 meters (18,254 feet) and the lowest altitude in northwest is 1,284 meters (4,212 feet); the elevation of Zhangye is 1,474 meters (4,835 feet).



History: anciently named Ganzhou, it was a famous commercial port on the Silk Road and one of the biggest international trade markets in the country. Merchants from the west continuously arrived here for trading. Irrigation from the Black and Shandan rivers makes agriculture here quite well-developed. It has gained the reputation of "lush southern-type fields in the desert".



Special Local Products: Wujiang Rice, Zhang Wine made of local grapes, Xiaohe Chinese Dates, Mingle Garlic, Rapeseed, Huangsheng, Gaotai Capsicum, Paper Cuttings, local embroideries, cashmere



Local Highlights: Folk art performances taking place on traditional or religions festivals are popular, including walking on stilts, a boat that runs on land, the dragon dance, yangko, cantata and more.

- Last updated on May. 24, 2022 -
Questions & Answers on Zhangye Travel
Asked by Ingrid from CZECH REPUBLIC | Nov. 18, 2019 20:11

Reply
Taxi and bus from Zhangye to Danxia geopark
Hi, has anybody idea how much is for the taxi - or bus - from Zhangye to Danxia geopark and back? Is it long journey? Thanks
Answers (1)
Answered by Liliana from FRANCE | Nov. 20, 2019 21:54

0

0

Reply
You can take direct coach from West Coach Station (Xiguan Coach Station) to the destination. The ticket fare is CNY15 per person/single trip. The duration is around an hour.
If by taxi, it costs around CNY 120 for the single trip.
Asked by Ingrid from CZECH REPUBLIC | Nov. 14, 2019 16:46

Reply
Pls, take me advise, how to reach the Geological Park from Lanzhou - the fast way?
Thanks Ingrid
Answers (1)
Answered by Rebecca from ITALY | Nov. 17, 2019 23:48

0

0

Reply
You can take high speed train from Lanzhou West Railway Station to Zhangye West Railway Station first, then take taxi to West Coach Station. So you can take direct tourist bus from there to the park.
Asked by James from SG | Sep. 24, 2019 22:22

Reply
What time estimated last bus run? I need to go to Zhange Ye Train station bus no 1 night.
Answers (2)
Answered by Hulda from POLAND | Sep. 27, 2019 00:24

0

0

Reply
Do you start from Zhangye Airport? If yes, as I know, the shuttle bus will operate until the last flight arrival. If not, don't worry. Just take a taxi to the train station.
Answered by James from SG | Sep. 27, 2019 18:40

0

0

Reply
I will start from the city center and my train is midnight so i do not sure what is the last bus run to Train Station (bus no 1) .
Asked by w from SINGAPORE | Aug. 20, 2019 12:36

Reply
Would like to head to the Danxia National Geological Park in dec 2019
Is it recommended to go during December?
Answers (1)
Answered by Kennedy from UKRAINE | Aug. 21, 2019 20:44

0

0

Reply
Don't worry. It is still worth to visit that scenic area in December. Have a nice journey!
Asked by H.G. Kho from NEDERLAND | Apr. 13, 2019 15:10

Reply
zhangye-lanzhou by bus
pls provide me with the bus time schedule
Answers (1)
Answered by Jackson from CANADA | Apr. 16, 2019 22:38

0

0

Reply
The bus schedules are 07:00, 07:50, 08:40, 09:30, 10:20, 11:10, 12:00, 13:00, 19:30 and 20:00.