Wuwei Travel Guide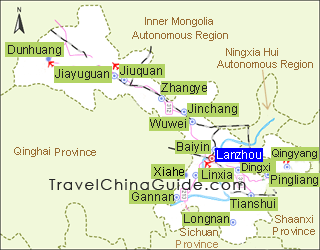 Wuwei Facts
Chinese Name: 武威市 (tiān shuǐ shì)
Population: 1,827,800
Area: 32,300 square kilometers (12,471 square miles)
Location: in the central area of Gansu Province, northwestern China
Administrative Division: 1 District (Liangzhou); 1 Autonomous County (Tianzhu Tibetan Autonomous County); 2 Counties (Minqin, Gulang)
Area Code: 0935
Zip Code: 733000
GDP (2018): CNY 46.93 billion (USD 7.09 billion)

The Unearthed Place of Bronze Galloping Horse
Wuwei is the place where the emblem of China's tourism, Bronze Galloping Horse Treading on a Flying Swallow, was unearthed. It is situated in the central area of Gansu Province and borders Lanzhou on the east, Xining on the south, Yinchuan and Inner Mongolia to the north and Xinjiang to the west. Wuwei, formerly known as Liangzhou, was historically the only route from central China to western regions and other Central Asian regions. And now it is also a vital city to the Eurasian Continental Bridge. As early as 2,000 years ago, people in Wuwei began to grow grapes and make wine, making Wuwei the hometown of Chinese wine. The snow mountains, oases, deserts and Godi in Wuwei paint a grand and breathtaking picture, along with the interest and historic sites adding more charm to this city.
Confucian Temple
, Leitai Tombs of Han Dynasty, Changcheng Town (Great Wall Town), Tianzhu Small Three Gorges, Shimengou Grassland Park and Tiantishan Grotto. When traveling in the city, you should not miss those worth seeing attractions.

Confucian Temple
With an ancient architectural complex, the Confucian Temple is a place for worshiping Confucius. It was built in the Ming Dynasty and expanded many times, covering a total area of 1,500 square meters (16,145 square feet). There is a Wuwei Museum inside which collects more than 36,000 books, paintings, inscriptions and other cultural relics.

Leitai Tombs of the Han Dynasty
Leitai Han Tomb is a large-scale brick and stone tomb of the late Eastern Han Dynasty (25 - 220). Among the unearthed exquisite 99 bronze chariots and horses, the Bronze Galloping Horse Treading on a Flying Swallow which is displayed in the
Gansu Provincial Museum
is of the highest artistic value. Leitai was used to sacrifice the God of Thunder and has preserved 10 buildings of the Ming and Qing Dynasties.
| | |
| --- | --- |
| Bronze Galloping Horse | Confucius Temple |
How to get to/around Wuwei
1. There is no civil airport in this city. The nearest airport is
Lanzhou Zhongchuan Airport
.
2. It is easy to take train traveling from there to other cites in China. Wuwei Railway Station is located at Chengguan Town. It offers daily trains running to Lanzhou, Korla, Beijing, Jiayuguan, Urumqi, Dunhuang, Xi'an, Zhengzhou, Shanghai, Hangzhou, Chengdu, Chongqing, Shangqiu, Lianyungang, etc.
3. Wuwei Long-distance Bus Station is located at Nanguanxi Lu. It is the hinge of passenger bus transport in this city. There are buses daily traveling to Lanzhou, Zhangye, Tianshui, Jinchang, Jiuquan, Jiayuguan, Yumen, Dunhuang, Yinchuan, Xining, etc.
4. There are 15 public bus lines traveling around in downtown area now. Bus 1, 2, 12 and 102 can take you to City Railway Station. Bus 1, 2, 4, 5, 7, 8, 10 and 102 can take you to the long-distance bus station.
5. The taxi fare is different for different kind of Taxi. It is CNY3 (Alto)/CNY4 (Fukang)/CNY5 (Santana) for the first three kilometers and then CNY1/1.2/1.5 per additional kilometer.
Weather
-
Wuwei has a typical continental climate which is temperate, semiarid, with a frost free period of 85-165 days a year. The annually average temperature is about 7.7

C (45.9

F) , of which the lowest is in January with the average temperature of -8.7

C (16.3

F) and the highest is in July with the average temperature of 21.9

C (71.4

F). The annual precipitation is 158 millimeters (6.2 inches).

When to Go: Summer and autumn are the best seasons for traveling due to the wettish and pleasant weather.
Wuwei Travel Tips

Physical Features: The hypsography is higher at south and lower at north, sloping from southwest to northeast. It leans on Qilian Mountain in the south and borders the Tengger Desert in the north. It is also the juncture of Qinghai-Tibet Plateau, Loess Plateau and Mongolian-Xinjiang Plateau.

History: It has a very long history since there were people living here 5,000 years ago. Emperor Wu of Han Dynasty (206BC - 220AD) sent General Huo Qubing (140 - 117BC) to attack the Hexi Corridor in 121BC After successfully defeating the Huns and seizing the territory by Qilian Mountain, Emperor Wu named Wuwei as a city's name in order to cite the heroic exploits and great contribution of General Huo. During the period of Three Kingdoms, Wu Kingdom set its government here, later, the Former Liang (317 - 376 AD), the Later Liang (386 - 403 AD), the Southern Liang (397 - 414 AD) and the Northern Liang (401 - 439 AD) and some other dynasties all had their capitals here, therefore, the town of Wuwei got another name 'Liangzhou' .

Local Product: Wuwei Wine, Liquorice, Aromatic Vinegar, Yellow River honeydew melon, Tianti Mountain Ginseng Fruit, Zhutou (Pig's Head) Pear

Local Highlights: Lion Dance, Rolling Lights, Temple Fair
- Last updated on May. 24, 2022 -
Questions & Answers on Wuwei Travel
Asked by Leong w c from MALAYSIA | Aug. 04, 2019 07:13

Reply
How much time is needed to see Wuwei Leitai Park?
Answers (1)
Answered by Kennedy from POLAND | Aug. 05, 2019 00:01

0

0

Reply
The suggested sightseeing time is 2-3 hours.
Asked by FabGreg from FRANCE | Feb. 25, 2018 05:52

Reply
Tiantishan Grotto transportation
Is there any public transportation in the direction to Tiantishan T-road? (then I intend to walk 2 km to the grotto). If yes, how much time does it take from Wuwei Bus Station, and what would be the frequency?

If not, it is possible to take a public transport to Huangyang, then chartering a taxi to Tiantishan Grotto?

Thanks in advance

Fabrice
Answers (3)
Answered by Gloria from FRANCE | Feb. 26, 2018 00:30

1

0

Reply
Sorry to tell you no bus from WW Bus Station to the grotto or Huangyang.
You are suggested to take the bus to Haxi and inform the driver to drop you off at the grotto. Btw, there is still 2km's walk after getting off the bus. Have a nice trip!
Answered by FabGreg from FRANCE | Feb. 26, 2018 03:40

0

0

Reply
Thank you. I understand the logic of the Haxi bus. Walking 2 km will be an easy task.

Where could I find information on Haxi bus departure times from Wuwei?

Fabrice
Answered by Phill from ITALY | Feb. 26, 2018 19:56

0

0

Reply
I remember there are many buses to Haxi, don't worry, you can't miss it!
Or you can hire a private car to the grotto, and the fare is around 100yuan! Have a nice trip!
Asked by Henrik Christensen from HONG KONG | Mar. 18, 2016 03:37

Reply
train from Lanzhou to Wuwei
how long is the train ride? any high speed trains?
Answers (1)
Answered by Erid from CANADA | Mar. 18, 2016 03:41

0

0

Reply
Only normal speed trains operate between these two places. The train schedules are from 04:59 to 21:50. The duration is about 4 hours. The ticket fare of soft sleeper is about CNY146.5, hard sleeper is about CNY100 and hard seat is about CNY47.
Asked by stu freeman from USA | Sep. 25, 2015 09:52

Reply
Desert Zoo in Wuwei specializes in fauna native to the desert region ?
I was informed that there is a zoo in or near the city that specializes in fauna native to the desert region (saiga antelope, etc.). Is anyone familiar with this place? If so, what is it called and precisely where is it located?
Answers (2)
Answered by Fenny from USA | Sep. 28, 2015 20:20

4

1

Reply
It is called at Wuwei Shenzhou Desert safari par, located at No. 80 Xihuan Road, West Street, Liangzhou.
Answered by s freeman from USA | Sep. 29, 2015 10:13

1

1

Reply
Thank you, Fenny!
Asked by james from FRANCE | Sep. 11, 2014 16:59

Reply
is there a night bus from wuwei to Yinchuan?
thanks in advance
Answers (1)
Answered by Nina from INDONESIA | Sep. 12, 2014 03:11

0

3

Reply
I'm afraid there is no night bus running between, for the bus ride only takes about 5 hours.