Wuwei Pictures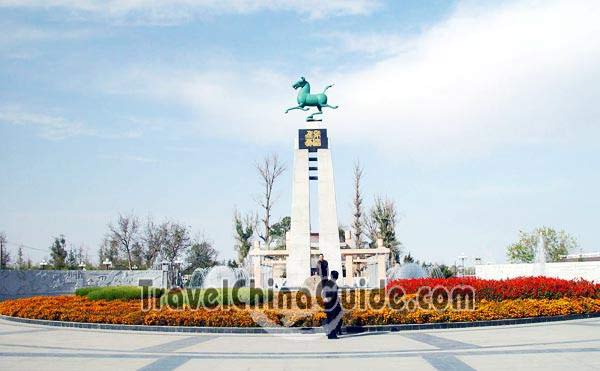 The bronze galloping horse is a landmark of this city in Gansu Province.
Situated in the central part of the Province, on the east end of Hexi Corridor, Wuwei City has a very long history. After General Huo Qubing and his army successfully defeated the Huns and seized the territory by Qilian Mountain, Emperor Wu named this place Wuwei (the martial power) for the exploits of General Huo. The Galloping Horse Statue is a landmark of the city. City Intro:
Wuwei
- Last modified on Aug. 23, 2017 -
Questions & Answers on Wuwei Pictures
Asked by Mr.naomi | Mar. 08, 2011 20:27

Reply
To whom it may concern,
I am from the Philippines but i already work here in Lanzhou, China. I am currently holding a Z visa. Is it possible to visit USA, Australia or Canada for less than a month then back to Lanzhou china for my work? I jus want to visit or go abroad as tourist. Pls. help.

Answers (1)
Answered by Mr.Charles | Mar. 09, 2011 19:29

0

0

Reply
yes, you can apply for visa to USA, Australia or Canada in Embassies of the above countries in Beijing. Please apply for a multiple entry work visa at the Lanzhou public security bureau before you leave. Otherwise, you can't reenter China.
Asked by Mr.Andy from MALAYSIA | Mar. 16, 2010 06:09

Reply
Hi,

I'm planning my trip to China silk route from 30/5/10 to 8/6/10. Beginning from Urumqi-Turpan-Hami-Dunhuang-Jiayuquan-Jiuguan-Zhangye-Wuwei-Lanzhao-Tianshan-Xi'an. What would be the climate (weather condition) during that period and temperature average (in Celsius)? I could not get my vacation earliar (april-May). October, my wife would be 7 month pregnant. Definitely, we could not travel during that time. Is it still worth it to go there between this time frame(30/5/10 to 8/6/10)? Or I would rather wait till next year May or October as this will be once in a life time wonderful trip?
Answers (1)
Answered by Ms.LIFECONTINUED from MALAYSIA | Mar. 17, 2010 01:59

0

0

Reply
Hi, Mr.Andy,
The cities you mentioned are warm and dry in your time frame, the temperature varies greatly between day and night and the UV radiation is very strong.

You have planned a long itinerary. There will be many transfers and changes. So you should be well prepared for everything, especially since your wife is pregnant. If I were you, I would go there next year after the birth of my child. What do you think?
Asked by Mr.Hedike | Aug. 28, 2009 16:16

Reply
Hi,

I would like to stay in Lanzhou around 14 September. What's the best way to find a cheap hotel?
Is there a Tourist info bureau?

Thanks,

Hedike
Answers (1)
Answered by Mr.Jamie | Aug. 31, 2009 01:17

0

0

Reply
There are some well-know economical hotel chains in China, such as Jinjiang Inn, Home inn. They are cheaper. You can get there to look for the hotel.