Confucian Temple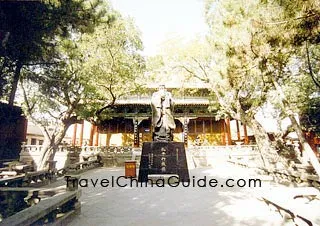 Confucius Temple, Wuwei
The Confucius Temple is known also as the Wenmiao Temple in Chinese, and is situated in the southeast of Wuwei City. This ancient complex dates from the Ming Dynasty having been established in 1439 on instructions from the reigning emperor and with the strong backing of public subscription. The construction of the original temple took just two years but various extensions have been added over succeeding centuries.
The complex covers an area of a little over 1,500 square meters and is the largest and best-preserved temple dedicated to Confucius in Gansu Province.
The part on the eastern side is called the Wenchang Temple and is accessed via the Mountain Gate (Shanmen). Here you will find a stage for dramatic performances. On the left and right hand sides of the Temple are the shrines of Master Niu and Master Liu respectively while on the side opposite the entrance is the Chongsheng Shrine or Shrine of Worship. The courtyard with an array of various lush green pine trees has a collection of highly prized and famous stones steles. The most famous of these is the Western Xia (1038-1227AD) Tablet, a listed Chinese national treasure.
The Confucius Temple occupies a central position in the Confucian Temple complex and it is here that offerings are made in honor of Confucius. Other notable structures to be found here are the Dacheng Hall, Hastate Gate (Jimen), Lattice Gate(Lingxingmen), the Bridgeof the "Number One Scholar" (Zhuangyuan Bridge) and the Banchi Pool. These latter features are in the south side of the complex. To the north there is the Sutra pavilion and in the west is the Liangzhou Mansion that houses the Confucian Academy.
| | |
| --- | --- |
| | |
The well-preserved and symmetrically aligned historic buildings together with the collection of stone steles and fine collection of scriptures means that Confucian Temple occupies a very important position in the cultural heritage of the Chinese nation as a whole.

In 1981 the Gansu Provincial Government declared that the Confucian Temple should be a Provincial Relic Protected Unit and at the same time the Wuwei Museum was established on the site. The Museum has a magnificent collection of artifacts that include in excess of 36,000 books, scriptures, calligraphies, paintings and other cultural relics. Notable items are Wooden and Bamboo Slips of the Han Dynasty, Wooden Scriptures, a Mummy, the Galloping Bronze Horse and a Bronze Cannon of the Western Xia (1038-1227AD) Dynasty.
| | |
| --- | --- |
| Admission Fee: | CNY 31 |
| Opening Hours: | 08:00 to 17:00 |
| Recommended Time for a Visit: | One Hour |
- Last modified on Apr. 15, 2021 -