Yinchuan Travel Guide
Yinchuan Facts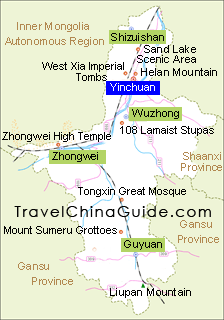 Chinese Name: 银川市 (yín chuān shì)
Location: Yinchuan, the capital of Ningxia Hui Autonomous Region, lies to the west of the Yellow River and to the east of Helan Mountain.

Population: 2,191,100
Area: 9,491 square kilometers (3,664 square miles)
Nationalities:
Yinchuan is a multi-nationality city including Han, Hui, Manchu, Mongolian, and Chaoxian peoples. Among them, the Hui people account for 26.3 percent of the total population and they have maintained the traditional folk customs and life style that are unique to other ethnic group.

Administrative Division:
2 districts (Wuxing, Nanxun); 3 counties (Changxing, Deqing, Anji)




Pictures
A brilliant culture has contributed to Yinchuan being a famous tourist city. There are over 60 historical sites including mosques, pagodas, pavilions, temples, and imperial tombs as well as natural scenery such as Helan Mountain, Sand Lake, and Shapotou.
More Attractions:
| | |
| --- | --- |
| City Center | Sand Lake |
A transportation system of highway, railway and airlines in Yinchuan provides speed and convenience. There are several national highways leading to all parts of the country and more than 78 miles (125 kilometers) of expressways within the boundaries of the city. Baotou-Lanzhou Railway and Zhongwei-Baoji Railway connect Yinchuan Railway Station with all railway lines to every destination. In addition, flights from Yinchuan Hedong Airport take you to all the major cities of China.

Physical Features: The landform is divided into two main parts, the mountainous region in the west and south and the plains in the north and east. Its average altitude is 3,600 feet (1,097 meters). Lying in the central section of Ningxia Plain which is irrigated by the Yellow River, Yinchuan holds abundant water resources and enjoys the reputation of 'a land of fish and rice in the frontier'.



History: The city that has a history of more than 1,300 years was originally founded in 678. It was called Western Xia from the establishment in 1038 by the leader of Dangxiang ethnic group and had created splendid culture as well as gorgeous architecture.



Local Highlights: Here you can taste the local dishes or snacks of rich Islamic flavor, such as Yangrou Paomo and Shouzhua Yangrou. Hotels of different grades are available to visitors, providing you warm and comfortable places to relax yourself.



Recommended Tour Itinerary:
Hiking Adventure Bicycle Route



Further Reading:


Shopping & Nightlife

Dining

Festivals