Shapotou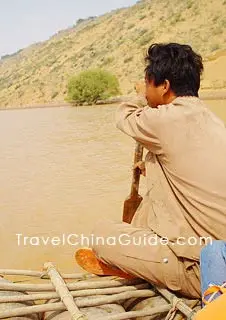 Yellow River Drift on a Raft
Shapotou, situated in Zhongwei County, lies on the north bank of the
Yellow River
where it crosses the southeastern border of the Tengger Desert. Administratively it falls under Ningxia Hui Autonomous Region-some 150 km (93 miles) south of Yinchuan City. Shapotou Tourism Area is regarded as one of the five most beautiful deserts in China, and is widely recognized as the Capital of Sand. Standing on the sand hill, one can see the desert extending to the north, and to the south, a boundless oasis. Both the grandeur of the north of China and the elegance of the south come together in this lovely place.
The Yellow River Drift
Floating along the Yellow River on a sheepskin raft - the most unpretentious of vehicles - is something of a special thrill. When a sheep is killed the locals will remove the skin and skillfully make a balloon out of it. A number of these balloons are strung together to form a buoyant base for a floor of bamboos. This sheepskin raft may look flimsy, but it is eminently safe. The drift requires great courage, but this does not mean that it is unsafe. Experienced boatmen will make sure that you cannot only sense the excitement but also enjoy the fascinating scenery along the way. The ruins of a part of the
Great Wall
built in the Ming Dynasty (1368-1644) are there, as is the site of ancient waterwheels-an image of the Yellow River culture.
Sand Slide
Shapotou International Sand Slide Center is the biggest natural sand slide field in China. It is also one of China's Four Sounding Sand Fields. It has a length of about 1,000 meters (about 1,094 yards), a height of over 100 meters (about 109 yards) and a slope of 60 degrees. When the weather is fine, people sliding down the sand hill can hear the sound of sand underneath them, for all the world like tolling bells. It is adventurous, breathtaking, strange and heady experience-not designed for the weak of heart.
Yellow River Cableway Slide
The cableway slide across the Yellow River at Shapotou has won fame as the First Yellow River Cableway Slide. The cableway here is 820 meters (about 897 yards) long, 54 meters (about 59 yards) high above the water and the slide is at an average speed of 8 m/s (about 26 feet per second). The cableway at Shapotou is unique in China, in that it depends totally on gravity to set it in motion.
| | |
| --- | --- |
| Camel Riding, Shapotou | Yellow River Cableway Slide, Shapotou |
Besides, tourists can enjoy the beauty and mystery of the desert from the vantage point of a camel's back. Sunset on the Yellow River and sunrise in the desert are particularly memorable. One can spend an evening in a Mongolian camp or sit by a bonfire enjoying an ethnic-style performance or even take part in a dance. If one prefers a more gentle experience, one can take a yacht along the Yellow River and visit the show of local sand-controlling achievements.
How to get to Shapotou
1. Take a bus from Yinchun Bus Station to Shapotou directly.
2. Take a bus from Yinchuan Bus Station to Zhongwei city and then take a taxi to get there.
Entrance Fee
Apr. - Oct.: CNY 80
Nov. - Mar.: CNY 50
Children between 1.2 and 1.5m (3.9 - 4.9 feet) can enjoy a half-price ticket;
Free for children under 1.2m.
Opening Hours
Apr. - Oct.: 8:00 - 18:00
Nov. - Mar.: 9:00 - 17:00
- Last updated on Apr. 08, 2021 -
Questions & Answers on Shapotou
Asked by Serica from ITALY | Feb. 11, 2017 19:14

Reply
How long does it take to go from Shapotou to In.Mong. by camel?is it possibile to camp out in march?
Hello there!
I'm planning on a crossing from Shapotou to Tonghu Grassland this March 3rd, 2017. I read somewhere that should be a 20km ride, perhaps about 6h/7h? Does that sound reasonable?
Also, I would like to camp out in the grassland but I'm a little concerned about the temperature at night. How cold is it around that time? Otherwise, how much would it cost to sleep a in yurt?
Thanks a lot!
Answers (3)
Answered by Kikina from CHINA | Feb. 11, 2017 20:56

3

0

Reply
As I know, you should go from Shapotou to the edge of the highway, where you will start with the camel riding. It will take around 4h to Tonghu Grassland. Usually, tourists do the journey the other way. It is fine to camp at the grassland and tent rental is available. The locals are usually very friendly. However, it can be still cold in early Mar. Then it is suggested to check in a yurt for a good experience instead. I am not sure about the charge, but Mar. is during the slack season, so the cost won't be that high.
Answered by Serica from ITALY | Feb. 12, 2017 03:38

0

0

Reply
Thanks a lot Kikina, very helpful.
Could I trouble you with a couple of more questions?
1) Do you happen to know how to get from SPT to the Highway, is there a bus I can take, can I walk there?
2) How much do you think the camel ride would cost? Is there a faster way to come back?
Thanks a lot for your time.
Answered by Alice from NEW ZEALAND | Feb. 18, 2017 20:40

0

0

Reply
SPT is just by the side of the highway, you can totally walk there.
I remember the camel riding costs CNY400 or so. You can either take a desert surfing car or charter a car at the gate of Tonghu Dessert for your return trip.
Asked by PL from USA | Oct. 07, 2012 06:31

Reply
Anyone knows of a good travel agency to go to Shapotou?
Anyone knows of a good travel agency to go to?
How much is the cost if traveling by myself?
Answers (1)
Answered by Victoria | Oct. 08, 2012 04:04

0

1

Reply
I think you can contact TravelChinaGuide to see whether they have this kind of route. It is a good agency with good reputation.
The traveling cost, it depends on which place do you want to start your journey.
Asked by BOAT | Sep. 29, 2012 07:14

Reply
Can I get to Zhongwei and Tengger desert during March ?
Answers (1)
Answered by Molly | Oct. 06, 2012 01:44

0

0

Reply
Of course you can.
Asked by Tania | Dec. 31, 2011 08:55

Reply
Is January a good time to come to visit Shapotou?
I would like to visit Shapotou in my Winter holidays in January 2012, I am especially interested in rafting on the
yellow river, buggy rides, and riding a camel?
Does anyone know how easy it would be to do these activities at this time of the year, and who do I contact?
Answers (2)
Answered by cindy | Jan. 02, 2012 03:40

3

0

Reply
No, January is not a good time. It is -13 degree to zero now. So, go there in summer. rafting on the
yellow river, buggy rides, and riding a camel, all not suitable to do in January.
Answered by Gael from FRANCE | Jan. 22, 2014 03:19

4

1

Reply
And is October good?