Yinchuan Attractions - Things to Do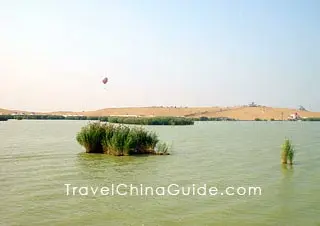 Sand Lake
Yinchuan, one of China's famous historical and cultural cities, has a time-honored history and bestows upon the city an abundance of natural and cultural resources. Both its diverse beauty and multitude of historical sights make Yinchuan a memorable place to visit.
Top Attractions

Sand Lake Scenic Resort (Sha Hu)


Western Xia Imperial Tombs


Shapotou

How interesting that here in Yinchuan there is desert, lakes, rivers and mountains. The most attractive attraction in Yinchuan is the Sand Lake Scenic Resort (Sha Hu). Here, visitors can enjoy exquisitely beautiful vista views of shimmering sand beaches, azure-blue water, deep green reeds, various waterfowls, gentle water lilies and also snow-covered mountains. An unusual combination of both rivers and desert are available at Shapotou, where the landscape abounds with marvelous contrasts that will certainly delight you.
More Things to Do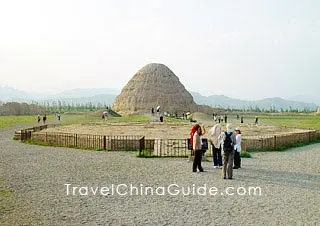 Western Xia Imperial Tombs

Pagoda of Chengtian Temple

China Western Film Studio

Haibao Pagoda

Helan Mountain

Jade Emperor Pavilion

Nanguan Mosque

Shuidonggou Site
Yet another top things to do is the Helan Mountain Scenic Area, in the northwest of Yinchuan Plain. Its beautiful scenic views and abundant forest resources are a never-ending source of enjoyment for all visitors. The main spots there are Baisikou Twin Towers, Suyukou Forest Park and Helan Mountain Cliff Paintings. There are luxuriant trees, steep cliffs and murmuring streams. The forest's ecosystem also has a windy and dusty area as well as rare flora and fauna. These are prized and protected areas in the mountain.
In addition to the natural scenery, many historic sites can be found in Yinchuan City. Reputed to be the 'Oriental Pyramid',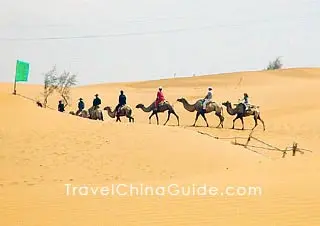 Camel riding in desert, Yinchuan
the Western Xia Imperial Tombs have an intriguing and mysterious aura that is compelling and fully fascinating.

Jade Emperor Pavilion is an ancient, folk-style architecture that has existed for more than 600 years. Small-scale exhibitions of art, calligraphy and cultural relics are held in the pavilion from time to time. Check to see if your trip coincides with one of these exhibitions.

There are two pagodas in Yinchuan that are part of the 'Eight Famous Scenery of Ningxia'. One is the Haibao Pagoda in the northern suburb and the other is the Pagoda of Chengtian Temple in the west. You must visit them to understand their inclusion in the category of 'Eight Famous Scenery'.
This is also part of the autonomous region of Hui and has over two thousand mosques; the variety of these mosques is too vast to describe in a few sentences. Nonetheless, let us tell you about two: Nanguan Mosque is a structure of Arabian architectural style and is the central place of religious activities for the Hui People of Yinchuan. The other is Najiahu Mosque, located in Yongning County. It is one of the largest and oldest mosques in Ningxia. It has a typical courtyard with a gatehouse, praying hall, wing-rooms and bathrooms. The spacious hall can hold one thousand people.

And then, there are even more attractions such as the Western Film and TV City, Zhongshan Park, and Drum Tower to name only a few. Yinchuan is a city that offers you a warm welcome.
- Last updated on Aug. 13, 2018 -
Questions & Answers on Yinchuan Attractions
Asked by Andrew from AUSTRALIA | Sep. 10, 2013 02:06

Reply
Can I cycle to the twin pagodas and are you able to climb to the top of them in Yinchuan?
Answers (1)
Answered by Linda from USA | Sep. 10, 2013 04:14

2

2

Reply
For the tower, do you refer to the Baikousi Twin Towers? If so, I think you can cycle there.
I am not very clear about whether the tower can be climbed, but I know you can climb the Helan Mountain.