Yinchuan Railway Station
Yinchuan Railway Station is about 3 miles (5 kilometers) from People's Square, 6.8 miles (11 kilometers) from Drum Tower, and 24.9 miles (40 kilometers) from Hedong Airport. It is one of the first-rate important stations in China and works 24/7 year round to serve trains from/to Beijing, Lanzhou, Xining, Zhongwei, Xi'an, Urumqi, Hohhot, Shanghai, Guangzhou, and Chengdu, etc.

Address: At the junction of North Tongda Street and West Shanghai Road of Jinfeng District

Station Plan
The station mainly consists of a two-storey terminal building and a square. The roof of the terminal is built in an Islamic style which is deeply admired by local people.

1F: ticket hall; waiting hall with sightseeing platforms, smoking room, nursery room, stores, hot drinking water, and toilets; railway entrances; security check; exits; restaurant; supermarket; left luggage…

2F: waiting hall with sightseeing platforms, nursery room, stores, restaurants, hot drinking water, toilets, smoking room…

Square: city bus stops, parking lots for private vehicles…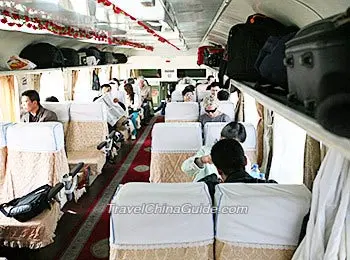 Travel by Rail to Yinchuan

Ticket Hall: Located to the north of railway entrance on the first floor, the ticket hall altogether has eleven ticket windows. Normally, only sevenof them are open for ticket issuing. During peak seasons like Chinese New Year holiday and Chinese National Day holiday, the other four are opened.

Waiting Halls: The waiting halls are equipped with LED screens showing real-time train information and waiting areas of each train. Passengers taking the southbound trains usually wait in the hall on the first floor while those taking the northbound ones wait in the hall on the second floor. Both the halls have toilets, hot drinking water, restaurants, and storeson north and south two sides for passengers'convenience.
On north and south sides of each waiting hall, there are also sightseeing platforms. One the sightseeing platforms of the first floor, one can enjoy the scene of the square and the railway platforms; on the second floor, one canlook at an overview of the city.
In the north side of each waiting hall, there are nursery rooms equipped with iron doors. When the doors are closed, a quiet environment is provided for moms and babies.

Left Luggage: It is located to the south of railway exit. The service fee is CNY5 per day for a small piece of luggage and CNY10 per day for a large piece.
Schedule to Major Destinations

Major Rail Lines from Yinchuan to:
(Last Update on Jun 5, 2020)
To
Trains
Duration
Ticket Fare (CNY)
Soft/ Hard Sleeper

Beijing

K42, K1178, Z180, K886...
5 departures from 00:58 to 20:52
11h42m - 19h35m
CNY 454.5/ 299.5
USD 66/ 43

Lanzhou

2635, Z311, K195, K9881...
8 departures from 00:58 to 22:40
7h25m - 13h41m
CNY 186/ 122
USD 27/ 18

Xining

Z311, K1517, K815 from 02:16 to 22:40
11h23m - 12h24m
CNY 263/ 174
USD 38/ 25

Zhongwei

2635, Z311, K195, 7511...
17 departures from 00:58 to 22:40
2h10m - 7h40m
CNY 114.5/ 78.5
USD 17/ 11

Xi'an

K321, K1307, K1087, K359...
5 departures from 07:00 to 21:28
12h10m - 15h21m
CNY 319/ 190
USD 46/ 28

Urumqi South

Z179, T303 at 14:06 and 20:26
20h41m - 22h11m
CNY 658/ 416
USD 95/ 60

Hohhot East

K42, K1518, Z312, K196...
10 departures from 00:58 to 21:05
7h34m - 9h13m
CNY 285/ 174
USD 41/ 25

Shanghai

K1331, K1805, K359 from 12:20 to 20:34
27h56m - 34h17m
CNY 699/ 444
USD 101/ 64

Guangzhou

K1295 at 21:28
40h25m
CNY 901.5/ 528.5
USD 131/ 77

Chengdu

K195, K1615 at 06:11 and 11:58
23h28m - 25h53m
CNY 467.5/ 313.5
USD 68/ 45
See detailed
Yinchuan Train Schedule

The above schedule is for reference only. For real-time schedule and ticket booking, please click the arrival stations.
Transportation
How to reach the railway station:

By bus: 6, 15, 24, 26, 30, 36, 39, 45, 46, 301, 306, 508Huan,BRT1, Tourism Line 1

By taxi:
It takes about 7 minutes and CNY10 to People's Square.
It takes about 20 minutes and CNY20 to Drum Tower.
It takes about 45 minutes and CNY100 to Hedong International Airport.

By chartered vehicle:
Public transport in the city is not well developed. If there is no public transport available, one might need to hire a private vehicle to travel around. It takes about CNY300-400 per day for a minibus.
How to get to other famous places from the station:

To People's Square: Take bus 301 and get off at East Square Road, and then walk to the square. In the east of the square, stand Ningxia Hui Autonomous Region Museum, where one can pay a visit too.

To Drum Tower: Take bus BRT 1 to get there directly.

To
Western Xia Imperial Tombs
: Take Tourism Line 1 to get there directly. The bus departs from Xinyue Square in downtown to the tombs at 08:30, 09:30, and 10:30; and returns to downtown at 12:00, 13:00 and 14:00. Railway station is an intermediate station. The ticket fare is CNY8 for a complete single ride.

To Hedong Airport: Take bus BRT1 to South Gate, then walk to Civil Aviation Hotelto take airport shuttle bus. The airport shuttle departs from the hotel at 06:10, 06:30, and 08:30 to 21:30 every 30 minutes; duration is about half an hour and ticket fare is CNY20.
Print

- Last modified on Apr. 20, 2020 -