Ordos Travel Guide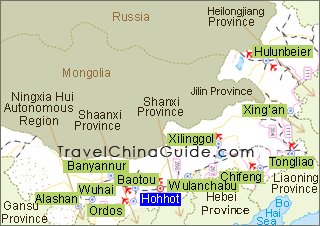 Ordos Facts
Chinese Name: 鄂尔多斯 (è ěr duō sī)
Population: 2,078,400
Area: 86,752 square kilometers (33,495 square miles)
Location: in the southwest of Inner Mongolia, north China
Administrative Division: 2 districts (Dongsheng, Kangbashi); 7 banners (Dalad Banner, Junggar Banner, Otog Front Banner, Otog Banner, Hangjin Banner, Uxen Banner, Ejin Horo Banner)
Area Code: 0477
Zip Code: 017000
GDP (2018): CNY 376.32 billion (USD 56.87 billion)
Nationalities: Mongol, Han, Hui, Man, Chaoxian
Highlighting Genghis Khan's Mausoleum
Lying in the southwest of Inner Mongolia Autonomous Region, Ordos is encircled by the Yellow River in the north, the west and the east. It is separated from Shaanxi and Shanxi in the south by the Great Wall. Together with Hohhot and Baotou, the three cities constitute the economic triangle of this region. Ordos, which means many palaces in Mongolian, has the strongest economic strength in Inner Mongolia. China's largest modern coal chemical industry base is situated here and Ordos's output of cashmere products accounts for about one-third of the whole country.

Here, you can see the vast Kubuqi Desert, or ride horses, watch local performances, and taste the freshest roasted whole sheep in the yurt in the Ordos Grassland. The famous Genghis Khan's Mausoleum offers you a chance to know about Genghis Khan's stories and experience the grand and solemn Genghis Khan ceremony. The spectacular Kangbashi music fountain from 20:00 to 21:00 in the evening will definitely bring your Ordos day trip to a climax. It is one of the largest musical fountains in the world whose maximum spray height can reach 209 meters (686 feet).
Ordos Attractions - Things to Do

Other Scenic Spots
: Engbei Ecological Tourist area, Ordos Relict Gull Nature Reserve
How to Get to Beijing, Hohhot & Baotou from Ordos
The Ordos Airport is 38 kilometers (24 miles) from the Dongsheng District, adjacent to the Mausoleum of Genghis Khan. The airport has recently opened flight to Beijing once a day with one hour's ride. Ordos is 240 kilometers (149 miles) from Hohhot, and train, flight and long-distance buses are all available; it is no more than 2 hours' ride to Baotou by bullet train.
Weather
-
Ordos belongs to typical temperate continental climate with clear four seasons and abundant sunshine. The rainfall is infrequent and mainly concentrates on the period between July and September. Spring is the season often blowing sand and dust storm.



When to Go: Summer and autumn are the best seasons to pay a visit for the weather is cool and the dust storm is slight.
Ordos Travel Tips

History: Ordos, formerly Ih Ju League, is numerous palaces in Mongolian. People living there 35,000 years ago created colorful culture. Before the Qin Dynasty (221BC-206BC) established shires and counties to administrate this area, Ih Ju League was entirely or partly governed by some nomadic tribes. In the Qing Dynasty (1644-1911), the Ordos Tribe was divided into 6 leagues.



Physical Features: Located in the upper reaches of the Yellow River, Ordos is in the hinterland of the Ordos Plateau. The terrain is higher in the western plateau area and lower in the eastern hilly area. The north part of Ordos is alluvial plain and the central land is the Muus Desert and the Khoqi Desert.



Local Highlights: Every year in the August, the Nadam Fair is held in the prairie resorts of Ordos.



Special Local Products: cashmere, oleaster, Malus micromalus
- Last updated on Jun. 03, 2020 -
Questions & Answers on Ordos Travel
Asked by Mfai from GREECE | Mar. 03, 2018 12:32

Reply
I plan to go see the Ordos Museum, by train from Hohhot Railway Station.
I am quite confused: should I get off Dongsheng station or Eerdousi station? How to go to the Museum? Thanks.
Answers (1)
Answered by Selina from CANADA | Mar. 04, 2018 23:41

1

0

Reply
You should get off at Eerduosi station and then take bus Kang 6 to Wenhua Yishu Zhongxin. Then, walk southwest for 10mins to the museum.
Asked by Saba from CHINA | Sep. 02, 2016 22:59

Reply
Hello, I want to know what kind of transport I can use to get to Ordos from Datong?
Also I could not find local airport in any website:( So can't even look at prices . Please help?
Answers (1)
Answered by Nelson from UNITED KINGDOM | Sep. 04, 2016 03:50

0

0

Reply
Hey, you can take the only train to travel between and it takes about 7h. The cost is CNY157 for a hard sleeper and CNY242 for a soft sleeper. Alternatively, there is a long-distance bus on schedule for this route from Datong Bus Station, but I have no idea when it leaves.
Asked by Neera from CANADA | Jul. 15, 2016 14:00

Reply
How can I get from Ordos to Singing Sand Ravine? What are my options?
Regards,
Neera
Answers (1)
Answered by Tracy from RUSSIA | Jul. 16, 2016 01:40

0

0

Reply
As I know, there is no direct public transportation.
You can take coach from Dongsheng District Passenger Center Station, and get off at Baotou Sing Sang Ravine Flyover. Then take a taxi to the scenic area directly.
Asked by Eric Lim from SINGAPORE | Jun. 09, 2015 18:31

Reply
Erdos fastest way there, hotel recommended. Airline recommended.
Good day to you my friends, kindly let me know the way from Singapore to Erdos City. Please recommend hotel to stay there and some information of Erdos. Thanks.
Answers (1)
Answered by Lara from NEW ZEALAND | Jun. 10, 2015 03:41

0

2

Reply
1.Well, there is no direct flight between these two places.
You can fly to Beijing first. Then transfer to another flight to Ordos.

2. What's your budget about your accommodation?
You can go to Erdous Hotel. The price is about CNY 200 per night. It has clean environment and warm service. The hotel is located at 1 Yijinhuoluo West Street. Hope you like.

3. Genghis Khan's Mausoleum is the muse-see. You will appreciated the deep cultural relics. In addition, Singing Sand Ravine, Engbei Ecological Tourist area and Ordos Relict Gull Nature Reserve are also good choices for you. Have a good trip!