Ordos Travel Guide
Ordos Facts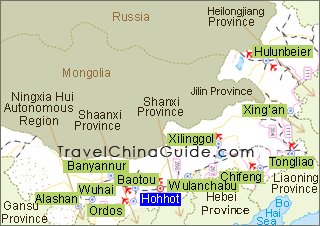 Chinese Name: 鄂尔多斯 (è ěr duō sī)
Population: 1,397,000
Area: 86,752 square kilometers (33,495 square miles)
Nationalities: Han, Mongol



Location: Lies in the southwest of Inner Mongolia Autonomous Region, Ordosv is encircled by the Yellow River in the north, the west and the east. It is separated from Shaanxi and Shanxi in the south by the Great Wall. Together with Hohhot and Baotou, the three cities constitute the economic triangle of this region.

Administrative Division: 1 district (Dongsheng District); 7 banners (Dalad Banner, Junggar Banner, Otog Front Banner, Otog Banner, Hangjin Banner, Uxen Banner, Ejin Horo Banner)

Note: Banner or Qi is a special county-level administrative unit in Inner Mongolia



Useful Telephone Numbers:
Tourist Complaints: 0477-8345413
Weather Forecast: 121
Zip Code Inquiry: 184
Bank of China: 0477-8324641
Ordos Attractions - Things to Do

Other Scenic Spots
: Engbei Ecological Tourist area, Ordos Relict Gull Nature Reserve
How to Get to Beijing, Hohhot & Baotou from Ordos
The Ordos Airport is 38 kilometers (24 miles) from the Dongsheng District, adjacent to the Mausoleum of Genghis Khan. The airport has recently opened flight to Beijing once a day with one hour's ride. Ordos is 240 kilometers (149 miles) from Hohhot, and train, flight and long-distance buses are all available; it is no more than 2 hours' ride to Baotou by bullet train.
Weather
-
Ordos belongs to typical temperate continental climate with clear four seasons and abundant sunshine. The rainfall is infrequent and mainly concentrates on the period between July and September. Spring is the season often blowing sand and dust storm.



When to Go: Summer and autumn are the best seasons to pay a visit for the weather is cool and the dust storm is slight.
Ordos Travel Tips

History: Ordos, formerly Ih Ju League, is numerous palaces in Mongolian. People living there 35,000 years ago created colorful culture. Before the Qin Dynasty (221BC-206BC) established shires and counties to administrate this area, Ih Ju League was entirely or partly governed by some nomadic tribes. In the Qing Dynasty (1644-1911), the Ordos Tribe was divided into 6 leagues.



Physical Features: Located in the upper reaches of the Yellow River, Ordos is in the hinterland of the Ordos Plateau. The terrain is higher in the western plateau area and lower in the eastern hilly area. The north part of Ordos is alluvial plain and the central land is the Muus Desert and the Khoqi Desert.



Local Highlights: Every year in the August, the Nadam Fair is held in the prairie resorts of Ordos.



Special Local Products: cashmere, oleaster, Malus micromalus