Genghis Khan's Mausoleum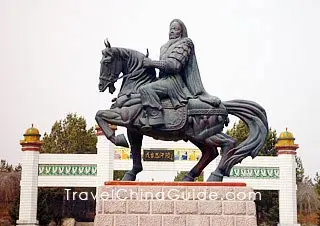 Statue of Genghis Khan, Baotou
The present Genghis Khan's Mausoleum was built in 1954 in Ordos City, Inner Mongolia, about 185 km (around 115 miles) from Baotou City. Genghis Khan is a Mongolian hero. He reunified the chaotic Inner Mongolia prairie and led his people to be a great civilization and made great contributions to the founding of the powerful Yuan Dynasty (1271-1368) and the unification of China which enhanced greatly the interactions of the peoples of China. Due to this great feat, he was named 'Genghis Khan' by Mongolian tribes, meaning 'powerful king' in Mongolian. Today, Genghis Khan is still worshipped and remembered by his people.
Most people, however, believe that this mausoleum is not where he was really buried but is rather a gathering place for Mongolians to offer sacrifice. Whether this is true or not, the mausoleum remains a sacred place with great significance for Mongolian people.
The main structures of the Genghis Khan's Mausoleum are three grand halls, which are shaped like Mongolian yurts, and the corridors which link the three halls. In the middle is the Main Hall, which is also the Memorial Hall. In the center of this stands a white marble statue of Genghis Khan with a height of over 4 meters (around 13 feet). Behind the statue is the map of the vast territory of the Yuan Dynasty. On either side of the Main Hall are the East Hall and the West Hall. In the East Hall, coffins of one of Genghis Khan's wives and his fourth son are laid. In the West Hall, Genghis Khan's arms are exhibited. Along the corridors frescos depict the life of Genghis Khan and the great deeds of his grandson-Kubla Khan, who was as great as his grandfather.
| | |
| --- | --- |
| Genghis Khan's Mausoleum | Inside the mausoleum |
In the hall behind the Main Hall there are four biers covered with bright yellow satin. They are said to be the coffins of Genghis Khan and his three wives. There are also two coffins of his brothers.
In addition, visitors can taste delicious Mongolian barbecue, and enjoy a Mongolian-style dance and horse performance. You can even take part in the dance, horse riding, arrow shooting, and wrestling. All these activities enhance the visitors' travel experience.
| | |
| --- | --- |
| Tablet Pavilion | Ao Bao |
How to get there
1. Take bus from Baotou Long Distance Bus Station located on the northern square of the railway station to Dongsheng, and then change bus to the mausoleum.
2. Take bus (Baotou - Yulin) from Long Distance Bus Station and ask the driver to stop at the mausoleum.
| | April 20 - October 7 | October 8 - April 19 |
| --- | --- | --- |
| Admission Fee | CNY 170 | CNY 150 |
| Opening Hours | 7:00 - 19:00 | 8:00 - 17:30 |
- Last updated on Apr. 12, 2021 -
Questions & Answers on Genghis Khan\s Mausoleum
Asked by Alexander from SWEDEN | Oct. 01, 2019 08:11

Reply
Ordos to Djingis Khan mausoleum
How to I get from Ordos to Djingis khan mausoleum? Which way is fastest?
Answers (1)
Answered by Joan from MALAYSIA | Oct. 09, 2019 19:10

0

0

Reply
Sorry, I didn't find Djingis Khan mausoleum. Would you mind provide the detailed address?
Asked by Gerd from GERMANY | Apr. 29, 2018 23:42

Reply
Hohhot-Genghis Khan's mausoleum-Beijing by train
Hi, my first question is: there a 2 railway stations: Dongsheng West and Ordos, which one is closer to the mausoleum? I would like to take the train D6965, arriving at Ordos 10:49, then take a taxi to the mausoleum and returning to Ordos train station (not Dongsheng West!!) in the evening, taking then the night train to Beijing. Can I have a gaxi at Ordos train station and what will it cost? Or is there a cheaper option by bus for a non Chinese speaking foreigner?
Answers (1)
Answered by Emma from NEW ZEALAND | May. 02, 2018 02:45

0

0

Reply
Ordos station is closer. As I know, it's not easy to catch a taxi at the station. You may take bus K27 to Dongsheng Bus Station and take a bus to your destination.
Asked by Wendy from MALAYSIA | Sep. 22, 2017 11:16

Reply
How long is the bus ride from Baotou to Ghengis Khan Mausoleum?
Is a day trip possible from BT?
Answers (1)
Answered by Amy from UNITED KINGDOM | Sep. 25, 2017 03:45

0

0

Reply
You are suggested to take a bus to Dongsheng first, which takes CNY34 and about 1h 30 minutes. After that, you can take a special tourism line to your destination, which is available from 8:00 to 16:00 and takes about 3h 30 minutes.

One day is a little rushing to have a trip there from Baotou.
Asked by Anna from SCOTLAND | Feb. 10, 2017 14:48

Reply
Is it easy for someone with very limited Mandarin to visit mausoleum from Baotou at end of Mar.?
What is total cost and time?
Thanks
Answers (1)
Answered by Kayla from GERMANY | Feb. 10, 2017 21:29

0

0

Reply
You are suggested to take a bus from Baotou Long Distance Bus Station to Dongsheng first. The ticket fare is around CNY 50 per person. Then change bus to the mausoleum. I cannot find the ticket fare. You can consult the staff when you arriving there.
To be honest, it won't be easy for you to visit there with limited Mandarin. Maybe you are advised to join in a local tour and hire an English speaking guide.
Asked by Lonk from USA | Jan. 31, 2016 04:00

Reply
Cost from Ordos to Genghis Khan's Mausoleum and back
Hi. Anybody knows how much does it cost to go from Dongsheng Long Distance bus station to the mausoleum? And on the way back the price would be the same? Thanks in advance :)
Answers (1)
Answered by Mia from ITALY | Jan. 31, 2016 21:06

0

0

Reply
As I know, the bus fare is around CNY 15 (60km away). The ticket price for the return trip is the same.