Baotou Attractions - Things to Do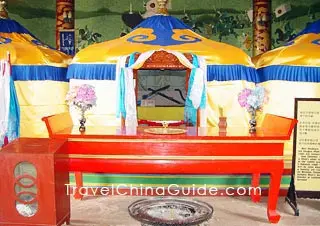 Genghis Khan's Mausoleum
Top Things to Do

Genghis Khan' Mausoleum

Wudangzhao Lamasery

Singing Sand Ravine

Xilamuren Grassland
Baotou is a grassy and fertile land inhabited by flocks of deer. In the city center, a sculpture of a running deer serves as a symbol of this 'Deer City'.
Baotou has a rich historical and cultural heritage. Settlers had moved here six thousand years ago. Some two thousand years ago, Zhao and Qin states established the Great Wall here. Relics of the Zhao Great Wall and the Qin Great Wall in the suburbs of the city show the importance of Baotou in ancient times. By now, attractions in Baotou are in diversity, and you may choose the way you prefer for relaxation.
Visiting Lamasery
70 kilometers (43 miles) northeast of the city,
Wudangzhao Lamasery
is the only intact lama temple in Inner Mongolia. It is a famous shrine of Tibetan Buddhism on a par with the great Potala Palace in Tibet and Ta'er Monastery in Qinghai. The most attractive aspect of the lamasery is its spectacular Tibetan style architecture. There are many Tibetan sutras and art treasures, especially Buddha sculptures made of gold, silver, copper, wood and clay, as well as precious murals. Meidaizhao Lamasery is another important religious center of Baotou. It is located 80 kilometers (50 miles) east of the city proper. It was first built in the Ming Dynasty (1368-1644) as a Lamaism center in Inner Mongolia. The architecture is a combination of Han, Tibetan and Mongolian styles.
Baotouzhao Lamasery (also Fuhui Temple), in Guizi Jie of Chengdong District, is the only Mongolian style lamasery in the city. It was first built in the Qianlong Period of the Qing Dynasty (1644-1911). Another important structure, the Baotou Great Mosque, was the first mosque built when Islamism entered Baotou. Muslim visitors from home and broad come to worship here. This grand mosque is located in the Qingzhensi Xiang of Hedong District.
Relaxing in Desert, Grassland and Mountains
The spectacular Singing Sand Ravine is located in Ordos City, 50 kilometers (31 miles) south of Baotou. Undulating dunes, singing sands, oasis and Mongolian landscape are the highlights of this scenic spot. Sand surfing or exploring the desert on camelback, seeing far-reaching yellow sand dunes under the bright sky and snow-white clouds evoke poetical feelings. When in Ordos, the Genghis Khan' Mausoleum is a must see. The tomb of the famous king remains a sacred place for Mongolians to worship and remember.

There is no lack of green resorts in Baotou. Xilamuren Grassland is a famous summer resort on the bank of the Xilamuren River. The annual Nadam Fair attracts numerous visitors.

Jiufeng Mountain, in the middle section of Yinshan Mountains, consists of nine peaks with its main peak reputed to be the 'lesser Mt. Taishan'. The mountain features jagged rocks of various shapes and tumbling waterfalls. It is a natural scenic area that is rarely seen in the northwest plateaus of China. Located 10km north of the Salaqi Town of Tumote You Qi, Jiufeng Mountain is home to a variety of plant and animal life. Flowers and herbs flourish all over the mountain between summer and autumn.
- Last updated on Aug. 12, 2019 -
Questions & Answers on Baotou Attractions
Asked by Daniel from MALAYSIA | Aug. 10, 2019 20:15

Reply
Visiting both hohhot and baotou.
We have about 5 to 6 days should we focus on hohhot instead of both city? Since xilamuren can access from both city?
Answers (1)
Answered by Annabelle from POLAND | Aug. 12, 2019 23:26

0

0

Reply
You are suggested to make full use of time to tour around these two cities. In addition, Xilamuren can be accesses from both city. Have a nice trip!
Asked by bunzy from SINGAPORE | Jun. 15, 2017 06:24

Reply
i have a 9hrs layover at baotou...is there any attractions near the airport?
Answers (1)
Answered by Lisa from CANADA | Jun. 16, 2017 01:55

1

0

Reply
The nearest one is Nanhai Wetlands Scenic Spot, which is about 2.4 kilometers from the airport.
Asked by Coco from SG | Sep. 04, 2015 10:08

Reply
Is it safe to travel with 2 young kids (3 years old) by taking the public bus to Xilamuren?
Answers (5)
Answered by Patrick from FINLAND | Sep. 05, 2015 02:33

0

0

Reply
Oh, in general, it's safe. Don't worry.
In addition, you can hire a private car to get to or share a car with other tourists. This is a faster way than taking public bus.
Answered by Coco from SINGAPORE | Sep. 05, 2015 05:33

0

0

Reply
Thanks for your prompt reply. Where could we go to find other tourists who would want to share a private van or bus with us?
Answered by Patrick | Sep. 05, 2015 20:22

0

0

Reply
You can try your luck on the community cloumn of this website.
Or before you hire the van or bus, you can ask the driver to find more travel fellowers; or ask your hotel staff if there are other lodgers would like to visit the place too.
Answered by Coco from SG | Sep. 06, 2015 20:43

0

0

Reply
Can I check whether this information is still correct? Saw it somewhere on how to get to Xilamuren Grassland from Hohhot:

"There is a 7:50am bus leaving for Xilamuren from in front of Hohhot train station (RMB 14) which returns at 3pm. Another option is to catch a bus from the long-distance bus station to Zhaohe (Zhàohé Zhèn, 召河镇), the administrative town within the grassland. These leave twice daily and are a bargain at just RMB 8."
Answered by Patrick from UNITED KINGDOM | Sep. 07, 2015 01:12

0

0

Reply
It seems that the bus leaving at 07:50 is out of service, but the option 2 is still doable. Next to the railway station, there is a long-distance bus station, where you can take a bus to Zhaohe. Zhaohe is a part of the grassland.

Zhaohe is about 50 miles from Huhhot, and the fare cannot be RMB21. From 06:50 to 17:35, there are 14 buses available. Have a try.