Baotou Pictures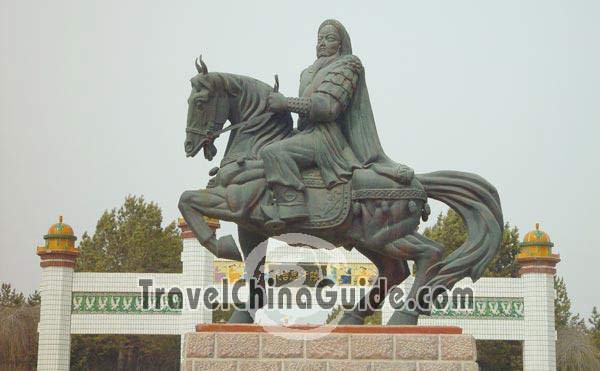 The vivid statue of Genghis Khan''s riding on horse back in front of the mausoleum.
Located in the south of the Inner Mongolia Plateau, Baotou City is where the Yellow River flowing through and the Yinshan Mountains traverses the city center. In ancient China, it was one of the birthplaces of the nomadic tribes in North China. Currently, there are some existing historical sites for the travelers to explore the long history and cultures of the those ethnic monitories. Attraction Intro:
Baotou
- Last modified on May. 22, 2017 -
Questions & Answers on Baotou Pictures
Asked by Mr.shiva from INDIA | Mar. 16, 2010 12:44

Reply
Hai.

We are planning to make a trip starting from Beijing to Mongolia and Russia and back to Biejing. Please advise me the visa process at the border of the respective countries. Do I have to acquire visas beforehand.
Answers (1)
Answered by Mr.Jamie | Mar. 16, 2010 22:19

0

0

Reply
Will you take a train from Beijing to Mongolia and Russia? If so, please prepare your visas to Mongolia and Russian in advance. You will have to get off the train and accept customs check on the border. The process will be all the same when you enter into China.
Asked by Mr.B. Smith from USA | Sep. 16, 2009 09:56

Reply
I am planning a business trip to Inner Mongolia. I will need to travel through the region. I only speak English. Are interpreters readily available to accompany me? Will I be able to travel wherever I wish?
Answers (1)
Answered by Ms.kylie from CHINA | Oct. 15, 2009 09:38

0

0

Reply
hello there, this is kylie, i see your note on the internet, i wonder if you have already finished your business trip, anyway i'd like to tell you that it is easy to find a interpretor here,because there are lots of students majoring in english,surely they can help you. actually i am one of them. wish you a very good trip. if you need any help, just leave the message on this page, and i will check it.
Asked by Ms.karenk from HONG KONG | Jul. 02, 2009 23:54

Reply
I plan to travel to Inner Mongolia then through Mongolia to Russia, over two weeks. I am interested to visit the grassland and perhaps do some horse and camel riding as well. What are the interesting places in Russia along the border of Mongolia? Is it safe? Do they speak a little English?
Answers (1)
Answered by Mr.Shan | Jul. 04, 2009 03:48

0

0

Reply
Well, if you go to Russia from Manzhouli, go to the Hu Lun Bei Er Grassland. If you pass through Erlian, please go to Xilinguole Meng for a visit, beautiful grassland will be found~