Baotou Travel Guide
Baotou Facts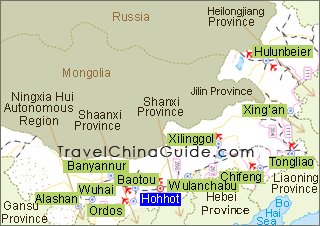 Baotou is located at the foot of the Yinshan Mountains, and on the bank of the Yellow River.

The word Baotou is Mongolian meaning 'place where deer live'. Hence it is called by its other name, The Deer City. It is the largest city which incorporates the largest green area in Inner Mongolia.

People living in the vast land have made some brilliant achievements. Baotou City has successively won the titles of National Civilized City, Garden City, and National Excellent Tourist City. This leisure capital situated on grassland well displays its charm with its natural resources and cultural assumptions.
Visit the Mongolian yurts, drink a bowl of warm milk tea, and enjoy eating mutton with your hands, which are all indispensable ways to experience the Mongolian customs in Baotou. Saihan Tala Grassland is the only grassland in China that is located in a city center. Some 100 kilometers away in Ordos's desert, the Genghis Khan' Mausoleum is also a must for visitors as it is not too far away.
| | |
| --- | --- |
| Statue of Genghis Khan | Genghis Khan's Mausoleum |

Located at the Kubuqi Desert of Inner Mongolia, Singing Sand Ravine is a good choice for those who would like to relax themselves in a desert. The International Photography Week is annually held in mid July here.

Wudangzhao Lamasery lies around 70km (43mi) northeast of Baotou. Wudang means "willow" and Zhao means "monastery / temple"in Mongolian. The main buildings in Wudangzhao Monastery include three living Buddha residences and a funeral hall where the relics of a couple of living Buddhas are preserved.

More Attractions in Baotou: Xilamuren Grassland
Baotou Airport
operates flights to Beijing, Shanghai, Guangzhou, Wuhan, and Xi'an.
Baotou Railway Station
,
East Railway Station
and West Railway Station are in service, and travelers can reach Beijing, Tianjin, Shenyang, Hangzhou, Harbin, Dalian and many other cities. Donghe Long-distance Bus Satation is at no. 3, West Zhanbei Road, Donghe District and Kunqu Bus Station lies at the west of the intersection of Sanba Road and Tuanjie Street.
Weather
-

History: Baotou has a profound history and abundant cultural relics. Human settlers moved there as early as six thousand years ago in the Neolithic Age. During the Warring States Period (476BC-221BC), the Zhao State built the wall in the present suburb area, which is said by Chinese historians to be the oldest section of the Great Wall. In the contemporary age, the area became a port and a town of great commercial importance for the fur trade, which relied on the waterways of the Yellow River.

H
ighlights & Features: If the ancient Great Wall, grassland, desert and the Mongolians created the unique culture of Baotou, rich mineral resources allowed it to develop as a modern industrial city, reputed now as the 'steel capital on grassland' and the 'capital of rare earth'.
The railway construction from Beijing expanded to Baotou. However, Baotou is most famous for the discovery of the Baiyun'ebo iron mine in the early Twentieth Century.
- Last modified on Sep. 05, 2019 -
Questions & Answers on Baotou Travel
Asked by Karen from USA | Jun. 24, 2019 15:47

Reply
What is the weather of Baotou like in November?
Answers (1)
Answered by William from USA | Jun. 25, 2019 18:38

0

0

Reply
The average temperature may range from -5 to 5C. You need to prepare winter clothing for your travel such as sweater, padded coat, wool overcoat.
Asked by Hugo from FRANCE | May. 31, 2019 08:14

Reply
Does anyone has a tips to go from Baotou railway station to Wudangzhao Temple?
By public transport or if you get a phone number of a local ;)
Answers (1)
Answered by Drake from UNITED KINGDOM | Jun. 02, 2019 20:08

0

0

Reply
1. Bus: You can take No.7 and 19 in downtown, and get off at Shiguai Station, then you can taxi to Wudangzhao with only about 22 kilometers away;
2. Special line car: Located in Donghe District, Baotou East Station has direct bus between these two places; 2 times a day and the journey is about 2 hours;
3. Coach: Take the bus in Coach Station (No.3, Zhanbei West Road) to Shiguai, then taxi to your destination.
Asked by Dan from CHINA | Sep. 11, 2018 20:54

Reply
Is it possible to go from Ordos to Baotou (and back) by bus?
Answers (2)
Answered by Jelly from NEW ZEALAND | Sep. 13, 2018 01:02

0

0

Reply
Yes, from Erdos to Baotou Kunlun District, you can take a bus from Erdos Bus Station and the bus departs from 8:00 to 13:00 with an interval about 40 minutes.
Answered by James Mc Connell. from AUSTRALIA | Apr. 10, 2019 20:07

0

0

Reply
For anyone thinking of visiting Baotou.I lived there for two years. The most hospitable people you will ever meet. Extremely safe. I never had a problem, even late at night.
Asked by Wendy from MALAYSIA | Sep. 26, 2017 08:22

Reply
Bus from Hohhot to Baotou
If not wrong, there are 2 bus stations in BT. Which bus station will the bus from Hohhot stop?
Answers (2)
Answered by Harvey from AUSTRALIA | Sep. 27, 2017 20:04

0

0

Reply
As I know, it goes to the Kunqu Long-distance Bus Station in Kundu District.
Answered by Wendy from MALAYSIA | Sep. 28, 2017 03:18

0

0

Reply
Thank you, Harvey
Asked by Bruce from USA | May. 02, 2016 22:30

Reply
I'm going to Baotou in july with 4 friends for a wedding , Going to be there for a week is it safe?
Are there place I should avoid? Is it safe to walk by your self or at night, I'm form the united states and just a little nervous about traveling that far from home
Answers (2)
Answered by Barry from NEW ZEALAND | May. 03, 2016 00:37

2

2

Reply
Yes, it is safe. The locals are quite friendly and kind. You can walk around by yourself. But don't go out alone at midnight. In a word, it is a safe city. Don't worry! :)
Answered by Vos from MALAYSIA | Jun. 30, 2016 14:34

2

3

Reply
It is a very safe city. While the people are a bit business oriented, they are still friendly to foreigners. No worries. I should warn you that taxi drivers are fast and drive quite dangerously but rest assured they know what they're doing and possess pro driving skills. While you are here in July, you should make a short trip to Salaqi village to a very nice flower park called Da Yan Tan. Plenty of flowers and fruits. You can even pick up fruits by yourselves in the morning and they will be charged on a weighing machine and sold. The people of Salaqi are the friendliest people i've ever known. They're always polite and caring. Apart from that, you can visit Wu Dang Zhao temple also nearby Salaqi. A Tibetan temple with fancy mountain views as a backdrop.