Baotou Travel Guide
Baotou Facts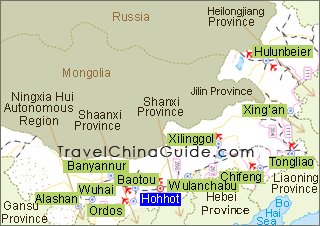 Baotou is located at the foot of the Yinshan Mountains, and on the bank of the Yellow River.

The word Baotou is Mongolian meaning 'place where deer live'. Hence it is called by its other name, The Deer City. It is the largest city which incorporates the largest green area in Inner Mongolia.

People living in the vast land have made some brilliant achievements. Baotou City has successively won the titles of National Civilized City, Garden City, and National Excellent Tourist City. This leisure capital situated on grassland well displays its charm with its natural resources and cultural assumptions.
Visit the Mongolian yurts, drink a bowl of warm milk tea, and enjoy eating mutton with your hands, which are all indispensable ways to experience the Mongolian customs in Baotou. Saihan Tala Grassland is the only grassland in China that is located in a city center. Some 100 kilometers away in Ordos's desert, the Genghis Khan' Mausoleum is also a must for visitors as it is not too far away.
| | |
| --- | --- |
| Statue of Genghis Khan | Genghis Khan's Mausoleum |

Located at the Kubuqi Desert of Inner Mongolia, Singing Sand Ravine is a good choice for those who would like to relax themselves in a desert. The International Photography Week is annually held in mid July here.

Wudangzhao Lamasery lies around 70km (43mi) northeast of Baotou. Wudang means "willow" and Zhao means "monastery / temple"in Mongolian. The main buildings in Wudangzhao Monastery include three living Buddha residences and a funeral hall where the relics of a couple of living Buddhas are preserved.
Baotou Railway Station
,
East Railway Station
and West Railway Station are in service, and travelers can reach Beijing, Tianjin, Shenyang, Hangzhou, Harbin, Dalian and many other cities. Donghe Long-distance Bus Satation is at no. 3, West Zhanbei Road, Donghe District and Kunqu Bus Station lies at the west of the intersection of Sanba Road and Tuanjie Street.
Weather
-

History: Baotou has a profound history and abundant cultural relics. Human settlers moved there as early as six thousand years ago in the Neolithic Age. During the Warring States Period (476BC-221BC), the Zhao State built the wall in the present suburb area, which is said by Chinese historians to be the oldest section of the Great Wall. In the contemporary age, the area became a port and a town of great commercial importance for the fur trade, which relied on the waterways of the Yellow River.

H
ighlights & Features: If the ancient Great Wall, grassland, desert and the Mongolians created the unique culture of Baotou, rich mineral resources allowed it to develop as a modern industrial city, reputed now as the 'steel capital on grassland' and the 'capital of rare earth'.
The railway construction from Beijing expanded to Baotou. However, Baotou is most famous for the discovery of the Baiyun'ebo iron mine in the early Twentieth Century.