Hohhot Travel Guide
Hohhot Facts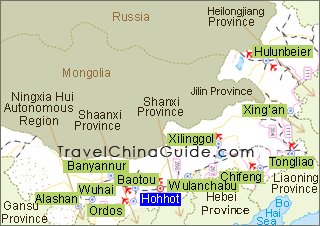 Hohhot, the capital of Inner Mongolia Autonomous Region in northern China, lies between Yinshan Mountain and the Yellow River. It is the most important city in Inner Mongolia and is home to 36 different ethnic groups. Notable among these are Mongolian, Han, Manchu, Hui, Tibetan, Dawoer, Elunchun, Ewenke and Korean.

Area: 17,224 square kilometers (6,650.19 square miles)
Population: 2.63 million.

Administrative Division: 4 districts, 4 counties, 1 banner & 1 national level Economic and Technological Development Zone, including Yuquan District, Huimin District, Xincheng District, Saihan District, Tokto County, Horinger County, Qingshuihe County, Wuchuan County and Tolmud Left Banner.


Pictures

Map
Hohhot is an ideal place to relax away from modern day pressure thanks to the magnificent natural beauty of the Gegentala and Xilamuren Grasslands as well as fantastic cultural sites such as the Dazhao Temple, Five-Pagoda Temple and the Xilituzhao Palace.
| | |
| --- | --- |
| Nadam Fair held on Gegentala Grassland | Zhaojun Museum |
As a tourist resort, Hohhot has a modern reliable transport network. Hohhot Baita (White Pagoda) Airport has direct flights to Ulaanbaatar, Mongolia, Beijing, Shanghai, Guangzhou and other cities. Hohhot Railway Station and East Railway Station have direct train connections with Beijing, Hailar, Baotou, Xi'an, Lanzhou, Yinchuan, Shanghai, Nanjing, Ningbo, plus international trains to Ulan Bator and Moscow. Daily buses link the city with other major cities including Beijing, Tianjin, Taiyuan, Datong, and Baotou. City-bus and taxi are available in Hohhot.
Hohhot Tours
Grassland Tour
: 4 days to Gegentala Grassland, Tomb of Zhaojun, Wuta Temple and Dazhao Lamasery, etc
Hiking Adventures
Golf Vacation
Bicycle Route

More
China Tour Packages

C (42.8

F). It is cold in winter with an average temperature of -10

C (14

F) and hot and rainy during summer with an average temperature of 15

C (59

F) to 26

C (79

F). The best time to pay a visit is from April to October, while the best time to go to the grassland is from middle July to early September as the weather is pleasant at that time.
Hohhot Travel Tips

History: Hohhot has a long history of over 2300 years. In the period of Warring States (476 BC - 221 BC), Zhaowuhou (340 BC – 295 BC) build the Ancient City. In Northern Wei period (386 – 557), Xianbei ethnic groups established a capital at Horinger County which was the first capital in the north grassland with the historical name of Shile. The city was renamed Fegzhou in Liao period (916 – 1125). In 1581 during Ming Dynasty (1368 – 1644), Tolmud leader Altan Khan constructed a city in Yuquan District, named Hohhot in Mongolian, and later renamed it to Guihua. In 1737 during Qing Dynasty (1644 – 1911), the government built Suiyuan city, a strong garrison town, at the northeast of Guihua, then united the two cites as one naming it Guisui. In 1954, the city became the capital of Inner Mongolia and resumed the name of Hohhot.



Special Local Products: Hohhot brings together specialties from all over Inner Mongolia, ranging from Mongolian silverwares, carpets, cashmere, camel hair products, traditional knives, decorative deer antlers, narrow-leaved oleaster curtain, oatmeal and various dairy products to fancy Mongolian costumes.



Entertainment: Mongolian folk songs and wrestling are popular entertainments while ethnic delicacies and the friendliness of the local people add to the enjoyment of a stay here. Visitors can enjoy a wide variety of activities including horse riding, or maybe visiting the home of a herdsman's family or roaming over the vast grassland and of course there is the thrilling Nadam Fair.
- Last modified on Jan. 24, 2019 -
Questions & Answers on Hohhot Travel
Asked by Anna from ITALY | Apr. 04, 2018 05:41

Reply
a friend and I currently studying in Shanghai would like to travel for a weekend to Hohhot.
We are very interested in seeing the desert and the grassland.
Is it possible to organize it by ourselves or do we need a guide?
Which places do you recommend?
We are two girls, is it dangerous?
Thank you very much!
Answers (3)
Answered by Jack from NORWAY | Apr. 07, 2018 22:54

1

0

Reply
Yes, you can organize it by yourselves and it's safe!
Xilamuren and Gegentala Grasslands are highly recommended!
Answered by Anna from ITALY | Apr. 13, 2018 07:31

1

0

Reply
How do we get to Xilamuren grassland from Hohhot by ourselves? Can we use a bus? If so, where does it start, which bus number is it?
Also, we want to go to the Sand George Dunes. How do we get to the dunes from Hohhot by ourselves? Can we use a bus? If so, where does it start, which bus number is it?
Answered by Peter from USA | Apr. 15, 2018 21:37

0

1

Reply
Yes, you can use the bus. As I remember, there are regular buses to Zhaohe passing by the grassland, and the bus station is in 1 West Chezhan Street, Xincheng District. Just tell the driver to drop you off there. As for Q2, I'm sorry I didn't find the place.
Asked by Soyolmaa from MONGOLIA | Mar. 23, 2018 00:24

Reply
I am planning to take my husband to International hospital of Hohhot for full health check.
my apologies if I made a mistake with the hospital name I heard this is a new hospital with good quality of services. Would you please advise me with its full address and contact details? I have searched from internet but couldn't find. And do you have Ped skine? If yes, then I'd be appreciate if you provide with name, address and contact details. And how mush is it? I want to know Ped skine's price. Thank you.
Answers (1)
Answered by Andre from UK | Mar. 23, 2018 04:22

0

0

Reply
I think you refer to the Inner Mongolia International Hospital in 83 East Daxue Street, Saihan District. As for the price, you need to go there and check it yourself. Wish it helps!
Asked by Wendy from MALAYSIA | Sep. 26, 2017 08:17

Reply
Erlian to Hohhot by bus
I plan to take the bus than train as it's faster & more time-flexible.
Anyone knows what's the name & address of the bus station it stop in HH?
Answers (1)
Answered by Michelle from USA | Sep. 27, 2017 23:00

0

0

Reply
As I know, the bus will arrive at Long-distance Bus Station in 1 Chezhan Street, Xincheng District. By the way, the buses are available from 7:30 to 13:30 and takes CNY95, about 5-6 hours.
Asked by Kambalah from PHILIPPINES | Sep. 23, 2017 00:03

Reply
Hi, is there direct bus from Datong to Hohhot, please give us the bus schedules.
tks
Answers (1)
Answered by Helen from SINGAPORE | Sep. 25, 2017 04:32

0

0

Reply
Well, as I know, the buses leave from Datong Bus Station at 7:20, 8:20, 10:30, 12:30, 14:10 and 15:30.
Asked by Wendy from MALAYSIA | Aug. 12, 2017 02:47

Reply
What is the best way to travel from Erlian to Hohhot?
By bus or train?
How much is the bus fare & what's the travelling time? What about train?
I plan to catch the bus or train in Erlian as soon as I cross the border of Mongolia. So, the time should be around noon. Will it be difficult to catch a connecting bus or train then?
Thanks in advance.


Answers (1)
Answered by David from UNITED KINGDOM | Aug. 14, 2017 02:15

0

0

Reply
You are suggested to go there by train, and two trains are available, one leaves at 9:36 and takes CNY54 and more than 9 hours.
The other leaves at 13:10, which takes CNY 72 for a hard seat, CNY129 for a hard sleeper and CNY197 for a soft sleeper.