Code: GF-HT01
Golf Tour of Hohhot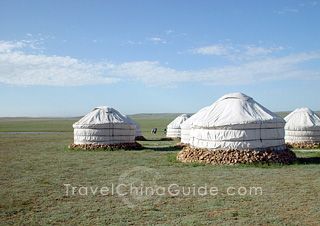 Gegentala Grassland, Hohhot
As a foreland city under the policy of "Western Development" and the nearest capital city from Beijing, Hohhot has a superior geographic situation. Its name stands for Green City in Mongolian and its resourceful nature reserve and scenery adds more to its popularity.

In this itinerary, you will have a chance to experience the extraordinary places which may be a legendary in your China travel. A special national flavor will come to you at once. At the beginning of one day tour, you may drive to the Gegentala Grassland to savor the endless green view and learn about the Mongolian ethical features. 130 kilometers away from the Hohhot city, it is one of the initial 4 A-class scenic spots. Especially, you may be invited to visit the herdsmen's tent and enjoy the Mongolian singing and dancing. In addition, there are various culture activities awaiting your personal experience and you will find different fun during the stay. Please do not forget there are also many culture relics in this ancient city. Visit the Zhaojun (one of the Four Famous Beauties in Chinese history) Tomb, the Five Pagoda Temple and the Dazhao Temple will make you know more about the city's profound history. In the next day, play your golf in the Viction Inner Mongolia Golf course or the Daqingshan Mountain Taiwei Golf Club freely. The detailed information about the club is presented below.

For any organized tour, please check our
Inner Mongolia Tour Packages
.

RELATED GOLF CLUB INFORMATION:
1. Viction Inner Mongolia Golf Resort
The Viction Inner Mongolia Golf course is reputed as "China's Saint Andrews Royal Golf Course". It was founded in October 2001 and has been operational since August 2003. Covering an area of more than 576 acres, it is the first large-sized, professional, 18-hole 72-par international golf course in Inner Mongolia, and its fairway is 7,128 yards long in total. What is more, the service facilities of this club are of deluxe standard that could satisfy your amusement and relaxation requirements.
The elaborately designed clubhouse covers about 15,548 square yards (15,000 square meters) while the sightseeing garden occupies more than 82 acres. The club also possesses 66 villas, luxuriously furnished and decorated in grassland flavor. Also a comprehensive range of amenities including hot spring, indoor swimming pool, horse riding, fishing pond, tennis court, bowling hall, games room, Chinese and western restaurants are provided to satisfy your interests. Now the Viction Inner Mongolia Golf Resort has become the ideal place for relaxation and mental purification.

Address: Ba Yin Hua Town, Wu La Te Qian Qi, Inner Mongolia
Tel: 86-478-362 2888
Fax: 86-478-362 2999
2. Daqingshan Mountain Taiwei Golf Club
The Daqingshan Mountain Taiwei Golf Club is built at the foot of the Daqingshan Mountain in the Baoheshao Town of Hohhot's Xincheng District. It possesses an 18-hole 72-par golf course, of which the entire length of the fairways is 7,016 yards. As a hilly golf course located on the plateau, its geographical location is very unique. Half encircled by mountains on three sides, the course is covered with forests, with a limpid stream running through. In addition, the club has a service area of luxury clubhouse and hotel which covers 5,382 square yards. .The golf field is designed by the famous internal designer and it provides a space for the business negotiation and a good destination for leisure.
Address: Guluban Village, Baoheshao Town, Xincheng District, Hohhot, Inner Mongolia
Tel: 86-471-2307988
Fax: 86-471-4620011